Why Gaucho Pants Are About To Be This Season's Hottest Item
Sofía Achával de Montaigu is transforming Argentine cowboy gear into serious fashion.
---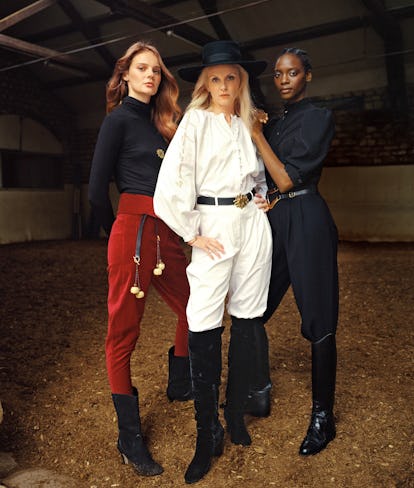 Photograph by Emma Hardy.
Gaucho pants are to Buenos Aires what cowboy boots are to Dallas. Named for the ranch hands who rule the Pampas, the fertile plains that cover eastern Argentina, Uruguay, and southern Brazil, the wide-leg trousers that taper below the knee can be found at any local flea market, and "they are really chic," says Sofía Achával de Montaigu. The 38-year-old Buenos Aires native recently launched a tightly edited line called Àcheval Pampa—a pun on her last name and the French phrase for "on horseback"—comprising three different takes on the aforementioned pants (tweaked to flatter the female form and accessorized with interchangeable leather-and-brass belts), tops ranging from T-shirts to ladylike blouses, saddle-leather handbags, rough-hewn costume jewelry, and gaucho-style hats.
Achával de Montaigu doesn't exactly blend in as she saunters into the bar of the Ritz Paris for an afternoon drink. She is wearing a white cotton poet's blouse with a fragment of text from the Argentine writer Jorge Luis Borges embroidered in gold on one sleeve, a wide-brimmed chapeau to cover her long white-blonde braid, and, of course, her signature trousers, tucked into a pair of velvet over-the-knee boots. "My family has farms on the Pampas, and I have pictures of when I was 5 and hanging out with the gauchos working on our ranch," Achával de Montaigu says by way of explanation. "We'd spend whole summers there, and I'd get up at seven in the morning and go out with them to herd the cattle, and come back after sundown."
Once Achával de Montaigu grew up, her interest in cows was replaced by more rarefied pursuits, though she did remain ­faithful to her homegrown style. At age 22, after studying film in Buenos Aires, she moved to Paris to attend the Studio Berçot fashion school. She modeled for Mulberry, Chloé, and Marc Jacobs, and after graduating in 2005, went to work for another Buenos Aires native, Vanessa Seward, who, at the time, was the creative director of Azzaro. "I learned everything there," Achával de Montaigu says of the three years she stayed on as Seward's right hand. Styling came next. She collaborated with ­Sebastian Faena, a photographer and filmmaker pal from home, and the style she developed professionally was unfussy yet dramatic—not unlike how she dresses herself. When she's not in all Àcheval Pampa, you might catch her in a big yellow faux fur by Miu Miu, a vintage Chanel jacket, or a white, 1970s three-piece Yves Saint Laurent suit. For her wedding to Thibault de Montaigu, a French novelist from the ­Gallimard publishing family, in 2009, she wore flamenco-inspired Christian Lacroix haute couture.
In 2013, when Achával de Montaigu was expecting her second child, the family decamped to Buenos Aires. On a job styling the Latin American campaigns for Rochas, Achával de Montaigu met Lucila Sperber, who represented the label in the region. The two of them eventually joined forces and cooked up ­Àcheval Pampa, with Sperber mainly overseeing production and the business end. ­Everything is made in Argentina and Uruguay, with a premium on authenticity.
The label debuted this past spring in Paris, with an intimate affair that nevertheless made a splash, thanks in part to in-the-know friends like Charlotte Casiraghi, System magazine's Alexia Niedzielski, Elisabeth von Thurn und Taxis, and the model and photographer Delfina Blaquier, who wore a specially made long sky-blue silk Àcheval Pampa dress to Prince Harry and Meghan Markle's wedding. On the arm of her husband, the polo player Nacho Figueras, she cut a striking figure, a flat-brimmed white gaucho hat with matching blue trim perched at an angle on her head. "Argentina has regained confidence," Blaquier says, alluding to the country's recent financial troubles. "It's great to have a brand like this representing us internationally."
"Delfina's dress is like what the wife of a gaucho might wear," says Achával de Montaigu, who plans to add skirts, dresses, and capes to the line next season. "I remember when I was a student in Paris, everyone kept telling me I needed to sell what I wore. These things are normal for everyone in Argentina, but they can seem so exotic elsewhere."