Sofia Coppola's Key to Hosting the Perfect Luncheon Is to Not Be "Too Formal"
"I think just making people feel comfortable and not being too formal goes a long way," she says.
---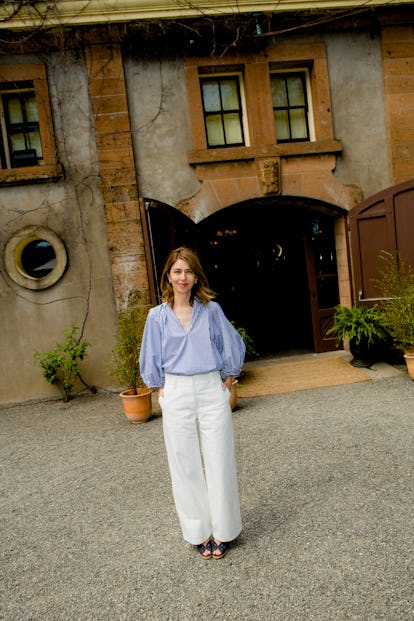 Sofia Coppola is well known for her work as a top Hollywood director, producer, and writer. But among certain circles, she's celebrated for another skill: throwing some of Hollywood's most enjoyable parties. Hosting an event where guests actually enjoy themselves is something that Coppola takes pride in. She considers designing artful table settings as one of her hobbies, and puts those skills to use, regularly entertaining guests at events that range from intimate dinners to rowdy bingo nights. Last week, while hosting a luncheon at her family's Napa Valley vineyard Inglenook, in celebration of the launch of the Santos de Cartier watch, Coppola explained how she does it all with ease.
Today you hosted a beautiful lunch with Cartier at Inglenook, but it's not your first collaboration with the brand. How did you first begin working together? Well, I've always loved jewelry, and I've always loved Cartier. They have such a history of glamour and sophistication. I got involved in working with Cartier when they were going to relaunch Panthère. I was so excited and made a little film with them. But mostly, I'm a shopper of things.
What's your earliest memory of buying something from Cartier? I can't remember the first thing I bought, but I've had this bracelet [that I'm wearing now] for, wow, probably 15 or 20 years? I've had it forever and just love it. I have different memories of getting holiday gifts from Cartier over the years—there's nothing like getting a little red box from Cartier. I remember my brother giving me a gold chain over 20 years ago. Also, my wedding ring is Cartier! So I have different memories connected to Cartier, but I also think it's just one of those legendary houses. To me, it has a sex appeal from the '70s.
Was that something that inspired the film you made for Panthère de Cartier? Yeah, I thought about those women, and that era of Cartier. When I was a kid, those were the women that my parents had as friends—they were from Paris, these sophisticated, young French women in the late '70s. That era sort of stays in my mind; it's just my favorite.
Are there any images from that era that always find their way onto your mood boards? Not specific images, but I definitely always look to that era of French Vogue. Oh, when I was working on the Panthère film, there were definitely pictures of Lauren Hutton from American Gigolo, and Charlotte Rampling…. Just those women with great hair who look at ease but they're a little done up.
The Best Advice Sofia Coppola Received From Her Dad, Francis Ford Coppola: "Don't Wait for Permission"
Both Hutton and Rampling are still considered sex symbols. Do the inspire you today as well? Yes, they have a mystique that you never lose. They have style, so, of course, you don't lose that.
That reminds me of the piece you wrote earlier this year for W, about how Hollywood stylists are killing red-carpet style. It's become such an industry, but things were a little more relaxed back then [in the '70s], or when you go to Europe. You had to put it together yourself.
Today's lunch felt very European and a bit like another era to me. What went into planning the event? I guess it's sort of European to just sit and have lunch on a weekday, and not be in a rush to grab something. I love that tradition. I love a table setting, that's one of my hobbies that I enjoy. I enjoy making dinner just so I can set the table. I collect china, dishes, linens, and all of that stuff.
In 2014, you did a beautiful jewelry story about table settings for W ("It's All Fine"). Have you always loved table settings? I feel like some people do it with more ease than I do, but I still enjoy it. I love the patterns on dishes and fabrics. My mom is really into textile design, so maybe I got that gene from her! I just love that kind of hostess tradition of making a beautiful table. To me, that's the fun part of making a meal. Getting some beautiful flowers, picking out the fabric for the table.
How did you set the table for this lunch? These are flowers from my mom's garden, and [the arrangements] are by this woman, Elaine, who arranges the flowers at my mom's house. I love [my mom's] garden. It's so beautiful right now, with all the tulips. And I picked the fabric when we hosted a wine auction last June. But I've always liked blue-and-white patterns, on china too. It's my old-lady side.
Part of the fun of this property is there are so many different areas that you can use, and we're lucky it's so nice outside! To be able to sit outside and have a moment, and have lunch before going back to the city.
You throw such spectacular events—from dinners and lunches to larger parties. What are your tips for creating an event that feels lovely and intimate, no matter the size? Getting a nice group together, with good wine, food, and music—my husband [Phoenix frontman Thomas Mars] helped me make the playlist for lunch. I think just making people feel comfortable and not being too formal goes a long way. I grew up in a very not formal way, so I always appreciate that my parents would have people over and my dad cooked. It's that Italian side of hospitality. I think it's nice to just all be together, and to have a table together and not be at separate tables.
What is the best event that you've ever hosted? Oh, you know what was fun? We had a bingo game dinner with Cartier once at La Grenouille. Cartier wanted to do a dinner to introduce a different watch and asked if I wanted to be involved. I was like, "Can we have a dinner at La Grenouille, and play bingo and give away the new watch?" I was surprised that Cartier said yes! And it was really fun because we had a fun group of people, and a good mix of my friends from film and our different worlds altogether, and they got really rowdy. Cartier used the seals that come on the boxes for our bingo chips, and they had the most beautiful gold cards, and my mom was, like, throwing the chips! After, she was embarrassed, and I was like, "No, it was fun!"
Do you like to have games at parties? Yeah, I think games are always fun. My mom's a sorority girl, so I think that's where it comes from. We do bingo as a family every Easter!
Are there other games you like to play at parties, besides bingo? There is a game called Codenames; it's a board game. We played it the other night, after Easter, when the kids went to bed, and we stayed up late. I'm not really a board-game person, but it's more like a word game that you play on teams, and it was really fun. But I'm not usually a game-night person. When they're not planned, it's more fun.
It's nice to incorporate family traditions into your parties! Are there any other things you've adopted? I always like a party favor! I think those kinds of details make a party.
Inside the Annual #CartierParty: Jake Gyllenhaal, Sienna Miller, Idris Elba, and More Embrace the Evening's Theme of 'Bold and Fearless'
Jake Gyllenhaal attends Cartier's annual party, this year in celebration of the Santos de Cartier watch, at San Francisco's Pier 48. Photo courtesy of Cartier.

John Salangsang/BFA.com
Sienna Miller and Chloe Sevigny attend Cartier's annual party, this year in celebration of the Santos de Cartier watch, at San Francisco's Pier 48. Photo courtesy of Cartier.

Stephane Feugere
Freida Pinto attends Cartier's annual party, this year in celebration of the Santos de Cartier watch, at San Francisco's Pier 48. Photo courtesy of Cartier.

John Salangsang/BFA.com
Winnie Harlow, Idris Elba, and Sabrina Dhowre attend Cartier's annual party, this year in celebration of the Santos de Cartier watch, at San Francisco's Pier 48. Photo courtesy of Cartier.

Stephane Feugere
The entrance to Cartier's annual party, this year in celebration of the Santos de Cartier watch, at San Francisco's Pier 48. Photo courtesy of Cartier.

Stephane Feugere
Dave Franco attends Cartier's annual party, this year in celebration of the Santos de Cartier watch, at San Francisco's Pier 48. Photo courtesy of Cartier.

Marc Patrick/BFA.com
Sofia Boutella and Lily Collins attend Cartier's annual party, this year in celebration of the Santos de Cartier watch, at San Francisco's Pier 48. Photo courtesy of Cartier.

Stephane Feugere
Sofia Coppola attends Cartier's annual party, this year in celebration of the Santos de Cartier watch, at San Francisco's Pier 48. Photo courtesy of Cartier.

Stephane Feugere
Lisa Bonet and Jason Momoa attend Cartier's annual party, this year in celebration of the Santos de Cartier watch, at San Francisco's Pier 48. Photo courtesy of Cartier.

Stephane Feugere
Inside Cartier's annual party, this year in celebration of the Santos de Cartier watch, at San Francisco's Pier 48. Photo courtesy of Cartier.

Stephane Feugere
Nas attends Cartier's annual party, this year in celebration of the Santos de Cartier watch, at San Francisco's Pier 48. Photo courtesy of Cartier.

Stephane Feugere
Annabelle Wallis and Aaron Paul attend Cartier's annual party, this year in celebration of the Santos de Cartier watch, at San Francisco's Pier 48. Photo courtesy of Cartier.

Stephane Feugere
Melanie Laurent attends Cartier's annual party, this year in celebration of the Santos de Cartier watch, at San Francisco's Pier 48. Photo courtesy of Cartier.

Stephane Feugere
Sam Taylor-Johnson and Aaron Taylor-Johnson attend Cartier's annual party, this year in celebration of the Santos de Cartier watch, at San Francisco's Pier 48. Photo courtesy of Cartier.

Stephane Feugere
Bianca Brandolini attends Cartier's annual party, this year in celebration of the Santos de Cartier watch, at San Francisco's Pier 48. Photo courtesy of Cartier.

Marc Patrick/BFA.com
Inside Cartier's annual party, this year in celebration of the Santos de Cartier watch, at San Francisco's Pier 48. Photo courtesy of Cartier.

Stephane Feugere
Aimee Mullins and Rupert Friend attend Cartier's annual party, this year in celebration of the Santos de Cartier watch, at San Francisco's Pier 48. Photo courtesy of Cartier.

Stephane Feugere
Edgar Ramirez attends Cartier's annual party, this year in celebration of the Santos de Cartier watch, at San Francisco's Pier 48. Photo courtesy of Cartier.

Stephane Feugere
Chloë Sevigny and Liev Schreiber attend Cartier's annual party, this year in celebration of the Santos de Cartier watch, at San Francisco's Pier 48. Photo courtesy of Cartier.

Stephane Feugere
Simi and Haze Khadra attend Cartier's annual party, this year in celebration of the Santos de Cartier watch, at San Francisco's Pier 48. Photo courtesy of Cartier.

Stephane Feugere