Rashida Jones and Bill Murray Have a Screwball Father-Daughter Date in On the Rocks Trailer
The A24 and Apple TV+ joint production will premiere on Apple TV+ and in theaters this October.
---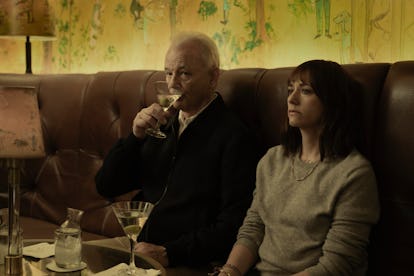 Image courtesy ofApple TV+.
The state of the summer movie release has been up in the air for quite a while now, but at least there's something fun from Hollywood to look forward to in the coming months: a new Sofia Coppola film.
In conjunction with A24 and Apple TV+, On the Rocks will be available for streaming and released in theaters this October. Coppola wrote and directed the film—her first feature since The Beguiled in 2017.
Rashida Jones and longtime Coppola collaborator Bill Murray co-star in On the Rocks as a 30something New Yorker and a middle aged playboy, respectively. Though they play opposite one another they are not playing lovers, so you can breathe easy if that was on your mind before reading the log line of this father-daughter buddy comedy film.
Jones stars as Laura, a wife and mom who seemingly has it all—except for the possibility that she suspects her husband Dean (Marlon Wayans) might be cheating on her while he's out and about on all of his business trips. Her dad, Felix (Murray), comes into town to lead an investigation into her husband's possible infidelity as they prowl through New York at night for any leads. Jenny Slate and Jessica Henwick also appear in the film.
After On the Rocks premieres on Apple TV+, you won't have to wait too long for the next Coppola project after that. The filmmaker has inked a deal with the platform to produce her first scripted series, an adaptation of Edith Wharton's classic novel The Custom of the Country.
Related: Sofia Coppola to Direct Her First TV Series at Apple TV+