Sofia Richie Shops for Vintage Lionel Richie Records at Flea Markets
The scion and face of DL1961's spring campaign shares her style secrets.
---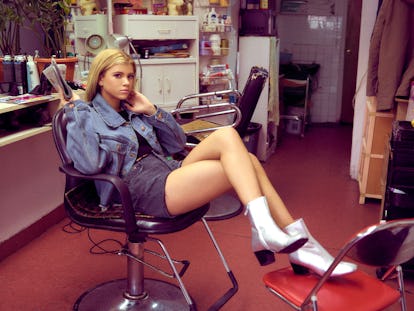 Sofia Richie knows the value of a good pair of jeans. As the new face of DL1961, the scion appears alongside fellow millennials Jasmine Sanders and Nathaniel Dam in the brand's spring campaign wearing an array of denim, including miniskirts and oversized jackets. Off camera, when not walking the runway at Chanel, the 18 year-old has quickly developed a street style persona all her own that involves, yes, lots of jeans. While palling around with the likes of Paris Hilton, Nicola Peltz, and big sister Nicole Richie, the model turns to ripped denim, loose t-shirts, and an array of statement jackets, topped up with a healthy dose of piled on jewelry. Here, Richie shares the secrets behind her fashion choices.
Describe your style: My style is pretty unconventional. I love to mix and match urban brands with classic, high-end pieces.
Where are your favorite places to shop? In Los Angeles, Barneys, and in New York, Kirna Zabête.
What is your daily uniform? Lately it's been my DL1961 Goldies. It's a comfy but chic high-rise tapered jean, which I'll pair with a t-shirt or crop top.
What is your go-to look for a night out? I love a sporty look: leggings with a bomber jacket and Adidas kicks.
Who is your style icon? I don't have just one! I really look to my friends for style inspiration.
What are your beauty essentials? Chapstick, rose oil, lipgloss, Giorgio Armani primer, and my hairbrush.
What was the last thing your purchased? An Eighties vintage record by my dad at the flea market.
What was your favorite look that you've ever worn on the red carpet? When Stella McCartney dressed me for the Met Gala in 2015.
Who is your favorite shopping partner? Nicola [Peltz]. She'll tell me honestly if something looks good or bad on me. She's not one of those friends who says yes to everything. You know the kind.
What is your most prized possession in your closet? My Cartier bracelets. I have one from my mom and one from my dad. They are very special to me.
Photographers Always Ask Kate Moss To Take Her Clothes Off: