Sofia Sanchez de Betak's Astoria
The jet-setter shares her favorite local spots in Queens, ahead of a collaboration with Globe-Trotter suitcases.
---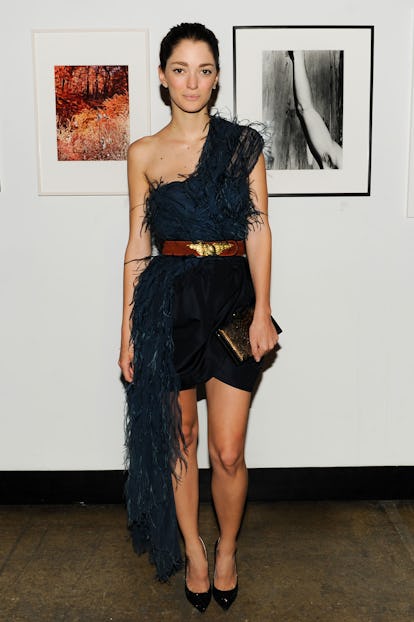 Sofia Sanchez de Betak knows a thing or two about travel. As an art director, she spends much of her time jetting around to places like Greece and Paris for work, not to mention Argentina, where she's from. But her favorite neighborhood of late doesn't require a plane, just a bike ride across the Queensboro Bridge from Manhattan. In Astoria, Queens, she's discovered many of the things she loves about traveling: authentic Greek cuisine, Argentinean milanesas, and Sicilian pizza. Plus, there are world-class museums. Ahead of a collaboration with The Luxury Collection and Globe-Trotter suitcases, de Betak shares her Astoria hit list.
El Gauchito El Gauchito is my favorite restaurant in Astoria; it's like a little piece of Argentina in New York City. Their meat is cut the Argentinian way, and they have a little grocery store in the back where I buy milanesas for my lazy nights.
Noguchi Museum One of my favorite museums in New York. Isamu Noguchi's sculptures are fascinating, and taking a bike up the Queensboro Bridge is the perfect Sunday excursion.
MoMA PS1 ____
I love visiting all the amazing museums in New York, but PS1 stands out for me because of its amazing architecture. Whenever I visit I always make a point to check out their outdoor installations.
Loukoumi Taverna When I was looking for a spot to host the dinner for the launch of my Globe-Trotter luggage with The Luxury Collection, I instantly fell in love with Loukoumi Taverna. You will find the most authentic Greek cuisine here, and the restaurant has the most comforting, family-oriented atmosphere; I love the black and white family photos from the owner's family that cover the walls.
The Bonnie The Bonnie is my go-to brunch spot in Astoria. I love the buzzy atmosphere and always order their smashed avocado toast. It comes with a poached egg and roasted tomatoes on top, and a dash of their chili-salt is the perfect addition to spice it up.
Rose & Joe Italian Bakery This place sells some of the best baked goods in the borough; their cannoli are fantastic. Make sure to pay a visit to the back counter of the bakery as well, where they serve up delicious slices of Sicilian pizza.
Astoria Beer Garden at Bohemian Hall If you're in Astoria, visiting the Beer Garden is a must for music and drinks with a group of friends in the summer. The outdoor garden has tons of picnic tables where you can sit and order specialties from their authentic Czech menu, and they have a large list of European beers to choose from.
Astoria Greenmarket In the summer and fall, I love stopping by the seasonal Astoria Greenmarket to pick up fresh produce to bring home and cook with that evening. You can also find a variety of Mexican hot peppers!