Sofia Sanchez de Betak Really, Really Loves Her Gucci Slippers
The art director and street-style star can get obsessed with fashion.
---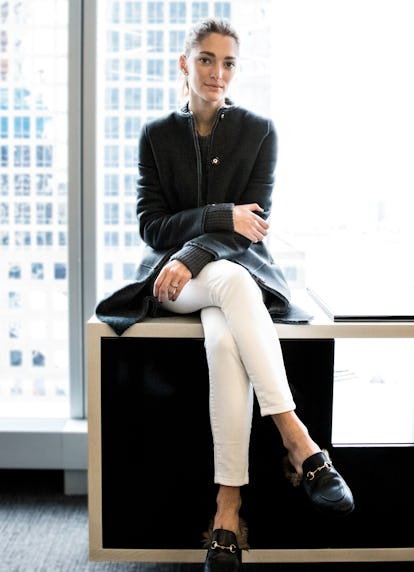 Don't try to put Sofia Sanchez de Betak's style into just one box. The international jetsetter (she just recently went on an expedition to Antarctica), art director, and street-style darling prefers to mix things up when it comes to her fashion choices. "Right now, I'm feeling cold, so it's all about lots of layers and hand warmers in the pockets," she says on an icy, 25-degree New York City afternoon. "I had leftover [hand warmers] from my trip to Antarctica because I thought I was ordering like 20 and apparently I ordered 150. Now I have 100 at home, and what better place than New York to use them?"
Currently, Sanchez de Betak is busy preparing a 50-person fashion week dinner she and husband Alex de Betak host each season that's becoming something of a tradition for the fashionable power couple. "We love to do an anti-chic, fashion week dinner that is super laid back," she says. "We have been renovating our place for a few years, so it makes it extra casual because it's kind of a mess. It's fun for everyone to just relax, eat good food, and enjoy the company." Shortly after her dinner, she's off to London for the launch of her collaboration with Globe-trotter luggage, and then on with the rest of the fashion month slog after that. Here, she breaks from her busy schedule to let us in on a few of her best style and travel secrets. Hint: fur Gucci loafers.
Three words that describe your style: We have only one life, so why only do one style? I find that boring. I like texture, I like print, I like tailored, I like loose, I just like having fun.
Preferred footwear: Gucci fur slippers. I buy one pair of shoes before the season and wear throughout. I get obsessed and wear the same shoe over and over, and sometimes I buy two pairs.
Nighttime look: My go-to night look is jeans and boots. For a big event, I like dresses. I rarely wear skirts, I just like dresses or pants.
Style icon: I don't have one. Ricky Martin is an icon, but I don't have a style icon because style is not something that I admire, it's the personality and the vision and the idea. Ricky, for example, I love his music and personality.
Recent discovery: I found this SKU store, I thought it was a cool Japanese store, and bought a bunch of things and then found out it is super local and has been in the West Village for like ten years. It's all super cozy, perfect for Sunday brunch, and my husband bought it too and wears it a lot.
Favorite NYC shops: De Vera, a jewelry store on Crosby and Howard that I love. I think it's the best store in New York (or the world). Also, I love REI on Houston Street! I went wild there before my trip to Antarctica and bought everything I didn't need (but I ended up using). Amazing camping stuff—I never go camping—but there is a little oven you can plug your USB to and charge your phone. I find it fascinating, that kind of American invention store. I love Dover Street, shop online a lot, vintage markets (mostly Brooklyn Flea or New York Vintage for bigger occasions).
Favorite NYC eatery: I love Estela for brunch. The chef is a really good friend and he is opening a new restaurant that I am really looking forward to. It opens the day I leave so I am trying to get an early tasting—it opens on the 19th. For brunch, I get the endive salad with walnuts, pastry sandwich, dumplings, and the panna cotta.
Lusting after: I got these Gucci loafers last month and they haven't had a rest. I still haven't found the right travel backpack. We live between Paris and New York and I want to stop traveling with suitcases so I want a mid-sized backpack that would fit my computer, a little bit of clothes, headphones, etc. I just saw a Proenza one I like, maybe that's the one.
What's always in your travel bag: Glossier lip balm, cuticle lotion, Gucci slippers are great for travel, a mask, I always take pajamas and wear a long dress with pajama pants underneath, headphones, Lollia hand cream, and I might start wearing gloves because I kill my hands with my suitcase.
Fashion week essentials: My Gucci slippers, a wireless phone charger, and a phone case that holds your credit cards and ID because I am constantly changing bag and losing things.