Sofia Sizzi Loves Peaky Blinders, Loathes Puffy Coats
The Giulietta designer shares a page from her style notes.
---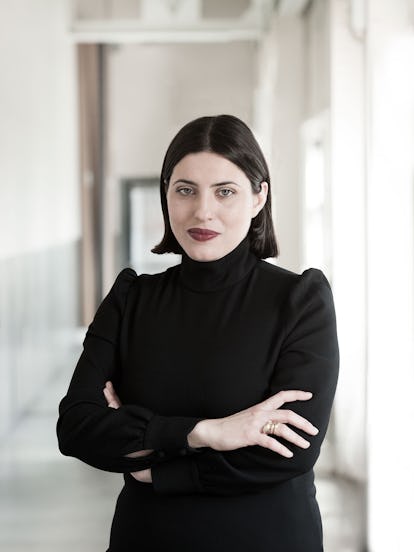 Florentine designer Sofia Sizzi has worked at Gucci, Donna Karan, and Calvin Klein Collection, but since 2011, she has been at the helm of her own label Giulietta. In light of her stellar Pre-Fall 2015 collection, we asked the 37-year-old a few questions about her personal style. Here, she shares her favorite stores, her go-to nighttime accessories, and her New Year's resolution.
Daily uniform: A black mini dress and Saint Laurent patent block heels.
Greatest hits: I am currently into my Comme des Garçons faux fur bolero over my black '60s vintage coat.
Preferred footwear: The newly launched Giulietta shoes! My favorites are the Loretta lilac and orange jewel sandal (available exclusively at Barneys starting on February 15th, 2015)
Finishing touches: I wear my wedding band every day, because it is custom-made by my best friend Carlotta. It's simple and just perfect!
Nighttime look: The same as what I wear in the morning but with a pair of Miu Miu chandelier earrings.
Best recent discovery: Peaky Blinders, the TV show.
Favorite stores: Opening Ceremony, Matter, Barneys, Eataly, Home Depot, Strand Bookstore, Philip Williams Posters, Pasanella & Son Wine Store, Emily Thompson Flowers.
Style pet peeve: This winter's invasion of light puffers.
Style icons: Monica Vitti in The Girl with the Pistol.
Last purchase: Calzedonia tights—they are Italy's best kept secret!
Lusting after: Peaky Blinders season 3
Favorite haunts: Jean-George's Perry Street restaurant, I love their Ginger rice ball. I am also obsessed with Pegu Club's signature cocktail, Bottega Falai's pastries, Balthazar bakery's ginger tea and Eataly's Schiacciata.
What's always in your bag: Chanel red lipstick.
New Year's Resolution: A trip to Ireland!
Photos: Sofia Sizzi Loves Peaky Blinders, Loathes Puffy Coats
Sofia Sizzi. Courtesy of the designer.
Sizzi's dog with Giulietta shoes. Courtesy of the designer.
Emily Thompson Flowers. Photo courtesy of the designer.
Sofia Sizzi with her dogs Gina and Mario. Courtesy of the designer.
Bottega Falai. Photo courtesy of the designer.