Premiere: Soko's "Very Happy Gay Family" Stars in Her New Music Video
The 34-year-old singer shares how she met her girlfriend and what motherhood has taught her about nipples.
---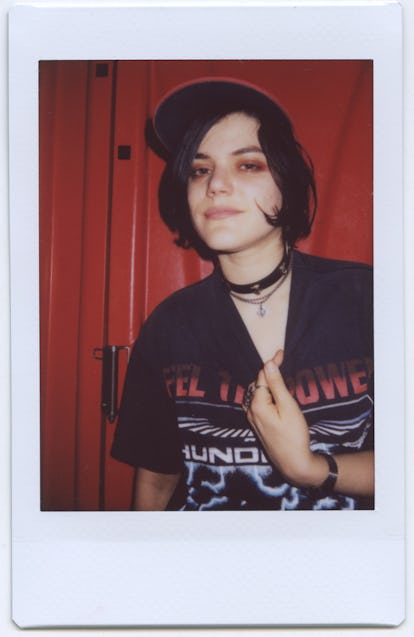 Photo by Kimberley Ross for W magazine.
The singer and actress Soko has always wanted to be a mom. But in the weeks and months that followed the birth of her son, Indigo Blue, in November of 2018, there was one thing she hadn't anticipated. "I had to Google, like, 'My baby keeps touching my nipple. Why?,'" the 34-year-old recalled with a laugh on a Zoom call from Los Angeles.
But as Google, and later her doula, assured her, Indigo's perplexing habit was perfectly normal. "It's called twiddling, and most babies do it when they nurse," she explained. "At first I thought it was really weird and I'd take his hand off, but he's controlling the flow of the milk." She paused. "Isn't that crazy?"
It was exactly the type of thing she wanted to include in the music video for "Let Me Adore You," the first song she wrote on Feel Feelings, her newly released third album. "I just wanted it to be very intimate," Soko said. It was only fitting for a song that begins "Nude is how I like you best / Undress / Undress," and which has come a long way from its original guitar-heavy version. "We were like, we need to make it more stripped down," Soko said of how she and her producer, Patrick Wimberly, created what now sounds almost like a lullaby. "Let's make it super bare."
To make the video, they first had to make two trips to Joshua Tree. They started out with a "proper trip," which Soko took with Stella Honorel, her girlfriend, and Jasper Rischen, her "super close friend." The latter, a director, decided to document it. "We didn't plan on doing anything with that footage, other than just capturing moments with friends," Soko recalled. When they realized it was perfect for the music video, they returned—this time with then 17-month-old Indigo, whose previous appearance was in the form of a baby bump.
The end result feels like a home video, which is in part because Soko took charge of the final edit. Out of respect for her boundaries, her usual video editors tend to take a more conservative approach. Soko, on the other hand, took things a bit further, allowing her to remind people that a "very happy gay family" does indeed exist. "As much as it's my partner and my baby, the minute you turn a camera on, it becomes narrative," she said. "So yes, it is a very intimate video, but it's also what we feel comfortable putting out into the world. It's filtered through the lens of what we're letting people see. It's a trip away from home, and it's an intimate trip, but it's also not our daily life. And that distance is something I feel more comfortable with."
Honorel is camera-shy, and Soko described filming the video as putting her through "mini torture." Thankfully, she's pleased with the end result—and the same goes for Indigo. "He's obsessed with watching my videos," Soko said of her son, who's nearly two now. "The minute he hears any of my songs, even the ones I don't think he's heard before, he gasps and goes 'Maman!' And then usually right before the end, 'Encore, encore maman! Encore! Encore!'"
Mom life has had another unexpected consequence: It's only now that Soko has started writing again, and she still hasn't recorded anything since giving birth. "It's weird, because it's what I've done since I was 19, and I was very prolific," she said. But post-Feel Feelings, it finally felt time to take a break. "I'd done everything I wanted to do in my life. I'd completely outlived my childhood dreams. If I had told my 10- or 15-year-old self that I'd have made three records, made movies, and been nominated for two César Awards, traveled the world and worked with incredible people, and was in a happy, healthy relationship with a woman and that we're raising my baby together…" She trailed off. "Even moving to L.A.—I couldn't imagine that in my wildest dreams when I was a small-town girl in France."
The decision to focus on "the woman in me, not just the artist," didn't come out of nowhere. In 2016, Soko spent a week at the Hoffman Institute, a retreat with the slogan "peace on Earth comes from within." And if anyone could sell you on doing the same, it's Soko. "You know how your phone is like, here's a new update to make sure things are working properly, and all these improvements that can make your life better?," she asked. "I feel like if we all worked as hard on ourselves as like the people at Apple work on the iPhone, we would all be better humans. It takes a lot of work to consistently update yourself and fix the bugs. Like, think about it—when do you get the update that's like, here's the new, improved version of yourself?"
Seven days later, Soko emerged with a new sense of self-worth. She no longer needed validation from relationships; in fact, she spent the next year and a half celibate. To top it all off, her songwriting was better. "I dove so fully into making that record, and I was so much more enthusiastic," Soko recalled. "I wasn't looking for the next escape, the next fix of 'Am I loved or not?' I was just extremely present with the sweet, product, creative people I got to work with."
Soko intended to be fully present when raising Indigo, too. And while she has—they're together constantly, and he's never had a nanny—she's also unexpectedly done three movies and one record release since. Finally, the pair is getting to stay home with Honorel, whom Soko met when a mutual friend asked if she could rent her guest room. "I wasn't renting it, and I didn't know her, but I was like, I guess you can rent it for a couple weeks," Soko recalled. "And then she never left." They never moved, either; the guest room now belongs to Indigo.
Related: Chloë Sevigny on Motherhood, Hiding Her Pregnancy on Set, and That Nostalgic Target Photo