Did You Hear About Solange?
In case you missed it, here are the top style stories of the week.
---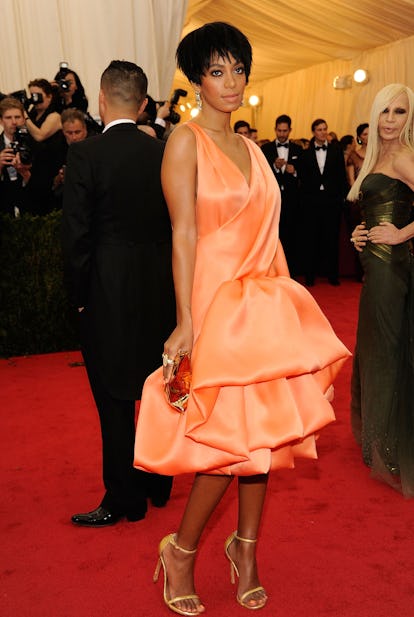 Chanel Designed a petroleum can-shaped bag. When in Dubai…
COS Debuts ecommerce. Good news for closets, poor news for wallets.
De Libran, Julie The former Louis Vuitton designer is taking over at Sonia Rykiel. Tres chic.
Delevingne Cara Made an Instagram account for her new rabbit, Cecil. Yes, he already has more followers than you do.
Delevingne, Poppy Gets married in Chanel Couture, duh.
Galliano, John Hired by Russian beauty chain, L'Etoile. Can no longer accept unemployment checks.
Hood by Air Trying really, really hard to make Timberlands back in fashion. With the help of some magic crystals.
Knowles, Solange Breaking news for anyone living under a rock: Beyoncé's younger sister attacked Jay Z following the Met Gala. Conspiracy theorists, enjoy.
La Perla Apologized after featuring ultra skinny mannequins in the brand's store windows.
Lawrence, Jennifer Wore a blonde goatee, black halter dress on The Tonight Show. Did not trip once.
Rihanna Wore a pink wig. Don't dare to copy or you will be cyber bullied.
Short Shorts Are apparently a trend for men of all shapes and sizes this summer, according to the Wall Street Journal. Now we know the answer, Nair.
Swift, Taylor Names Lena Dunham her personal style icon. Explains her love of onesies and sneakers.