Solange Knowles Can Officially Make Anything Look Good
She's the queen of "Anything But Clothes" style.
---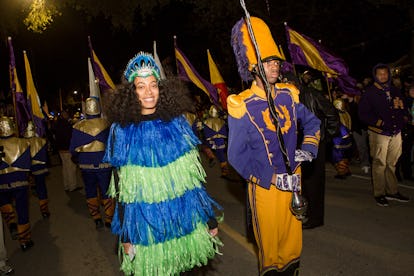 Getty Images
The fact that Solange Knowles is a style star is no secret, but who knew she was secretly the queen of "ABC" fashion?
That's ABC as in "Anything But Clothes," a term you're likely familiar with if you attended a college with a thriving greek system or even a partial reputation as a party school. Perhaps an evolution of the traditional bedsheet toga party, an ABC party invites guests to show up wearing, well, anything but traditional clothing. Usually, this results in unfortunate things like minidresses fashioned out of old Natty Light boxes and duct tape or slapdash takes on Lady Gaga's caution tape ensemble from the "Telephone" video. Fine for an undergrad getty, but not exactly anything that would inspire adulation anywhere else.
Knowles wasn't in attendance of a college kegger last night, but she was feeling bored and crafty and decided to prove it is possible to look chic without traditional clothing. So she took a ball of lavender yarn and decided to turn it into a dress. All this without actually knitting it into fabric.
"I fucked round and made a dress out of yarn," she wrote on Instagram.
Thus proving that with the right eye, style cues, and confidence, some people really can make anything good. Then again, it was just a few months ago that Solange managed to make dry cleaning bags look like a high fashion dream.
Knowles also has a knack for wearing designer looks that incorporate untraditional materials and could, or maybe should, serve as inspiration for sorority pledges attending their own ABC party.
Like this Moschino dress she wore at Mardi Gras this year. Deisgner Jeremy Scott was inspired by car washes during this collection, by the way.
Or this look which could probably be recreated with some cardboard and glitter paint.
Or just take a hint from son Julez and wear a pinata as a statement headpiece.
Watch W's most popular videos here: