Solange Knowles Had Been Dropping Hints About Her Two New Videos For Weeks
On Sunday night, Solange Knowles dropped two videos to accompany her new album A Seat at the Table.
---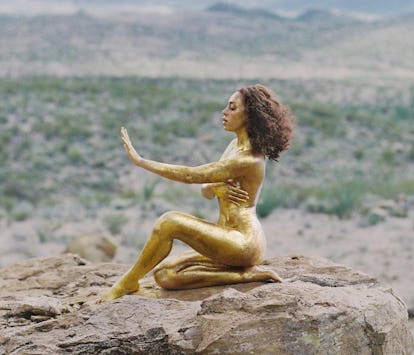 Courtesy of Solange Knowles.
Solange Knowles' release of her new album A Seat at the Table on Friday came as something of a surprise. Knowles announced she completed the album back in June on her 30th Birthday, but held out on giving the world a title or expected release date until just days before it dropped. She followed it up by quietly releasing a set of two videos to accompanying the tracks "Don't Touch My Hair" and "Cranes in the Sky" late last night, but the production of the videos weren't kept under the secrecy associated with her sister.
In fact, Solange has been giving sneak peaks at the visuals that accompany the album and the video on her Instagram for weeks now.
Both videos were co-directed by Solange Knowles and her director husband Alan Ferguson, and art direction on both was handled by Knowles in conjunction with her longtime collaborator, the Spanish-born artist Carlota Guerrero.
Solange first gave the world a hint with his Instagram post six weeks ago that features a dress and set that turned up in "Cranes."
A preview of the "Hair" choreography followed the next week.
She also gave a preview of the yarn dress that appears in "Cranes," which, at the time, caused us to dub her the queen of "Anything But Clothes" style. "Been hanging out with @carlota_guerrero too long," Knowles wrote.
Fashioning outfits out of untraditional materials is a hallmark of Guerrero's work, and, indeed, Knowles appears in the video in all matter of non-clothing clothes: yarn, palm fronds, gold body paint, gold tinsel and shopping bags.
She also appears in an almost "Human Centipede"-type look inspired by Issey Miyake's spring 1999 runway show. She's later clarified on Instagram that her mother Tina Lawson had a hand in creating the version that appears in her video, and, which, of course, made its debut weeks before on Instagram.
Watch both videos in full below:
"Cranes in the Sky":
"Don't Touch My Hair":