Solange and Jacquemus Are In; Edun's Danielle Sherman Is Out
ANDAM Awards, CFDA Awards, and Pitchfork Paris all make their picks, and Shia LaBeouf goes on a road trip.
---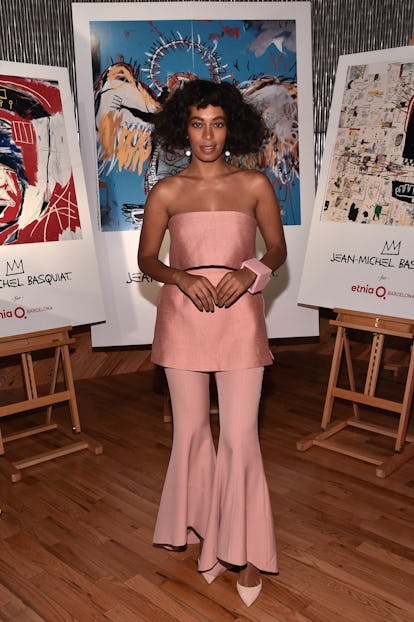 Awards, ANDAM Parisian fashion awards and early supporters of names like Martin Margiela and Jeremy Scott — in short, this year's nominees, announced Monday, are ones to watch.
Fashion Awards, CFDA Despite recently announced appearances by stars and non-fashion-people like Jennifer Hudson, Joel McHale, and Michael C. Hall, the CFDA Fashion Awards will not be televised.
Film Festival, Cannes The festival may have ended on Sunday, but these are the breakout faces of Cannes whose names you'll be sure to hear again and again in months to come. Also, the fashion continued to be on point, for men and women alike.
Knowles, Solange Rivaling sister Beyoncé for fashion cred; her Saint Heron brand has teamed up with Australian label C/meo Collective for a capsule collection, and it's very Solange. Think head-to-toe salmon, bright blue, and color-blocking.
LaBeouf, Shia After his movie with Riley Keough, American Honey, premiered to much fanfare in Cannes, LaBeouf is back to his old performance art ways with a new hitchhiking project. That seems safe.
Music Festival, Pitchfork The cooler, hipper European cousin of the annual Chicago Pitchfork Music Festival; Pitchfork Paris just announced its preliminary lineup for the festival, currently scheduled for October 27 to 29 — and it includes perennial favorites like Bat for Lashes and Daphni, the most recent incarnation of Dan Snaith's Caribou.
Sherman, Danielle Edun creative director and alum of The Row and T by Alexander Wang; departed from the Ali Hewson and Bono-founded brand Monday to "pursue other opportunities."
3 Paris Provocateurs: Vetements, Jacquemus, and Courrèges
Clothes Encounter
From left: Vetements designer Demna Gvasalia, with stylist Lotta Volkova and DJ Clara 3000, at a friend's apartment in Paris. Volkova wears Vetements parka. DJ Clara 3000 wears Vetements jacket.
Gvasalia, in bed, with Vetements model and muse Maud Escudie at her apartment in Paris. Escudie wears Vetements.

Photographer: Colin Dodgson
Vetements fit model Lily Standefer, at home in Paris, wearing pieces from the Vetements spring collection.
Styled by Lotta Volkova
DJ Clara 3000 wears a Vetements jacket and pants.
Styled by Lotta Volkova.
Photography assistant: Simon Wellington; fashion assistants: Ting, Laura Tanzer.
Mixed Breed
Simon Porte Jacquemus, with Baco the horse and the model Hayett McCarthy, in Paris. McCarthy and Porte Jacquemus wear Jacquemus.
The actress and singer Joana Preiss, wearing Jacquemus.
Styled by James Valeri.
Hair by Alexis Parent; makeup by Kathy Le Sant at Airport Agency; photography assistants: Simon Wellington, Christian Bragg; fashion assistant: Lamia Lagha.
Future Perfect
Top, from left: Courrèges style director Lolita Jacobs, wearing a look from Sébastien Meyer and Arnaud Vaillant's debut collection, with Meyer and Vaillant at their home in Paris.
Jacobs wears Courrèges.
Hair by Joseph Pujalte at Atomo Management; MakeUp by Mayumi Oda at Calliste; production by Laura Holmes Production; photography assistants: Simon Wellington, Christian Bragg.