Solo: A Star Wars Story Should Be More Donald Glover and Phoebe Waller-Bridge: A Love Story
Turns out Earn and Fleabag are great in outer space.
---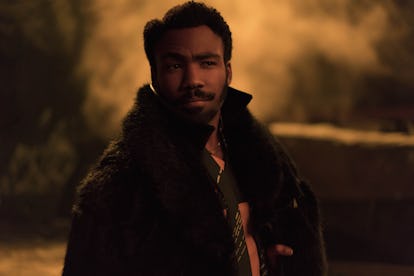 Jonathan Olley
Donald Glover and Phoebe Waller-Bridge have, independently of each other, created some of the best television in recent years. Glover—who just released what is arguably one of the most striking music videos of all time with "This Is America"—is the multi-hyphenate talent behind Atlanta, a show full of small masterpieces. Waller-Bridge is responsible for both the tragicomedy Fleabag, in which she also stars, and Killing Eve, the delicious assassin drama currently airing on BBC America. Onscreen in Solo: A Star Wars Story, they make a perfect space-pair. It's just unfortunate we get to see so little of them.
Solo, out May 25, is the latest expansion of the Star Wars franchise. It's a prequel to the original trilogy about how a handsome, savvy orphan named Han got to be the handsome, savvy smuggler named Han Solo. (Turns out the "Solo" was tacked on because he needed a last name. It means, unsurprisingly, "alone.") There's been an awful lot of fretting over this movie. It was originally supposed to be directed by 21 Jump Street duo Phil Lord and Chris Miller, but what they were producing wasn't to Lucasfilm head Kathleen Kennedy's liking, so they were replaced by Ron Howard. Along the way, reports emerged that Alden Ehrenreich, given the nearly impossible task of matching the presence of a young (swoon) Harrison Ford, was given an acting coach.
It turns out talk of a disaster were overblown. Solo is a piece of pop ephemera, a frequently enjoyable, if a little too lengthy, two hours and 15 minutes. Ehrenreich is no Ford, but he's still got charm, even if his Han is a little sweeter than the one you might remember from A New Hope.
Glover and Waller-Bridge were always the most exciting casting choices. Waller-Bridge established a unique, harshly funny voice with Fleabag, about a mess of a woman dealing with personal tragedy. And as Lando, Glover would get the opportunity to play one of his personal heroes, and perhaps offer a corrective to the debated tokenism of the character's initial inclusion.
But it takes a lot of plot to even meet them. First, young Han has to escape the evil water-slug-looking alien who enslaves children, meet Chewbacca, fall in with a band of thieves run by Woody Harrelson, and reunite with his old flame, Qi'ra, played by Emilia Clarke. It's only then—in need of a ship to complete a shady deal for a crime syndicate called Crimson Dawn—do they seek out Lando and his Millennium Falcon.
Outfitted in a bright yellow shirt with black accents and lording over a card table, Glover makes it clear that he's already had adventures this whippersnapper could only imagine. He mimics the smoothness of Billy Dee Williams's delivery while adding another layer of charismatic danger. Eventually, Lando is coaxed into volunteering his vessel for their mission. It's then we learn: He doesn't work alone. Just like Han has Chewie, Lando has a nonhuman buddy in the form of L3-37, voiced in a motion-capture performance by Waller-Bridge. Star Wars is no stranger to a sassy droid, but Waller-Bridge infuses her with messy feminine energy. In fact, L3-37 is downright sexy.
These two have a great odd couple dynamic. She's a rundown hunk of junk; He's a man who cares deeply about looking fan-f—ing-tastic with an entire closet devoted to capes of all colors. Lando's outwardly frustrated with her, saying he'd wipe her memory if she didn't have such a wealth of information. Still, L3-37 claims he's just in love, and it's obvious he sort of is. She mentions this to Qi'ra, who is confused as to how a droid-human relationship would even work. L3-37 promises her it would, even though, please, she can do better. We have no doubt.
And then? Lando and L3-37 are mostly sidelined. During the big sequence on Kessel—of Han's famous Kessel run—Lando stays on the ship, recording his memoir, The Calrissian Chronicles. (Sounds like a pretty good title for a spinoff, if you ask me.) L3, meanwhile, gets in on the action, inciting a rebellion on the planet, to disastrous ends. Their moments together might have packed a bigger emotional punch if we had just gotten to know them a bit better.
Early viewers of Solo are already clamoring for a Lando-centered story—and Glover has a Catch Me If You Can–type idea—but Kennedy doesn't seem all that interested in making one right away, telling a French magazine, "We would love to tell a story about Lando Calrissian one day, but it's not relevant, it would be fun to tell the story of Han and Chewie…" ("It's not relevant" is odd phrasing, but that seems to an issue of translation. Regardless, it's not something that's definitely happening.)
A Lando-L3 prequel co-written by Glover and Waller-Bridge sounds like an absolute no-brainer. You have two of the most talented writers working today, who know these characters intimately. They could travel the galaxy in the Falcon, running schemes and debating the merits of cape color schemes. Maybe they'll even fall in love. But, hey, if Disney doesn't want free money at least we can know these two will be out there writing things we want to watch.