Meryl Streep, Audra McDonald, and Christine Baranski Did a Zoom Toast to Stephen Sondheim
For Stephen Sondheim's 90th birthday concert, Broadway legends like Meryl Streep, Audra McDonald, and Christine Baranski sang and toasted the composer.
---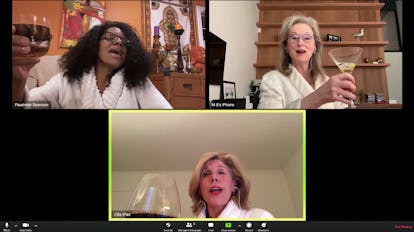 Image courtesy of YouTube.
No Tony Awards? No problem—Stephen Sondheim's 90th birthday celebration concert on Sunday night filled the void that has been left by the absence of theatre in our lives due to the coronavirus pandemic.
The broadcast, which was made possible by Zoom and streamed live on YouTube, began, in true theater fashion, much later than it was advertised. Before the end of the nearly two-and-a-half-hour long birthday concert hosted by Raúl Esparza, we were given the pleasure of virtual performances by theater legends Bernadette Peters and Patti LuPone, newcomers like Iain Armitage, and even an appearance from Jake Gyllenhaal and Annaleigh Ashford performing a duet of "Move On" from Sunday in the Park with George.
But the performance that nailed the socially distanced quarantine mood of the night was one by Christine Baranski, Meryl Streep, and Audra McDonald. Supported by each of their own respective cocktails, they sang "The Ladies Who Lunch," a song written by Sondheim that was originally introduced by Elaine Stritch in Company in the early 1970s.
There were bathrobes. There was red wine. There was scotch. There were martinis. There was Streep's Zoom name listed as "M S's iPhone" and Baranski's as "CBs iPad" and McDonald's as "Paudreter Swenson." People overuse the word iconic, but this trio and their tribute to Sondheim is certainly going to live online forever, and will probably end up in some sort of digital component of a museum once we're on the other side of the pandemic.
And just like that, in one week we all went from chanting "Ladies, Ladies, Ladies…" to belting "Here's to the ladies who lunch" while sipping vodka stingers in the middle of the day because we're all quarantined and time is relative anyway.
Related: Iain Armitage, Big Little Lies Breakout Star, Loves That Meryl Streep 'Raises People to Her Level'