Meet K-Pop Star Sooyoung Choi
The Girls' Generation member adores Beyonce too.
---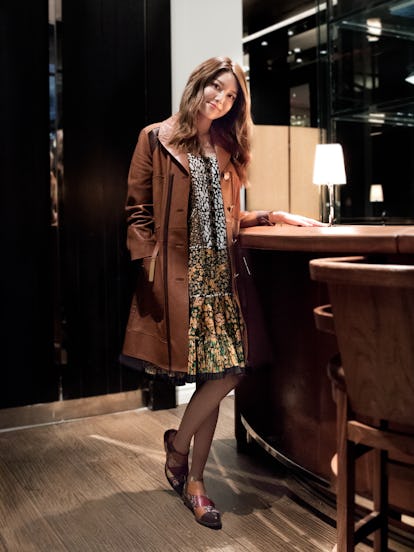 K-Pop star Sooyoung Choi is in New York City for her third Coach show, where she sat front row alongside Chloë Grace Moretz, Ciara, and Emma Roberts. Being one of eight Girls' Generation members – the most popular South Korean girl group – Choi, 27, has gained her over 3 million Instagram followers and a first class ticket to America, where the fashion industry is clamoring for South Korean fashion and beauty secrets. Having just graduated from Chung-Ang University where she studied theatre, Choi is actually more of a fan of shopping in Paris. And like her idol Jane Birkin, she hopes to do more acting in the future, though her musical icon remains the one and only Beyonce.
How would you describe your style? French chic.
Favorite places to shop in Paris: Le Marais and Colette.
Favorite places to shop in Seoul: I prefer going to department stores at the Galleria instead of walking around the city.
Style Icon: Jane Birkin.
Something you would never wear: A lace skirt.
Always in your bag: NARS lipstick, Saint Laurent mascara, and a Canmake Color Stick.
Favorite Korean beauty products: A rice maker. Just kidding, face masks, Mamonde lipstick, Chantecaille concealer, and SON&PARK eyeshadow, which you can only get in Korea.
What did you use to dye your hair? Shisedo ombre.
Last purchase: My boyfriend [actor Jung Kyung-ho] bought me Diptyque "Rosaviola" perfume for Valentine's Day.
Favorite love story: Lost in Translation.
Dream movie role: A lot of Asian actresses want to do action movies at first, but I would like to do independent films.
Greatest hit on Instagram: People love our Girls' Generation group shots.
Who do you like to follow on Instagram? Chiara Ferragni of "The Blonde Salad." I saw her at the last Coach show, but I didn't get to say Hi. This time I will.
Secret to getting a good runway shot: I bring my digital camera for Tumblr photos.
Favorite emoji: Thinking face.
Favorite photo apps: It's really embarrassing, but BeautyPlus.
What messaging apps do you use to group text? Kakao Talk.
Favorite snack in Seoul: I love Korean food, of course, but I also love pancakes and patbingsu, which is shaved ice with sweet toppings.
Hidden talent: Imitating people.
Favorite things to do in New York City: Walk in the beautiful parks, eat at Shake Shack, and go to musicals. Last time I was here, I saw "Finding Neverland." It was so great. I want to see it again.
What music are you listening to right now? The Weeknd and one of the Girls' Generation members, Taeyeon, just released a single called "Rain." I also listen to Bruno Mars and Tori Kelly to relax.
Musical idols: Beyoncé.
Photos: Meet K-Pop Star Sooyoung Choi