Sophia Loren Uncensored: "I Look Fantastic. Everybody Says So!"
An interview with the Italian screen goddess, who doesn't hold back on aging in Hollywood and how good she still looks at 81.
---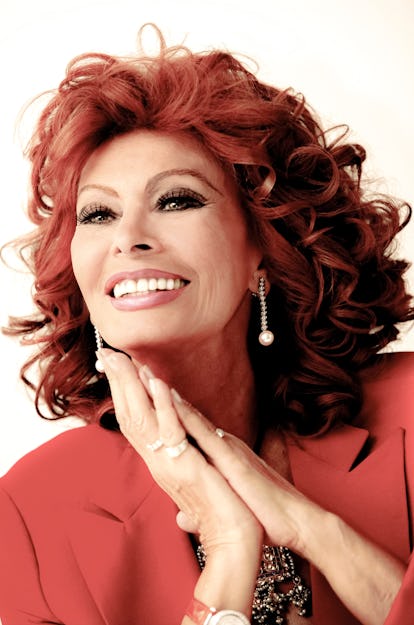 Sophia Loren is 81 years old, but she's quick to note that she doesn't seem like it: "I look very well, by the way. I look fantastic," she said between laughs on the phone from Geneva, her home for the last 10 years. (The actress, Oscar winner, and Italian bombshell may be tied to Naples, but she left her native Italy after an only recently cleared tax evasion case that took decades to resolve – and a 17-day stint in prison.) Next week, though, Loren's returning home, in a Hollywood sort of way: on the 26th, she's headed to the Venetian, an Italian-themed luxury hotel and casino in Las Vegas, for a look back on her storied life and career. From meeting her future husband Carlo Ponti (22 years her senior) to turning down Cary Grant (30 years her senior, and already married), Loren definitely has plenty to cover. One thing she wants to make clear: she's not done with acting just yet.
You used to be so concerned about privacy that you'd burn your diaries. What made you decide to do this event and look back at your life and career in public?
Well, I was at the Venetian a long time ago when it opened, and I like to come back to Las Vegas because it's a long time since I've been there. I'm not going to gamble, because I don't like gambling, but I hope to enjoy every moment of it.
Are you nervous about what might come up in the Q&A portion?
Yes, of course I am nervous! I am always nervous when I start to do something new, though it doesn't—I hope—last very long. For instance, at first on the stage I may be a little bit… not afraid, but with a sense of insecurity. But then when you see how it happens and how it goes on and you relax and you are yourself, and when you are yourself everything becomes very easy. If you are a good person, you always know how to answer well. If you are a bad person, then maybe you should worry about yourself and what you answer. I am a very good person, so I think I can do not a very good job, but answer nicely and how I feel. I always respect my character and I trust myself. And there's nothing I have to hide, you know? [Laughs.] I'm asking you questions now.
You entered a beauty pageant at 14 and have had dozens of movies and awards since – not to mention two children and an Oscar. What was the moment you first realized you'd made it as a star?
Well, I still wonder. Because when you are, you still wonder if whatever you did in your life is the right thing, even though it took so many years. You only realize this when people talk about you and your career, and they remind you of things that please you. It's very nice to live it, to go through it again, with other people that saw you from the beginning.
Looking back, is there anything you would have done differently?
No, I don't think so. I'm very glad. But in a long, long career like I had—and by the way, I have—it's very difficult to be able to criticize some of the moments that you do by yourself that you never tell to other people. It's a very normal thing to do because you cannot every time have a big victory – no, there have been moments, maybe weak moments, where you did something that you are not really very happy about. If you asked me what it is, I don't know, because I have to go through my life and it's a very long talk then. [Laughs.]
What's the most fun you've ever had on set?
Well, I had the most incredible time with [Two Women director Vittorio] De Sica, because he comes from a town where I was born in Naples, so most fun I had was with him. And with Marcello [Mastroianni], especially in Yesterday, Today, and Tomorrow when I do the strip tease and Marcello screams every time I take something off. It was really a wonderful, wonderful moment because the whole crew was laughing. And so many others—maybe with a film I did with Jack Lemmon [1993's Grumpy Old Men and its sequel] and the other actors – funny, funny, funny, funny, funny.
What are your thoughts on aging in Hollywood, and for actresses in particular? Have you found it more difficult to get parts as you've aged?
You are always amazed. Actually, when I was 20, I didn't think that one day I would live to 80, but you do. You think, 'My god, all this time went by? I can't believe it.' Of course, the roles change – you cannot at my age do the story of a woman of 30 or 40 years old. It's impossible. It's a very normal way of being in the movies all the time and changing roles. It becomes a little more difficult sometimes, but if you have faith in what you do, and if you have faith in yourself, a little time goes by and you can find the right thing for you still.
Do you plan to keep acting?
The possibility has to come of a role that I like and is true to me now. By the way, I look very well. I look fantastic. [Laughs.] I'm laughing, but everybody says so. Everybody says so! Sometimes I don't believe them anymore, but they are very convincing. [Laughs.] Oh dear.
It's true! What are your secrets for aging so gracefully?
It's because, I think, of my mother. She was the most beautiful woman in the world when I was born. She looked exactly like Greta Garbo, and she won a Metro-Goldwyn-Mayer contest to get a contract, but my grandmother didn't want to let her go to America because she said it was too far away. It's a pity. But maybe if she had gone, she would have had another destiny and maybe I would not have been born.
Do you keep up with younger actresses today? Did you watch the Oscars?
Of course. I watched them at 6 o'clock in the morning because of the time living in Geneva.
What did you think? Who are your favorite actors?
I like Meryl Streep. I love her. I really do. I like [Leonardo] DiCaprio. I agree with everything they did and everyone who won the Oscars this year. DiCaprio did a wonderful film and performance and Meryl Streep is always there and she wins all the time because for me she's one of the greatest actresses I've ever seen.
Loren may have been referring to some previous Oscars ceremonies where Streep was in fact nominated—rare as it may be, she wasn't in contention this year—but before we could follow-up to clear up any confusion, the Italian diva was off to do other interviews. Even at 81, she's keeping busy, busy, busy.
Sophia Loren's Style Evolution: Yesterday, Today and Tomorrow
Headshot, circa 1950.
Photo by Silver Screen Collection/Getty Images.
In Venice in 1955.
Photo by Archivio Cameraphoto Epoche/Getty Images.
At a press conference in 1955.
Photo by MP/Leemage.
Circa 1955.
Photo by Diltz/RDA/Getty Images.
Wearing Christian Dior in 1956.
Photo by Keystone-France/Gamma-Keystone via Getty Images.
As Epifania Parerga in The Millionairess, directed by Anthony Asquith, in 1960.
Photo by Silver Screen Collection/Hulton Archive/Getty Images.
In New York in 1958.
Photo by Peter Stackpole/The LIFE Picture Collection/Getty Images.
Circa 1960.
Photo by Silver Screen Collection/Getty Images.
With Gregory Peck during the production of 'Arabesque' at Gatwick in 1965.
Photo by Worger/Express/Getty Images.
Circa 1965.
Photo by Silver Screen Collection/Getty Images.
At Heathrow airport in 1965.
Photo by Stroud/Express/Getty Images.
With her husband Carlo Ponti after receiving the first Alexander Korda award, naming her International Star of the Year at the world premiere of her film Lady L in 1965.
Photo by Keystone/Getty Images.
At home with her husband Carlo Ponti and their two sons, Carlo Jr. and Edoardo, in 1976.
Photo by Alfred Eisenstaedt/The LIFE Picture Collection/Getty Images.
In 1987.
Photo by The LIFE Picture Collection/Getty Images.
After appearing on Larry King Live in 1995.
Photo by Ron Galella/WireImage.
CANNES, FRANCE – MAY 21: Sophia Loren attends a photocall to present Cannes Classics at the 67th Annual Cannes Film Festival on May 21, 2014 in Cannes, France. (Photo by Michel Dufour/Getty Images)
Watch a video interview with ageless style icon Jane Fonda here: