Sophia Loren is Returning to Film for the First Time in 11 Years
The 86-year-old icon's last film role was in 2009.
---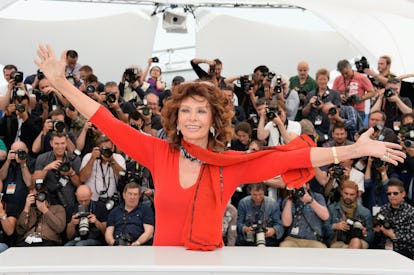 Getty Images
It's been 11 years since Sophia Loren appeared on-screen, most recently in the 2010 TV movie My House Is Full of Mirrors and the star-studded 2009 musical Nine. But the 86-year-old has never given up on acting. "The possibility has to come of a role that I like and is true to me now," she told W in 2016, noting that she still looks "fantastic." Last year, she found such a role: that of Madame Rosa, the star of her son Edoardo Ponti's upcoming Italian language film The Life Ahead. Loren has always been a "big fan" of the acclaimed novel it's based on, which won its author, Romain Gary, a Prix Goncourt in 1975.
The film marks not only Loren's return to cinema, but also her most robust role in decades. Madame Rosa is a Jewish survivor of the Holocaust, who takes in the orphans of the sex workers she used to work alongside in Bari, an Italian port city. One child in particular changes her life: a Senegalese 12-year-old named Momo (Ibrahima Gueye), whom she befriends after catching him trying to steal her candlesticks.
The Life Ahead, which premieres on Netflix on November 13, is already generating awards season buzz. Another adaptation of the novel won the Oscar for Best Foreign Film in 1978, and earned its star, Simone Signoret, a César Award for Best Actress. Loren, who's appeared in around 100 films, is already a seasoned award winner; she became the first to win a Best Actress Oscar for a foreign film in 1961, and has broken quite a few more records since.
Netflix seems to have high hopes Loren will soon win another award; The Life Ahead is reportedly at the forefront of their upcoming Oscar season campaigns. And Ponti, who last collaborated with his mother in 2002, is convinced this role stands apart. Playing Madame Rosa, he said, was "unchartered territory" for Loren, who had previously always shied away from characters that lose their mind.
Loren had quite a different description of her character. "She is tough, she is fragile, she is a survivor," the actress said. "In many ways she reminds me of my own mother."
Related: Sophia Loren Uncensored: "I Look Fantastic. Everybody Says So!"