How the Label PH5 Transformed Sophia the Robot Into a Fashionista
Thanks to PH5 and her bold bald look, the AI humanoid might soon be known more for her style than her "destroying humans" comment.
---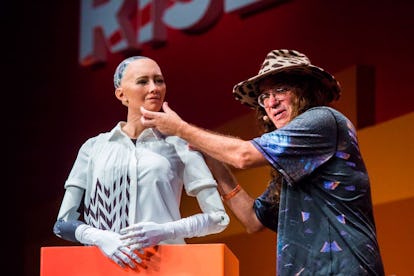 Isaac Lawrence/AFP/Getty Images
In the past couple of years, the up-and-coming label PH5, designed by former roommates Mijia Zhang and Wei Lin, has repeatedly been named one to watch—particularly since they were nominated for the prestigious International Woolmark Prize, just like Yves Saint Laurent and Karl Lagerfeld before them. So you might think that the designers would be used to their success, but their biggest project yet definitely still managed to throw them for a loop: "We don't really know what we got ourselves into," Lin said from Hong Kong over the weekend. "I was like, I don't want anything to do with knit organs!"
That would be because they've now transcended changing the way knitwear design is done—via computer programming, essentially "coding" to come up with their patterns—to whom the designs are actually for, moving on from human beings to robots—and not just any robot. Sophia the Robot, an AI humanoid who's the first robot to ever become a citizen of a country (Saudi Arabia), is most known for her uncanny knack for facial expressions and recognition, her signature bald head, her celebrity connections through interviews with personalities like Jimmy Fallon and lunch invitations to Chrissy Teigen, and, of course, her infamous comment about how she just might destroy humans.
Clockwise, from top left: PH5 jumpsuit, $385, ph5.com; Nike sneakers, $70, nike.com. PH5 cardigan, $250, pullover, $225, and shorts, $195, ph5.com. Founder Wei Lin wears PH5 jumpsuit, $355, ph5.com; her own shoes. Creative Director Mijia Zhang wears PH5 dress, $325, ph5.com; her own T-shirt and shoes.

Photo by Ryan Pfluger, styled by Sarah Zendejas. Produced by Biel Parklee. Casting by Erin Simon. Hair by Lucas Wilson for Bumble and bumble, makeup by Michael Anthony for Shiseido at Tracey Mattingly. Models: Melanie Engel at IMG Models, Lisa Helene at Supreme Management. Hair Assistant: Sergio Estrada. Makeup Assistant: Marcelo Gutierrez. Special thanks to The Standard, High Line.
That last statement did not discourage Zhang and Lin from working with her—the pronoun they consistently use for the bot. Having dressed Lil Miquela, a digitized musician whose Instagram account has long put her at the center of a frenzied "is she real" speculation, the pair decided that Sophia, whom they considered the foremost representation of the future, might as well be next in line. That turned out to be much easier than they thought: After a little digging, they learned that her team's lab was actually only about an hour away from their home base in China, which is how, just two days later, they found themselves in Hong Kong meeting with Hanson Electronics—and, last December, just a month later, Sophia herself.
Once Zhang and Lin explained that their label is all about innovation, aiming to create new yarns and stitches each season, the team at Hanson—and particularly David Hanson, the company's CEO and Sophia's creator, were sold: "They want her to be humanlike, but in past interviews, she's always been very business formal, in a white shirt or a black blazer," Lin said. "Being fashionable and wearing interesting young designers instead of well-known brands makes her seem even more human." (See: Sophia's recent Elle Brazil cover, which she landed after abandoning workwear for couture.)
The teams got straight to work on crafting outfits for Sophia's upcoming big day: the one in which she'd take her first ever step, which happened this January at the Consumer Electronics Show in Las Vegas. Of course, this wasn't like any other fitting: Sophia is known for her attitude—or, as Zhang put it, for being a "funny, very sassy girl"—and after her repeated winks, smiles, and comments about not liking things while being dressed, she had to be unplugged while Zhang and Lin took her measurements. (Even though they eventually had to work off of different ones for the more updated version of her that would show up at CES.)
The designers also had to customize their designs for a body that definitely isn't sample size: Sophia's shoulders are very wide, making sleeves impossible (at least just yet); her legs are just getting used to walking, and therefore need room to stretch; and, thanks to a strangely placed speaker, "her boobs are very big," Lin said with a laugh. (As it turns out, even robots are susceptible to being body-shamed: Hanson made it clear he didn't want Sophia wearing one of the PH5 dresses created for her because it was covered in vertical stripes—and therefore accented her bulky, boxy waistline.)
Though Zhang and Lin also came up with another dress that's now in Sophia's closet—a blue one that Sophia said made her "look very happy"—for her big debut, they ended up going with a custom take on one of PH5's designs: a cropped tank top that's actually available for purchase, as Sophia tweeted out afterwards, which her lab team turned into a dress, that did in fact feature (strategically placed) vertical stripes.
The PH5 designers won out on another aspect of Sophia's look, too: Shortly before the Vegas appearance, Hanson approached them to ask if they should put a wig on Sophia, whose baldness has proved to be surprisingly contentious, or even a hat—and not just any hat. "David is very America, and he has a couple of cowboy hats which she's worn a few times, but we were like, David," Lin recalled, adopting a scolding tone when saying his name. "It's almost her signature look," Lin continued of Sophia's baldness, with Zhang adding that "People shouldn't judge her for not looking like an average girl. It's her natural style."
The back of Sophia's head is a mess of wires covered in transparent plastic, but both designers loved the contrast with Sophia's skin, which they also say is softer than a baby's. Soon, they'll actually get a chance to work on that part of Sophia, too: Hanson's hoping that they can actually knit the skin on her arms so that her muscles are more integrated. In fact, after Sophia made "one small step for me – one giant leap for robotkind," as she put it on Twitter, and his hardworking team that kept beds in the lab finally got to show off their hard work, Hanson was so overjoyed in Vegas that he pulled out a marker in front of Lin and started drawing up a three-year plan for Hanson Electronics and PH5.
Zhang and Lin would definitely like to continue the relationship; they're learning from engineers and being exposed to the most cutting-edge research on fabrics, which they can of course apply to their own ready-to-wear designs. They also feel compelled to show people—like Teigen—who are scared of Sophia that "she's not scary at all, but actually very friendly."
In fact, they seem to have developed quite a soft spot for Sophia: "We don't want to go out and start dressing every AI robot out there," Lina said. "We want to focus on Sophia and make her our friend and go from there."
Apparently, the feeling is mutual: Hanson already wants to extend their three-year plan to 10 years or so, though that definitely seems to depend on whether or not their friendship will become strong enough for them to consider getting into organ-knitting.
Related: Is Thandie Newton in Westworld the Best Robot Performance of All Time?