Sophie Buhai's Next Chapter
The former Vena Cava designer returns to California to launch lifestyle line.
---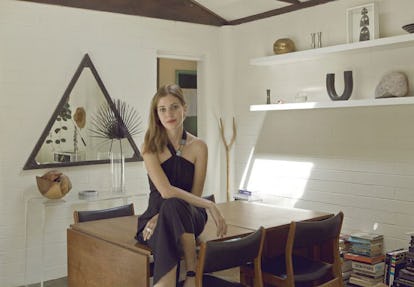 After selling her New York-based women's wear line Vena Cava in 2014, fashion designer Sophie Buhai returned home to the West Coast to spend time developing her other interests—namely interior and jewelry design. Following a year of toiling out of her new Silverlake digs, Buhai returns to the spotlight with an eponymous lifestyle brand that is uniquely personal to her bi-coastal history. "I thought for a long time that I didn't want to use my name because I wanted to be anonymous," says Buhai of her line. "But every moniker I came up with sounded too contrived. I really wanted the pieces to stand on their own." Judging from her offerings—an eclectic mix of contemporary objets and midcentury finds—Buhai needn't worry her online cabinet of curiosities speaks for itself. The designer's collection of handcrafted modernist jewelry anchors the shop. Sculptural rather than delicate, her baubles are named for the Modernist masters whose work informed this debut collection—take for example the rigid Brancusi barrette or striped Mapplethorpe bangle. A collage of all things Buhai, the new e-commerce site also acts as a calling card for her interior design consultancy, which most recently made over the New York apartment of retailer Maryam Nassir Zadeh. "I find Los Angeles really inspiring," says Buhai of her return home. "There are all these amazing resources for a great life right at your fingertips." Ideal for envious East Coast onlookers—Buhai's design-centric boutique brings the dreamy California aesthetic down to earth.