Sophie Turner's Survive Is Nothing Like Game of Thrones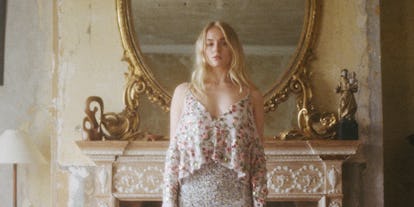 Cole Sprouse for W magazine
Even though the trailer for Sophie Turner's Survive has lots of snow, mountains and even a wolf, it has very little in common with Game of Thrones. Her character is about as far from Sansa Stark as she could get.
The project slated for the soon-to-debut Quibi streaming service finds Turner as a young girl in modern times dealing with her impending release from rehab. In fact, the first half of the trailer leads you to believe that this may be pretty standard fare about the process of recovery, and then, almost out of nowhere, her plane crashes. Turner's character is left with the only other survivor, played by Straight Outta Compton's Corey Hawkins, as they fight to, well, as the title says, survive.
Survive will serve as one of Quibi's many first-day titles when it launches on April 6th. The mobile-first streaming service will deliver installments of both serialized shows and movies in ten minutes-or-less segments.
As for Turner, she'll appear in Matthew Coppola's upcoming film Broken Solider, but otherwise, her schedule is clear thereafter. Likely because she's expecting her first child with husband Joe Jonas.
Related: Cole Sprouse Photographed Game of Thrones Star Sophie Turner for New Shoot