Pictures at an Exhibition, re-envisioned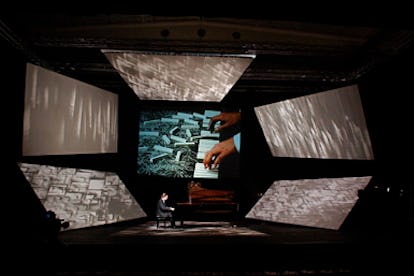 South African artist Robin Rhode has been an increasingly hot commodity since his debut at the Walker Art Center in 2003. Rhode's socially conscious, street culture-influenced work features cheekily humorous performances (at the Walker, he pretended to break into a sketch of a car), photographs and film, often using chalk as a medium. For his next project, Rhode is collaborating with world-renowned pianist Leif Ove Andsnes on Pictures Reframed, a re-imagining of Modest Mussorgsky's classic piano suite Pictures at an Exhibition. Five panels of Rhode's images, along with a video projection, will surround Andsnes as he performs, evoking a gallery setting.
What was the impetus behind the project? Leif Ove Andsnes was interested in bringing Pictures from an Exhibition back into the visual arts. Lincoln Center has a very multidisciplinary outlook; they inspired him to look at how one can stage classical concerts and recitals differently.
Were you familiar with the music? I hadn't heard the music before, to be honest. But upon listening to it, I discovered that I'd heard pieces of it in cartoons or in some hip-hops samples by Method Man. Only then did I realize how big the Pictures at an Exhibition music is — it's actually has been incorporated into popular culture quite extensively.
Are you trained at all, musically? No, not at all.
Pictures at an Exhibition was inspired by an exhibit of Viktor Hartmann's artworks. Did you look to the original works yourself? Yes. I found it really interesting to not work from my own ideas. But I created the art from a new framework. How do these drawings from the 1860s relate to our current economic and social climate? That became really interesting.
Did any of Hartmann's works speak to you in particular? There's a sketch of an ox wagon that Hartmann made in a Polish ghetto in Russia during the 1860s. Two years ago, I shot a lot of material in Johannesburg on the theme of trains. Just as the ox wagon was a symbol of Russia's political injustices toward the Polish people, the train is a powerful symbol in South African history. It transported the masses from rural areas to goldmines, where they worked for minimum wage. The train also touches on the persecution of the Jews in WWII. The idea around this ox wagon then began to touch on histories outside of its own, and that's what I believe gives this project relevance to anyone.
Has music influenced your work prior to this collaboration? Through working within the musical discourse I'm able to understand the influence that music has had [on my process]. I create drawings in a very physical manner that is linked to rhythm and tempo.
Pictures Reframed premieres at Lincoln Center (November 11-13) and will be followed by a world tour.
Photos: stage set, Courtesy of EMI Classic and Perry Rubenstein Gallery, New York. © NRK; Apparatus and Promenade (stills), courtesy of the artist, Perry Rubenstein Gallery, New York and Tucci Russo Studio per l'Arte Contemporanea, Torre Pellice.© Robin Rhode.