The Spice Girls Reunion Will Be a Little Less Posh Without Victoria Beckham
But never give up on the good times.
---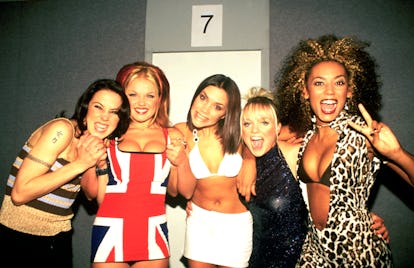 Ray Burmiston/Photoshot/Getty Images
It's been 10 years since the Spice Girls' first official reunion, when they treated fans to new music and a world tour. But the wait won't be much longer if recent reports are to be believed. On Monday, news broke that the Girl Power torchbearers were quietly plotting their post-Aughts return to music. "'The five of them have been locked in secret talks since the summer, and finally they are all on-board for a 2018 reunion," a source told The Sun. As it stands, they will be working together on a series of projects, which will include an album and a TV special celebrating the Spice Girls. "And, the source added, "getting Victoria to agree has been a coup for everyone involved, given she has always been the person holding back on a reunion."
However, it might not be time to "Say You'll Be There" yet. According to the latest report, Beckham isn't just holding up the reunion, she is opting out of it altogether. When the group releases a new album and embarks on a press run next year, Posh spice will not be involved, a source claiming to TMZ. Before asking Beckham, "Who Do You Think You Are?" (Spice Girls references are too easy), consider that Beckham does have a full plate.
Outside of wandering the streets of New York in luxe pajamas, doling out virtual fashion advice in Central Park, and demonstrating her beauty routine while in mid-air, Beckham runs an acclaimed fashion line and has recently expanded into beauty in partnership Estée Lauder. While she's still Posh, Beckham has deviated a lot from her Spice Girls look.
'We had so much make-up on, it was unbelievable," she recently told Vogue UK via The Daily Mail. "I look back at the pictures and I'm like, "Woah!" We took the layering of make-up to a whole new level… Do I cringe? A little. But I think it's great to experiment and try new things." Still, Beckham has nothing but love for her early beginning.
"Being in the Spice Girls was so much fun," she told Elle last year via E!. "I was never the best singer or dancer. I learned an enormous amount during that time, though: the staging, the lighting, the costumes—the package excited me." Things can change though.
In October, at Vogue's Forces of Fashion conference, she teased, "I just want to say, it's tempting, I'm here with a microphone—you never know what might happen!"
As the Spice Girls sang, "Never Give Up on the Good Times."