'Da 5 Bloods' Couldn't Have Come at a Better Time, and Jonathan Majors Knows It
The "Lovecraft Country" actor discusses Spike Lee's directing style and what this film's release means in the current sociopolitical landscape.
---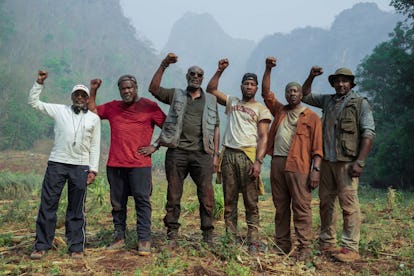 Set photo from film Da 5 Bloods (L to R) Director Spike Lee, Isiah Whitlock JR. as Melvin, Delroy Lindo as Paul, Jonathan Majors as David, Clarke Peters as Otis and Norm Lewis as Eddie of Da 5 Bloods Cr. David Lee/Netflix © 2020.
The first emotion actor Jonathan Majors felt when he saw the video of Ahmaud Arbery—a Black man who went for a jog on February 23 and was chased down and killed by two white men—was anger. It was the kind of anger that went deep into his body and his mind, to a place where the rest of the atrocities committed against Black people lived within him. He stowed the pain and the anger there, in that place, and continued on with his life in Santa Fe, New Mexico, where he's now working following the completion of his latest project, a role in Spike Lee's new film, Da 5 Bloods.
Four or five days after that, like millions of other people around the world, he watched the video of George Floyd, a Black man killed by former Minneapolis police officer Derek Chauvin. Suddenly, the anger within Majors, stemming from that unknown spot inside him, welled up again.
Days later, it all dissolved into sadness—if you're honest, that's why you get angry, because you're heartbroken by something. He saw Floyd—a six-foot-tall Black man who had a six-year-old daughter; who was from Houston, Texas; who played a little football in his day—and 30-year-old Majors saw himself: a six-foot-tall Black man hailing from Dallas, Texas; who played all kinds of sports, including football, before he found acting in high school. He himself has a seven-year-old daughter, whose mother had called Majors days before, saying, "Look, I need you to talk to your daughter. She's frustrated and she's angry because her hair won't fall down—her hair goes up."
Majors hopped onto FaceTime and explained to the young girl, "You have a crown. That's why your hair goes up. Your hair, your crown, came from daddy, came from his mama, came from his father, came from his sister. Sometimes that crown can get you in trouble in this world, and it's not right. And some people want to take that crown from you." He felt emotional, and extremely vulnerable in that moment. Did his child understand what he was trying to tell her?
Majors wanted some kind of outlet for his feelings of depression. So he took the little American flag bandanna he stows in the back pocket of his pants—he keeps it to remind himself not to be afraid of his own country; he also wipes his sweat with it, take what you will from those metaphors—and, like hundreds of thousands of other protestors, took to the streets. He marched with all kinds of folks—a lot of young people, which gave him hope. He threw his fist up, he cried a little bit. And then his emotions shifted. He suddenly felt hopeful for the future, with a desire to make a change in the world. What better way to take action than to live inside your anointing, he thought?
"When someone tries to take over a country or a culture, they destroy the art," Majors explained over the phone on a recent afternoon from his temporary home in Santa Fe. "To keep the art that I've helped make alive is the biggest action of rebellion. They won't take our film, they won't take our stories. We're going to hold on to what we do, and in fact, we're going to put it out now, and say it even louder."
That's what he's done with Da 5 Bloods, which comes to Netflix today. Lee's first movie since BlacKKKlansman was supposed to premiere at this year's Cannes Film Festival, which was originally scheduled for July. But the COVID-19 pandemic changed that. Da 5 Bloods' release date moved up, and it went straight into people's homes. The film itself, which follows four Black Vietnam War veterans who return to Ho Chi Minh City to retrieve the remains of their fallen fellow soldier, is incredibly timely. Vietnam marked the first American war in which cameras were on the ground to capture the horrors of what happened there, and every night, these images were beamed into houses across the U.S. Shocked by what they saw, citizens took up protesting.
The uprisings in support of Black Lives Matter happening today echo some of the conditions of those Vietnam protests. Footage of killings and brutality against Black people committed by law enforcement have been publicized for years—but coupled with the pandemic, people cooped up at home under quarantine, out of work, suffering from frustration and trauma, suddenly rallied behind the movement. Despite Da 5 Bloods being filmed more than two years ago, and its storyline taking place more than 50 years before that, its subject matter rings especially true now.
Majors plays David, the son of one of the vets, Paul, (Delroy Lindo); David sneaks onto the trip to Vietnam by stowing away. Unlike his father, an outspoken, MAGA hat-wearing man suffering from PTSD, David is a Morehouse-educated teacher. He accompanies the other Bloods, played by Clarke Peters as Otis, Norm Lewis as Eddie, Isiah Whitlock Jr. as Melvin, (Chadwick Boseman plays the fallen character Norm) on their journey—depicted in the film as an homage to the slate of Vietnam War movies like Apocalypse Now, Platoon, and Hamburger Hill, all of which are referenced in some way or another. (When the guys go out partying one night, the words "Apocalypse Now" appear in bright lights above the DJ booth at a bar.) But unlike those movies, Lee's film strives to tell a story about Black soldiers' experiences at war, and demonstrates the beauty of Vietnam, rather than focusing on the depravity of wartime.
The actors shot Da 5 Bloods on location, filming in Vietnam for one of three months spent in Asia. While in Ho Chi Minh City, Majors lived at a hotel right by the Dong Nai river. He spent his evenings after shooting eating Bo Kho, an oxtail stew, and swilling gin and tonics at a local restaurant. Every so often, he'd venture into the more residential areas outside of the city, where he'd encounter locals.
"That was one of the few times I experienced moving through the world without the gaze of the patriarchy as I know it," Majors said. "I stood out, but there were people there darker than me. I wasn't being looked at as, 'Oh, he must be an athlete. He must be a rapper.' I was like, 'This must be what it feels like to be white. I can just move and be free and I don't have to brandish my accomplishments in order to be treated with respect.'"
Majors landed the role in Da 5 Bloods after Lee invited him to his office in New York City months before, and told him he'd be in the film as opposed to asking whether he'd be interested. While in Vietnam, Lee's dynamism showed at all points while he was directing—whether they were filming in the jungle or in the city, of which they split camera time about 50/50, Majors said. At times, there would be very little dialogue for direction from Spike, he'd just point and nod. The next afternoon, Spike would be "the general, shouting orders, moving things around." Some days, they shot from "can see to can't see," as Majors described Lee put it. Other workdays were just four hours long.
"That was one of my days of shooting, so I was like, 'I have screwed the pooch. I have messed this up. Spike is going to send my ass back to New York City, and this is over with,'" Majors said. "Instead, he came in: 'Alright baby, alright baby, that's it.' 'That's it? We didn't finish the scene yet!'
Majors said he has never "felt so understood by a director in such a quiet way, especially from a male director."
"He might hate me for saying this, but Spike has a sensitivity to him, when the moment's needed. And he can get right in there and just alter a word or speak to you in a way that lets you know you're going in the right direction. There are scenes where I'm in the middle of the shit. The emotions are very high, I'm handling a great deal of dialogue, and all I hear him say is, 'Do it, Morehouse! Do it!'" Majors said, laughing. "That's like coaching. That's like hearing your father or your grandpa in the bleachers saying, 'Run, boy! Run!'"
Majors grew up between Dallas and a farm in Waco—the son of a man who'd fought in the Gulf War, the grandson of a man who'd fought in World War II, and another who was both a Vietnam and Korean War veteran. His mother was a pastor. Majors described himself as a highly emotional and energetic child, who struggled in school initially. He was put into an alternative educational program, where he met the teacher Ms. L.J. She noted his love for words and introduced him to theater, encouraging him to put his energies toward the stage. He went on to graduate from the Yale School of Drama in 2016, and three years later, landed roles in White Boy Rick and The Last Black Man in San Francisco. Since that breakout role in 2019, things have taken off in a big way—after Da 5 Bloods, Majors filmed HBO's Lovecraft Country series, and is now working on another Netflix movie, The Harder They Fall, which he's shooting in Santa Fe.
A week after our first conversation, Majors gets on the phone with me once more. In this time of change, of protests, and footage of police beating demonstrators with batons, of political and socio-economic unrest, every day feels different. I want to see how he's doing.
Majors still feels the need to act, he says, and hopefulness hasn't left him. He tells me about the first thing he did when he felt angry, in the days after he saw the video of George Floyd: the actor reached out to Lee.
"I thanked him for making the films he's made and putting into the world, and how honored I was to be a part of his latest film. Because it's necessary," he said. "Brother Floyd didn't die in vain. I'm not gonna sit by and let this girl, his young daughter that he has, feel that her father's life meant nothing. She will be avenged, and that vengeance will come in peace. But it's on. It's all the way on. We've got too much power in this moment."
Related: Spike Lee's New Joint 'Da 5 Bloods' Is a Vietnam War Tale for the Ages