Jet-Setters-Only, Please: Inside the New Private Club That Aims to Unset Soho House
With a $3,600 price tag, Spring Place means to shake things up. Here's everything you need to know, including how to score one of those coveted memberships.
---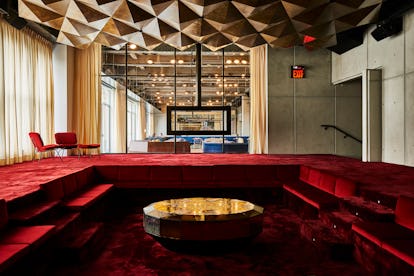 On an early afternoon in May, all was quiet at the new members-only club south of Canal street in Manhattan. Spring Place, as it's called, was slowly coming alive before its official opening this week.
All over the fifth and sixth floors, well-dressed creative types laboriously banged away at their laptops and huddled in important-looking gaggles discussing the sort of things creative types spitball about. The place had the energy of a beehive designed by Philippe Starck, with the low murmur of efficiency as the only background noise.
Sprawling across three floors of the Spring Studios building—home to New York Fashion Week, Tribeca Film Festival, and the Independent Art Fair—Spring Place is a new(ish) breed of workspace and clubhouse. Think Soho House meets Neuehouse, a playground for jet-setters to get some work done while they also fraternize with their cohort in the comfort of their own exclusive grotto. Some floors are for serene study and chin-stroking, other floors are for schmoozing and air-kissing.
"It's a second office for a community of people who travel constantly and have specific needs for a workspace," said co-founder Francesco Costa, who is not related to that Francisco Costa. "It's a place where a young designer can meet the owner of a global fashion brand, an emerging director or young musician can meet a producer."
It's an ambitious-sounding vision, but you can almost see it taking shape as sunlight poured in through the floor-to-ceiling windows, spotlighting the space's imitation mid-20th century Brazilian Brutalism-style design (the New York firm Bluarch, which also did the redone Times Square Diner and Todd English' Juliet, worked on the interiors; the Milanese firm Est4te Four came up with the concept). The dramatic concrete paneling, wood floors, blackened steel, and bespoke and vintage furnishings seemed to say: we're a little bit more serious than just a clubhouse with a pool, which, by the way, they do not have.
Though at its core the club is for creative high-rollers, it's attracted a handful of above-the-marquee talent—actors, designers and models like Adrien Brody, Irina Shayk, Constance Jablonski, Liya Kebede, Eva Herzigova __ and Maxwell Osborne, who threw a party there in early May that drew more models plus Jaden Smith—__with a handful of amenities that allow patrons to mix business with pleasure.
On the business side, highlights include a dedicated concierge team to book your flights or hire you a personal assistant for the day, conference rooms in case you don't have offices in town, messenger and courier services, and a reference library to boot. Then, on the social end, there's an all-day restaurant, bar, and lounge area—in addition to private dining rooms that can be rented out—an 11,000-square-foot rooftop, a music room for karaoke and listening sessions, and a lush, all-red private screening room that might give Tommy Hilfiger's at his Miami mansion a run for its money.
The kicker? Spring Place takes its "members only" calling card seriously: Costa said only 100 members are accepted a month and expects a total of 2,500 after two years. And those members have to be vetted by a mysterious "Spring Place executive committee" to determine if they're "a right profile" before they're accepted. It would help, for instance, if you work in "fashion, art, movies, music and design" and you're within a 25-45 age bracket, though "we're open to any age," Costa said.
Once you're in, there's $2,000 initiation fee and five different tiers of membership to choose from, starting at $900 a month and going as high as $3,600 for a full year of access to the club's social perks. With those terms, it goes without saying, having a disposable income would be useful for any prospective member.
Calling Card The members-only admission policy, adjudicated by mysterious Raya-like executive committee.
The Door The more low-key entrance to Spring Studios, the multi-faceted events space, home to everything from Michael Kors' shows to amfAR fundraisers.
Tribes Creative professionals who moonlight as jet-setters and/or jet-setters who moonlight as creative professionals.
VIPs Irina Shayk, Adrien Brody,Maxwell Osborne
The Basics Spring Place, 140,000 square feet spread out over three floors, located at 6 St. Johns Lane, New York, New York, 10013. More locations are planned for the Arts District in Los Angeles, London, Paris, Milan, Sao Paulo, and Hong Kong. Prices: starts at $900 a month for all the fixins' and goes as high as $3,600 for 36 all-access days, or just the club's social perks year-round. Both options require a $2,000 initiation fee.
Watch W's most popular videos here:
Photos: Jet-Setters-Only, Please: Inside the New Private Club That Aims to Unset Soho House
Photos by Adrian Gaut, courtesy Spring Place.
Photo courtesy Spring Place.
Photo courtesy Spring Place.
Photo courtesy Spring Place.
Photo courtesy Spring Place.
Photo courtesy Spring Place.
Photo courtesy Spring Place.
Photo courtesy Spring Place.
Photo courtesy Spring Place.