Here's Your Luxury Guide To Ireland
From bespoke hotels to idyllic Old World pubs, visiting this country, as Kim and Kanye West have, will make any aspiring jetsetter green with envy.
---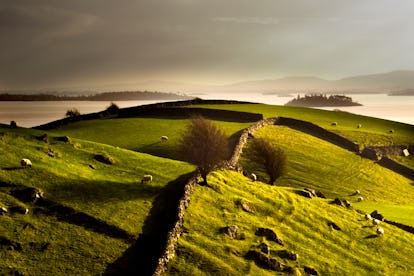 George Karbus Photography
Most people know Ireland more for its pubs than its posh but, in fact, it has been a secret celebrity vacation destination for years. Kim and Kanye West honeymooned there, and musicians such as Taylor Swift and Lionel Richie stay extra days after a gig to experience everything the Green Isle has to offer. It's a country rich in tradition and has maintained its Old World authenticity and charm. Indeed, Irish literary giants like Oscar Wilde and James Joyce make reference in their writings to pubs and apothecaries that one can still visit today. From the U.S., the trip to Dublin is a shorter flight than London, and once there you find a city not swarming with tourists, but rather with smiling locals ready to help in any way they can. Dublin has all the charm and elegance you'd want from a European city, complete with cobblestoned streets and weaving Diagon Alley-like passageways that will transport you to another time. The city bears many aesthetic similarities to Edinburgh and East London—a likeness the Dubliners are not too eager to acknowledge as they declared their independence from England in 1921. With a population of only 4.6 million living in an area smaller than the state of Indiana, one can drive across the Republic of Ireland in less than three hours. But stopping at the villages, getting a pint and chatting up the folks is the best way to enjoy this remarkable country.
Above all, Ireland is best known for its breath-taking countryside terrain, which has been the backdrop for some of Hollywood's biggest blockbusters—from Braveheart, to Game of Thrones and Harry Potter—with its rolling hills, meandering streams, and endless pastoral beauty.
Where To Go for Activities That Are Good Enough for the Queen
When in Ireland, do as the Irish do. Which means your first stop should be the countryside, where Dubliners regularly escape for the weekend. Should you not want to venture too far from Dublin, drive an hour to Kildare County for the quintessential Irish countryside experience amid sprawling greenery. Make sure you make time for traditional outdoor activities, such as croquette, archery, horseback riding, and clay pigeon shooting, all of which you can do at Abbeyfield Farm. For a more luxurious experience, stop for tea at the Ballyfin Hotel, and borrow one of their golf carts to cruise through the six-hundred-acre property, which includes restored Edwardian rock gardens, lush forests, and a lake to go boating. Ask for a map of the grounds and find their private medieval castle and climb the stairs to take in the view. Twenty minutes away from the Ballyfin, you'll find The National Stud and Japanese Gardens, which is the No. 1 race horse breeding facility in the world. Sheiks, dukes, and princes fly their colts from Saudi Arabia, England and Africa to breed with the club's million dollar-winning horses. Make sure to book a private tour to get the insider's guide to thoroughbred breeding and learn how and why the horses qualify for the races. Then President Barack Obama toured the grounds in 2010, and the Queen of England visited the stables during her one and only visit to Ireland. And if it's good enough for the Queen…
Where to Shop for Haute Vintage and Crafts
It's no wonder that the country that takes credit for designers like Simone Rocha and JW Anderson is on the up and up. In Kildare, make sure you stop by Só Collective at Kildare Village, a chic boutique which stocks a curated cast of Irish designers and covetable Gaelic souvenirs, such as cozy knits, artisanal candles, and hand-bound notebooks you can customize with your initials. Not only do they have an in-store gallery with monthly exhibitions, but they invite local craftsmen–from poster printers, to weavers–to hold pop-up demonstrations and showcase their wares. In Dublin, head to Tola Vintage for well-priced threads including suede bombers, warm sweaters, and mini dresses, or Siopaella Designer Exchange, for vintage Chanel bags and Hermes skirts from the '70s. For higher-end shopping, make your way over to Grafton Street and peruse the myriad boutiques on offer, from perfumery to lingerie.
Where To Dine For More than Bacon and Cabbage
Gone are the days of beans, heavy meats, and cheeses. Dublin is building a reputation in the culinary scene as a leader of the farm-to-table trend, complete with inventive vegetarian renditions of traditional Irish dishes. Make sure to dine at Delahunt, a Dublin stand-out that's situated in a restored Victorian building on the upscale Camden street. The cozy, blue-walled restaurant has a rotating nightly menu that changes according to the freshest available ingredients. Make sure to arrive early and visit their cocktail bar upstairs, hidden behind a brass wall. Just say "sweet," "bitter," or "sour", and the mixologist will whip you up something you've never dreamed of. For a lavish bite in the countryside, travel forty-five minutes outside of Dublin and visit the exquisite grounds of the K Club, a five-star club and hotel. Have high tea in their Japanese parlor room overlooking the grounds, followed by a drink at The Vintage Crop, their elegant hunting lodge-inspired bar.
Where to Drink the Best Guinness
You already know Ireland is the capital of pubs, and just one stroll and you'll see why. In Ireland, drinking qualifies as a national past time, so you cannot leave without experiencing a proper pub. The most authentic pubs date back to the 18th or 19th centuries, and have rich tobacco-hued wooden rooms with large stained glass Irish windows and doors. Stroll through Dublin's creative quarter for the most quintessential experience, and stop by Dame Tavern or the Stag's Head, where bartenders will teach you how to pour the perfect pint of Guinness, their national beverage. Hint: You can tell that beer is best when traces of foam stick to the inside of the glass after a few sips. Bartenders know this too, so don't settle for anything less.
Where to Stay That's Good Enough for Kim and Kanye
For the most luxurious countryside getaway imaginable, book a room at Ballyfin, voted the No. 1 hotel in the world. If it's good enough for Kim and Kanye West's honeymoon…The staff will attend to your every request. Since the hotel has a total of only 20 rooms, you might find that you have the exquisitely decorated parlor rooms and solariums all to yourself. Guests rarely leave the grounds as the hotel offers all the activities of Abbeyfield Farm and more. In addition to falconry, horseback riding, boating, and pigeon shooting, the hotel has a costume room, which holds an elaborate collection of ensembles worn by the Irish elite in the 19th and 20th centuries. Guests are invited to wear these costumes for afternoon tea and leave the rest to the staff, who will recreate an authentic high tea experience fit for a royal. Even if you don't stay the night, it is worth visiting the grounds for lunch or dinner. In Dublin, make sure to stay at the five-star Merrion Hotel which is considered the city's number one destination. Located in a restored Georgian building in Dublin's city center, you are met with crackling fire places and stylish communal rooms. The hotel is as much appreciated by visitors as it is by Dubliners who congregate for afternoon tea or an evening cocktail.
Love of the Irish: Michael Fassbender, Saoirse Ronan, and More of Ireland's Best in W
6 Rising Male Models from Famous Families Share Their Biggest Pet Peeves