St. Vincent Says "New York" is More About David Bowie and Texts Than Cara Delevingne or Kristen Stewart
"It's very silly to make something like David Bowie's death about me—it has nothing to do with me—but I will say that I was really affected."
---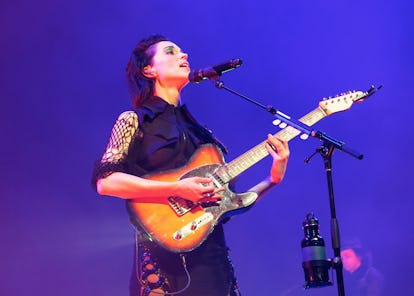 St. Vincent's "New York" may not be "Despacito," but it's a strong contender for song of the summer status with the indie rock set. Uniquely among indie hits however, it's attracted the attention of some corners of the tabloid and fashion press thanks to St. Vincent's (AKA Annie Clark) past relationships with Cara Delevingne and Kristen Stewart. On first listen, the song could certainly pass as a breakup song.
"New York isn't New York without you love," goes one memorable line. "I have lost a hero, I have lost a friend," goes another. Some have deconstructed the lyrics hoping that they might provide clues to Clark's oft-photographed but little discussed public relationships.
Well, Clark recently went on the "Song Exploder" podcast for an in depth discussion about the catchy single's creation and inspiration—and perhaps to clear up any lingering tabloid rumors. As it turns out, the song isn't so much about any one relationship and its dissolution, but rather more about text messages Clark sent her friends, the death of David Bowie and Prince, and the fact that she just likes living in New York.
"The original genesis of this song was I was back in New York and I had texted a friend of mine who had moved away, 'New York isn't New York without you,'" she recalled. "And I was like 'Oh, hmmm, maybe I'll squirrel that away.'"
She also explains that the "I have lost a hero, I have lost a friend," was more inspired by the death of musical icons during 2016. It was also, notably, originally written from another song and lifted into this one to complete the verses.
"It's very silly to make something like David Bowie's death about me—it has nothing to do with me—but I will say that I was really affected. And I cried. I cried for somebody I didn't even know. And I don't know that I've done that before."
Lines like "You're the only motherf—er in the city who can handle me" came about, because, well, Clark just really likes to swear and finds it to be a sign of intimacy. "'Motherf—er' says, like, I know you inside and out," she said. "And you know me. Don't pretend."
She does, however, seem to address being single, at least, in one explanation, explaining that the lyric, "So far in a few blocks to be so low." The confusion of "solo" with "so low" is an intentional pun, but she does explain that it grew out of the originally written lyric, "I've come so far in these few blocks." The original idea being that she's grown so much since living in the few blocks of her New York City neighborhood. Whatever the case, it's one line among many, all of which seem to have disparate points of inspiration.
For whatever its inspiration may be, Clark is quite pleased with the results.
"It's the first song I've written that I thought, 'This might be someone's favorite song.' I've never had that experience before," she said.
It certainly already is a lot of people's favorite song of the year, and maybe the only complaint one could make about is that at only two-and-a-half minutes long, a listener has to hit play at least twice in a row to feel satisfied.
Related: St. Vincent, Art Lover, Is a Little Spooky in Opening Ceremony
See What's Trending in W Video:
After dating for three years, The Kills guitarist Hince, 40, proposed to the 37-year-old supermodel in bed with a vintage 1920s engagement ring. Moss was engaged briefly to Pete Doherty and has an eight-year-old daughter from a previous relationship. The star-studded July 2nd wedding is rumored to cost $800,000.

Photographer: Tim Walker Styled: Jacob K
The two met in 1976 and began dating in 1977, while Jagger was still married to first wife Bianca Jagger (they divorced the next year on grounds of adultery). After years of cohabitation, they were married in a Balinese ceremony in 1990, though in 1999, (only a few months after Luciana Gimenez gave birth to Jagger's seventh child), Jagger contested its validity and the marriage was annulled. Hall and Jagger have four children together.

Photographer: Tim Walker Styled: Jacob K
Despite a 24-year age difference, 21-year-old Hunter became the rock legend's second wife in 1990. The pair, who have two children together, split in 1999, though were not officially divorced until 2006—several months after Stewart fathered his seventh child with the woman who would become his third wife. He once famously said, "Instead of getting married again, I'm just going to find a woman I don't like and give her a house."

Photographer: Tim Walker Styled: Jacob K
Married in 2005 after an epic marriage proposal—in a custom-built igloo at 14,000 feet—the couple now have four children together (one from Klum's previous relationship with Flavio Briatore) and renew their vows in a big way every year, like their recent masquerade and white trash-themed bashes.

Styled: Jacob K
One of the most iconic fashion-music matches, they were set up on a blind date in 1990 after her second and his first marriage ended. Iman says she knew two weeks into the relationship that he was the one when he greeted her at the airport with flowers, surrounded by fans and cameras, and no security. They married two years later in Switzerland and have one daughter, born in 2000.

Photographer: Tim Walker Styled: Jacob K
The Duran Duran front man broke off a highly-publicized engagement to his long-time girlfriend when he fell in love with Parvaneh after seeing a picture of her in a magazine. Le Bon tracked her down through her modeling agency and the pair married in 1985. They currently have three daughters and several dogs.

Photographer: Tim Walker Styled: Jacob K
Brinkley, the "Uptown Girl" in Joel's famous song, married the singer in 1985 after meeting in St. Barts two years earlier. It was the second marriage for both. They had one child and divorced in 1994, though remain friendly—Brinkley attended Joel's wedding to Katie Lee in 2004, which ended in separation five years later.

Photographer: Tim Walker Styled: Jacob K
The Dutch DJ-Model duo, who started dating in 2009, were married in Kroes' hometown of Eastermar in November 2010, only a few months shy of the birth of their first child.

Photographer: Tim Walker Styled: Jacob K
Seymour met the rocker in 1991 after the end of her first marriage and went on to star in Guns N' Roses' videos for "November Rain" and "Don't Cry". The two became engaged and lived together for two years before a bitter breakup in 1993 that included accusations of infidelity and abuse, and resulted in lawsuits from both parties.

Photographer: Tim Walker Styled: Jacob K
Hansen met the Rolling Stone guitarist at Studio 54 on her 23rd birthday, ran into him again nine months later at Richard's birthday party (he is 13 years her senior), and have been together ever since. They married in 1983, on his 40th and have two daughters, Theodora and Alexandra Richards.

Photographer: Tim Walker Styled: Jacob K
The two met on the set of The White Stripes' music video for "Blue Orchid" and shortly thereafter, in 2005, with White's ex-wife and band member Meg White serving as maid of honor, were married by a shaman on a canoe on the Amazon River. They have two children, and announced their divorce in 2011.

Photographer: Tim Walker Styled: Jacob K
Model Porizkova met The Cars lead singer in during the filming of the music video "Drive" in 1984 when she was 19, and he was 35 and married to his second wife. Five years later, the two married in St. Barts, and have two children together (he has six total, two from each marriage).

Photographer: Tim Walker Styled: Jacob K
The Kings of Leon front man and Victoria's Secret angel fittingly met at the Choachella Festival in 2007, and she has since been featured in the band's video for "Use Somebody" and reportedly inspired the song "Sex on Fire". They wed in 2011 in Montecito, California.

Photographer: Tim Walker Styled: Jacob K