Max von Sydow's Smooth Voice Made the Phone Book Sound Good
The actor, known for his work alongside director Ingmar Bergman and as the Three-Eyed Raven on Game of Thrones, passed away on Sunday at the age of 90.
---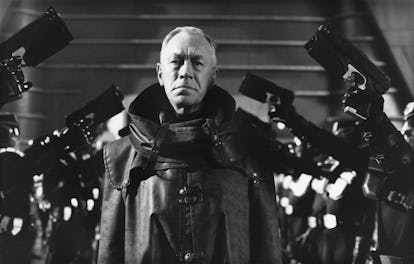 Max von Sydow—the Swedish actor known for playing Father Merrin in The Exorcist and the Three-Eyed Raven from Game of Thrones, as well as appearing in 11 Ingmar Bergman films—passed away on Sunday at 90 years old. Although he rarely played lead parts and spent his 71-year career largely as a working actor, von Sydow had an impact on Hollywood nonetheless, playing Jesus in The Greatest Story Ever Told and Lor San Tekka in the 2015 Star Wars film Episode VII: The Force Awakens.
The laundry list of parts goes on. But behind the scenes, von Sydow quietly had an equally prolific career as a voice actor. He first lent his deep baritone to a Swedish television mini-series called I Havsbandet, in 1971, around the time that The Exorcist came out. But it wasn't until the '80s when studio executives fully took notice of how von Sydow could contribute to filmic audio, and began casting him as a narrator in The Soldier's Tale (in which he played the Devil), the German thriller Europa, and as the voice of Carl Jung in Wisdom of the Dream.
In 1989, he voiced a part in Ghostbusters II that was later featured in the 2009 video game based on the movie. His voice also featured in the video game version of Star Wars Episode VII: The Force Awakens after he played Lor San Tekka in the film.
Von Sydow did some voice work for the video game The Elder Scrolls V: Skyrim—the process of which was documented in an interview with the game's audio director and sound designer, Max Lampert. Lampert discussed his time with von Sydow in the studio, saying he felt lucky to get the actor to read for this game.
"He's got a very, very long film history, from very, very serious dramatic movies with all sorts of directors, and then he's in things like Strange Brew. He did the voice of Vigo in Ghostbusters II," Lampert said. "I got to ask him, 'Why do this now, why a video game script?' He said he just liked the text. It wasn't a typical old-man role that you might get offered when you're of a certain age. This character actually goes somewhere, and he takes the player somewhere."
Lampert also remembered von Sydow relishing his various sessions working on the video game, adding his own flair and bringing professionalism—chops honed after decades working in entertainment—into the booth.
"He had a lot of fun reading it—he enjoyed reading all the fighting and dying stuff at the end too. I was glad he was happy to read all the sorts of things you encounter in a video game script," Lampert said. "He seemed to also really enjoy all the made-up names and places. Which, you never know, some people can kind of handle that stuff, and you give them the pronunciation beforehand. But that's a new word to whoever we're bringing on. Maybe we haven't had a lot of time to go over it with them. So we'd give it to him, and he'd chuckle about it. And then he would do it, and made it sound like he does it all the time.
"That kind of voice, with all that richness and character that he already has to it, he could have read the phone book and it would have sounded good."
Voice acting looked to be somewhat of a side hustle, albeit a productive one. But von Sydow's reach clearly wasn't limited to his voice acting, especially since he was nominated for a Best Supporting Actor Oscar in Extremely Loud and Incredibly Close. For that part, he didn't say a word.