Star Search
Alana Varel and James Grant of Starworks are the secret connection between many fashion houses and Hollywood. Just don't ask for the details.
---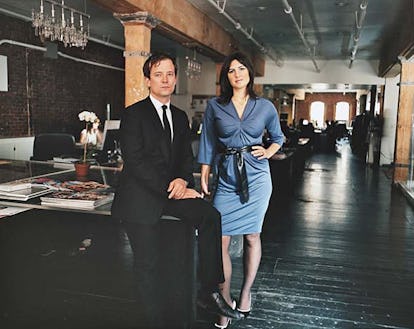 High above a quiet block in New York's SoHo, an industrial door in a nondescript building opens to a massive, black-floored loft humming with activity. An army of tall blonds answer constantly ringing telephones at desks grouped in clusters. A sleek vizsla bounds in, dragging his dog walker behind him. "Rudy!" cries his owner, Alana Varel. From this office and three others—in Los Angeles, London and Milan—Varel, 35, and her British husband, James Grant, 31, the founders of a company called Starworks, connect clients including Miu Miu, Burberry and Bally with Hollywood celebrities.
The scene is a far cry from the agency's 2001 beginnings: a single desk in a shared 14th Street space, where the couple founded its casting firm on a handful of contacts from Varel's days as a model agent. Since then Starworks has grown exponentially, and Varel and Grant push their agenda even further via a secret network of tastemakers whom they call "family." Beyond simply casting stars in ads—Kirsten Dunst for Miu Miu, Angelina Jolie for St. John, Rachel Weisz for Burberry's fragrance and Tom Brady for Stetson cologne—Starworks sells the promise of a fast track to Tinseltown to fashion and editorial clients desperate for celebrity access.
In today's fiercely competitive marketplace, dressing the "right" star on and off the red carpet can translate into massive sales. As a result, Starworks orchestrates a great deal of clandestine "outreach" on its clients' behalf, delivering products into the hands of much-photographed actresses, getting them to attend events and even dressing them—and their children—in the labels the agency represents.
But for luxury firms, especially those based in Europe, navigating the twisty roads of Celebrityville can seem tricky—and it's even more difficult to do the deals without sullying a company's pristine image. "I think the brands want it to look like the designer has a genuine relationship with a celebrity, with no behind-the-scenes help," says Varel, Starworks' COO.
Kirsten Dunst in the spring 2008 Miu Miu campaign.
Besides offering discretion to clients, the duo looks the part of fashion insiders: The baby-faced Grant, the company's CEO, has perfectly mussed hair and spouts corporate lingo in a de rigueur "mockney" accent, while Varel, who has a penchant for drapey dresses, peers out from underneath thick black bangs. They augment their own mystique by refusing to discuss exactly how deals are negotiated or how much they cost. "We are very quiet about what we do. Do we need to go into how it happened? Not really," says Grant.
The process, however, usually follows a specific format. Take, for instance, Miu Miu, which in 2004 first tapped Starworks to hire a celebrity for its women's wear campaign. Miuccia Prada's in-house advertising team asked the firm to recommend several actresses who would fit the ads' direction. "We came back with a list of names, and at the time, Maggie [Gyllenhaal] was a fresh face," explains Varel. Once Prada gave approval, Starworks handled all negotiations with Gyllenhaal's agent, publicist and manager up to the point of signature, when legal teams are typically called in. Starworks has since continued its relationship with Miu Miu, casting Selma Blair, Lindsay Lohan, Camilla Belle, Kim Basinger and Kirsten Dunst, its current star.
"Alana and her team are a great support—smart, enthusiastic and always available," says Tomaso Galli, Prada's group communications and external relations director.
For Starworks, one of the most important parts of the casting process is gauging a celebrity's public persona. "You need to know if [an actress] is going to stay cool," says stylist Katie Grand, who collaborated with Starworks on the Miu Miu ads featuring Gyllenhaal, as well as on the Louis Vuitton ones that have starred Uma Thurman, Diane Kruger, Christina Ricci and Scarlett Johansson. (Since then, Starworks has been jettisoned in favor of ad agency Ogilvy & Mather, which now works with Louis Vuitton's Antoine Arnault, photographer Annie Leibovitz and a cast that includes Steffi Graf, Mikhail Gorbachev and, most recently, Keith Richards.)
A simple advertisement can also turn into much more, as was proven when Starworks placed Sienna Miller in Pepe Jeans' 2005 campaign. One year later, when she and her sister, Savannah, were planning their own fashion line, Twenty8Twelve, Starworks was there to set them up with backing from Pepe's owner, Carlos Ortega. Now Starworks handles most of Twenty8Twelve's publicity and product placement. Miller, in a give-and-take scenario, regularly dons pieces from Starworks' other clients, such as Burberry and Monique Lhuillier.
Angelina Jolie in St. John's spring 2008 ad.
In Lhuillier's case, Starworks also landed her dresses on Katie Holmes and Hilary Swank, two actresses on the designer's wish list. "You can never tell a celebrity to wear something. You have to have a relationship with the stylist. Starworks makes the connection happen," says Lhuillier, who hired the agency a year ago. "It's not something we would ever do in-house. They are stronger because they represent more designers."
Another example of such cross-pollination is Angelina Jolie. The firm worked with advertising creative director David Lipman to lasso the coveted star into a three-year contract with St. John, and though their choice turned out to be controversial—and part of a repositioning strategy that has reportedly dragged the company down—Starworks still benefits from its relationship with Jolie. For example, her stylist, Jen Rade, regularly heads to Starworks' Los Angeles office to pick pieces for her clients from its group of brands, such as Thomas Wylde, Botkier and Diesel. Even Jolie's son, Pax, was recently caught by the paparazzi wearing a jacket from Diesel, so Starworks' press division sent out a release announcing the news.
That kind of symbiosis is a prime element in the Starworks formula, which, running largely on the strength of fuzzy relationships and personal opinion, has worked remarkably well. In seven years, the firm has grown to 50 staffers in divisions including castings for ad campaigns and editorial shoots, public relations, new-media consulting and the so-called "VIP services," i.e., celeb gifting and product placement. In 2005 another division, SW2, was born to handle casting for "mass" brands, like the Stetson-Brady pairing.
Along the way, Starworks developed relationships the founders rely on heavily. For example, Grant speaks daily to London luxury- brand lawyer Hugh Devlin, whom he met while working with Miller. In turn, Devlin brought Daphne Guinness into the Starworks fold. "I have introduced them to fashion brands and potential investors…. People like Daphne can open doors or influence potential deals," explains Devlin. Still, the execs at Starworks deny that he or Guinness are investors in the company.
Guinness casts her relationship with Starworks in a similar light. "They run ideas by me," she says. "There are certain areas that I've got just a different take on. I may know someone they don't." (Guinness also contributes to the Starworks blog, which garners about 10,000 hits a month, according to the company.)
Starworks was born when Varel and Grant met by chance. A party promoter while at New York University, Varel was working at modeling agency Next (Ashton Kutcher was a client) and on vacation in Thailand when she encountered Grant, who had left his marketing job at Hewlett-Packard in London to travel the world. Even then, they discussed the apparent seismic shift occurring in Hollywood. "People in India didn't know who Bill Clinton was, but they knew about Titanic and Leonardo DiCaprio," recalls Varel.
"It was Coca-Cola, Mobil gas and Leo. They were the three brands that everyone knew in Asia in 1998," continues Grant.
Varel also had an insider's perspective: Certain fashion companies were taking a dramatically increased interest in not only her former client Kutcher, who had just embarked on his acting career, but also in her then roommate, Milla Jovovich, who was coming off her breakout role in The Fifth Element. (Starworks now does business with both; it cast Kutcher in the current Pepe ads and handles the PR and VIP services for Jovovich's clothing line, Jovovich-Hawk.)
After a whirlwind courtship, Grant moved to New York, where he and Varel launched Starworks. "Everyone thought we were a little bit mad," says Grant. "But it was obvious to me there was a gap between the management of brands and the management of talent."
Adrien Brody in the spring 2003 Ermenegildo Zegna campaign.
The duo got started by tapping into the network of photographers that Varel knew from when she worked as a model agent. A major coup soon came when Richard Avedon—whose grandson, Matthew, a model, was repped by Varel—hired Starworks to cast a Club Monaco campaign, for which the team chose actor Jonathan Rhys Meyers. Peter Lindbergh also recruited the firm for a Kookaï campaign, starring Lucy Liu and Helena Christensen, as did Steven Klein, who enlisted the company to book celebrities for The Face and i-D. Lipman, whose advertising agency was then conveniently located across the street, also started using Starworks for his projects. For creative teams, the attraction of outsourcing casting—a task they traditionally had to do themselves—is simple: It removes the burden of finding and negotiating with celebrities. "I don't have time [to cast] anymore," says Lindbergh.
"[Varel and Grant] deal with the stars' agents in quite a smooth way," adds Katie Grand. "You are allowed to just do your job. There's no drama."
Once Varel and Grant cast the then little-known Adrien Brody in Ermenegildo Zegna's campaign—again, with Lipman—they knew they were on the map. They booked and shot Brody two months before he won the 2002 best actor Oscar for his role in The Pianist. Not only did Zegna negotiate Brody at a lower cost than he would have drawn post-Oscar, but the overnight star's face was soon plastered on billboards everywhere, and he wore Zegna on the red carpet and at other press events, to boot.
"Starworks recognized in advance that this was how the market was going to go. They were a couple of steps ahead," says Devlin.
But despite the edge that comes with being the first to book a celebrity, Varel and Grant admit to one problem: Most of their clients are after the same few A-listers, including Jolie, Johansson, Thurman, Jennifer Aniston, Cameron Diaz and Nicole Kidman.
"The hope is that we continue to produce more celebrities in order to fulfill the need in the marketplace," says Grant.
"There are some actresses I haven't heard of, and Starworks advises me," says Lhuillier.
Such was the case when the company first cast Camilla Belle for an editorial shoot, a deal that was quickly followed by hiring her for Miu Miu's 2006 spring campaign and the current Vera Wang Princess fragrance ads. "She is still emerging in the movie world, but she is really interesting to fashion brands," explains Varel.
Still, Varel admits that most advertisers want that top tier of actresses, including the holy grail of casting, Natalie Portman. "She has turned down everything," Varel says. "We tried to put deals together with her—and we are talking tens of millions of dollars—and it still has not worked."
Portman aside, those fees lure many actors to sell ad space on their bodies. "Celebrities becoming part of the brand will continue," notes Grant. "You'll probably see a celebrity having a luxury partner, a beauty partner, a lifestyle partner and becoming a part of that business."
Many, however, are still happy to go where the money is. Or as Varel puts it, "If stars do one deal, they don't have to do a s—ty blockbuster."
Hair by Emiliano De Pasquale and Makeup by Tessa Holland, both for Warren-Tricomi Salons. Adrien Brody, Kirsten Dunst, Angelina Jolie: Courtesy of Gaslight Advertising Archives Inc.