Man With A Mission
At a time when practically everyone is referencing the late, great Yves Saint Laurent, what is it like to be the custodian of YSL's iconic legacy? Holly Brubach catches up with Stefano Pilati, the designer who gives women what they want.
---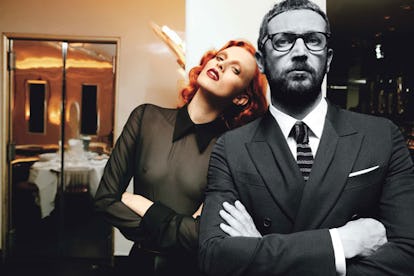 Stefano Pilati isn't complaining. Complaining, as anyone who knows Pilati will tell you, isn't his style. Still, one gets the sense that perpetuating a brand founded by one of the most brilliant, prolific, and beloved designers of all time has proved to be a rather thankless task so far. As creative director of Yves Saint Laurent for the past six years, Pilati has reconstituted the Saint Laurent style in terms that are contemporary and compelling. But the fanfare has been muted and the critics have been slow to come around, even when ideas that Pilati introduced have been taken up as trends. You would think that the remarkable turnaround in the company's sales, from nearly $100 million in losses to a profit, according to Pilati, would qualify as vindication. But Pilati's detractors are busy quibbling over his interpretation. Too reverent for some—mere copies of the master's greatest hits. Not reverent enough for others—too much of a departure. Everybody has an opinion. The consensus, to the extent that there is one, seems to be that Saint Laurent is an impossible act to follow.
Chanel, Dior, and Balenciaga were, conveniently, dead when the houses they founded were revived. Hubert de Givenchy handed over the key and withdrew. But after the Gucci Group bought Yves Saint Laurent in 1999, Saint Laurent was still on the premises, as other designers—Alber Elbaz, Tom Ford—designed the ready-to-wear and accessories in his name. With his departure, in 2002, the more obvious course of action, easier by far, would have been to make a clean break and turn the brand into a platform for a young designer, as Givenchy was for Alexander McQueen, Dior is for John Galliano. Instead, the Group's strategy has been to continue the Saint Laurent style and carry it into the future—a task that requires someone willing to set aside his ego, assimilate the house's history, and build on it. Self-effacing classicists aren't exactly thick on the ground these days. It is, in fact, amazing that Gucci Group managed to find even one.
"I'm just trying to show the relevance of the heritage through a contemporary eye," Pilati says. "Stefano Pilati comes last, or he doesn't even find a position within there, in the sense that I let myself go through this process. The Saint Laurent heritage gives me a past, which I relate to, but it doesn't dismiss the opportunity for me to grow through my creativity. The heritage is my culture, my education. And Stefano Pilati needs to speak with the language that relates to that culture, because this is where I come from."
The vocabulary is familiar to any Saint Laurent fan, though Pilati refrains from direct quotations. Last fall: high-waisted pants and skirts, silk blouses, black jumpsuits, capes and capelets, gathered shoulders, plumes de coq. For spring: ruffles and flounces, halter necklines, contrast edging that traces the outline of a skirt or a collar, gold platform sandals. And perennials: safari jackets, trenchcoats, tuxedos. Louise Neri, a director at the Gagosian gallery and a close friend of Pilati's, says that, like many sophisticated Italians, the designer "doesn't reject history; he absorbs it and learns how to use it as counterpoint."
The desire to engage in a dialogue with the past is, perhaps, to be expected in someone wearing pinstripes, listening to opera. But it's surprising to find it in a guy with Pilati's street cred and catholic tastes—his appreciation for Pee-Wee Herman and Glee, for LCD Soundsystem (which now provides the music for YSL shows), Hurt, the Dead Weather, Rihanna. On a day in November, he is wearing off-white wide-wale corduroy pants rolled at the ankle; low webbed rubber boots for hunters, painted with camouflage foliage; a white V-neck with extravagantly long sleeves doubled up to the elbow under a black calf-length sleeveless cardigan like a 21st-century toga. With a beard and close-cut hair matching his tortoiseshell glasses, and assorted tattoos (Japanese flowers, mother forever, a star, the wing of an eagle), Pilati could be the bass player in a rock band or an avant-garde theater director. Instead, it seems he's a stealth defender of the values at the heart of the YSL tradition—a sheep in wolf's clothing.
Talking about his objectives at Yves Saint Laurent, Pilati uses words like "elegance" and "taste," harking back to some earlier time when fashion was governed by a rigorous sense of composition, before bed-head hair, spandex, and Crocs. He seems not to have gotten the memo that concepts like these are now elitist, to be avoided—that they were rendered obsolete when making a woman look beautiful took a backseat to innovation, when postmodernism legitimized mixing anything and everything, when vulgarity became an aesthetic. "It might be a reality, the lack of taste," Pilati admits. "But I wouldn't work in fashion if I didn't believe that good taste is a positive message. Especially for this brand."
It was Ford who recruited Pilati. He had started as a fabric researcher at Prada and rose through the ranks to become head designer for Miu Miu. The day after he was hired—to design Gucci—Ford called to inform him that he would be designing Yves Saint Laurent instead. Pilati has no idea what changed or why. Did Ford (who declined to be interviewed for this article) recognize in Pilati's flawless manners, his sincere affinity for women, his innate unwillingness to call attention to himself, a personality that was better suited to a legacy of Parisian refinement than a fantasy of Italian sex?
The House of Yves Saint Laurent was about fashion first and foremost, and fashion began with the clothes. As far as Pilati is concerned, it still does.
In the Seventies, women who suddenly found themselves on the brink of possibilities denied to every previous generation needed something to wear, and it was Saint Laurent who came up with it: blazers that were strong, confident, and feminine, with enhanced (not yet dramatically padded) shoulders and a nipped waist; silk blouses; pleated trousers; high heels. With forms borrowed from men's tailoring, adapted to women's curves, rendered in vivid colors and sensuous fabrics like velvet and silk charmeuse, Saint Laurent dressed women to make history.
In those days the shoes and handbags were left to licensees; Loulou de la Falaise, Saint Laurent's friend, muse, and creative consultant, saw to the jewelry. Today it is Pilati who oversees them all. Now that accessories account for such a large percentage of most fashion brands' business, often eclipsing sales of the clothes, advertising pages routinely feature a model who, no matter what she's doing—looking out a window, chatting at a party, lounging naked—is clutching a bag, like a woman paranoid that someone is going to steal her purse. Pilati has refused to play along. "In the beginning," Inez van Lamsweerde recalls of shooting the YSL campaigns with her husband, Vinoodh Matadin, "we almost had to beg him to put a bag in the picture. He said, 'No, with this dress, you would not wear a bag—that's not chic; that's not how it works.'"
Even so, Pilati's bags have been best-sellers. The branding relies on subtle signals, like panels or seams forming a Y. The free-form hearts that Saint Laurent deployed for his Christmas cards have been adopted as a signature motif, quilted on patent leather, to attract a younger customer. Reviewing prototypes, Pilati routinely asks about the pricing, to ensure that it's appropriate to the customer he has in mind. "I'm not a businessman," he says, "but I've become one by necessity."
Saint Laurent wasn't a businessman either, and he didn't have to become one: Pierre Bergé, his partner, negotiated the world on his behalf, leaving the designer free to follow his imagination. Asked if he ever longs for his own Bergé, someone who could take the commercial half of the equation off his hands, Pilati replies: "It would be fantastic to be purely creative. Still, you want to walk in the street and see people wearing your clothes, and to do that you have to direct your creativity. So you already fulfill a part of what we think about as marketing from a commercial point of view. Giving the pantsuit to women—that was creative and instinctive, but it was also supported by the fact that women needed it, and, Bergé or no Bergé, Saint Laurent was the one who did it. The role of Bergé, or today of the CEO, is to create a structure that can help your objective and sell the idea."
Bergé and Saint Laurent, Sergio Galeotti and Giorgio Armani, Giancarlo Giammetti and Valentino—these partnerships, which helped transform fashion into an industry, were, at least initially, both professional and personal. "They were compatible because they were not two separate entities; they were together," Pilati says. Now conglomerates buy brands and install a CEO and a creative director, who may or may not share a vision and a point of view. "It doesn't mean that they can't work together," he continues, "but the roles are by nature split in the sense that the CEO has to respond to a group with numbers and performance and budget and business plans, while the creative director is almost at the service of the CEO. In those days, Saint Laurent was doing the tuxedo, and Bergé helped him sell it. Now we live in a moment when we need to thank the CEO. I'm doing the bags, I'm doing the shoes, I'm doing the satin dresses, I'm doing the tuxedo, but if the performance of the brand is good, it's because it has been managed well, and that includes managing the creative director."
Valerie Hermann, CEO of Yves Saint Laurent, describes her relationship with Pilati as "a nice tension." Their "constructive confrontations" provide occasion for discussion and debate. "I'm learning from what he's saying," she says, "and listening with respect. What's most important is that we always agree about where we want to go with the brand, and the confrontation is about how to get there."
A stylish native Frenchwoman whose mother dressed in Saint Laurent, Hermann speaks of the ideas that can drive the brand, chief among them Yves Saint Laurent's legendary love of women. The sublime cut of the clothes, particularly for evening, showcased a woman's body with genuine appreciation, inspiring ferocious loyalty in return. As so often happens in fashion, Saint Laurent's constituents aged along with him; they are now in their 50s, 60s, and older. In the late Eighties and Nineties, many of them drifted away. Unlike most brands undergoing a revival, willing to forfeit old clients to refresh their image, Yves Saint Laurent, Hermann says, is delighted to welcome those women back. And, she reports, they have started coming. "If we're going to be a brand that loves women," she says, "we love them at any age, at every stage of their lives."
Pilati grew up with two older sisters, and, like Saint Laurent, he projects a sex appeal in his clothes that is never vulgar. Neri calls it "erotic without being overt." The climate at the time he designed his first YSL collection was one of "porno chic," he recalls. "And I was kind of disgusted about it. Not from a puritan point of view but because I've seen women dress up like a mess, completely beyond their dignity, and I was like, This is something so wrong going on." His response was a curved silhouette—which the press dubbed a "tulip" shape—with emphasis on the waist, "because that's what defines a woman's body by nature," he explains.
Ten, 20, and even 30 years later, Saint Laurent's clothes somehow don't look dated. Many women who bought them at the time continue to wear them, and the demand for YSL vintage runs high. He transcended fashion—a fact, Pilati says, that obliges him to design to a higher standard. His debut collection for YSL "was the first time in my career that I didn't think about a theme, when I started to think about something that could be timeless. I said to myself, You need to be relevant to a different level now. You can't be only 'I like red, and clogs instead of moccasins.'" Rather than creating a collection that's of the moment, capturing a mood or riffing on Mad Men, Pilati concentrates on building a woman's wardrobe over time, designing a coat she can wear with the skirt she bought two seasons ago.
The key, he says, is giving women what they need—even when what they need no longer looks like what they needed when Saint Laurent was the one who provided it. Women then needed fantasy for evening, an outlet for the sort of role-playing and desire that had no place in the arena they inhabited. Few women chairing a benefit now would be inclined to turn up dressed as a Tolstoy heroine or a Chinese concubine or Carmen. With Edition Soir, a separate collection of cocktail dresses and gowns that cater to women with a lot of formal events on their calendars, Pilati's approach to evening is as pragmatic as his approach to day.
For all his artistry and invention, dressing women was a service Saint Laurent performed—the basis of the haute couture, carried over into the ready-to-wear. It's a notion so hard to come by today that it seems almost quaint, and one that, at this juncture, when runway shows are media and designers partner with artists, seems vaguely debased, as if all by itself it might not be enough. While the shows in Saint Laurent's time were straightforward parades of beautiful models wearing plausible clothes, Pilati is obliged to transform fashion into theater. "Manifesto," a tabloid-size brochure distributed on the streets in a handful of fashion capitals, presents the YSL campaign images with a statement of belief that uses words like "decontextualized" and "semiotic manipulations." In Saint Laurent's time there were no runway gimmicks, there was no text—the clothes spoke for themselves, and women listened.
On a Tuesday morning in November, Pilati is studying the fabric selection for the men's and women's fall 2011 collections. In a fifth-floor studio at the company's headquarters, he snips a small rectangle from a swatch of bordeaux-colored cashmere and lays it next to another, darker one on the back of his hand, comparing them by the soft gray light filtering in through windows that look out over the rooftops of Avenue George V. Three assistants watch in silence. A fourth rummages in a glass cylinder containing scraps of ribbon and braid in search of the right shade of mustard. Lined up in the center of the table are the color cards—sheets of black construction paper on which the sample shades are arranged in groups: pewter, charcoal, maize, oxblood, bordeaux, three deep blues, black. Pilati is making no attempt to reproduce Saint Laurent's famous "painterly" combinations—the chords formed by pairing red with fuchsia or juxtaposing turquoise, purple, and navy—which, in any case, Pilati says, work best in the haute couture, when a woman buys the entire outfit. To Pilati's mind, Yves Saint Laurent is an urban brand, primarily black, and its palette should be restrained and concise.
These days it seems as if there are two Yves Saint Laurents: the man himself who, from beyond the grave, continues to exert influence, exhibiting his clothes in museums, appearing as the subject of films and books, with parties in his honor; and the brand, which introduces new collections every season, sells them in its boutiques, and advertises his name. If anything, the designer seems more present now than he did during the decade before he died. In death as in life, he has Bergé to protect him and tend to his reputation.
L'Amour Fou, a documentary by Pierre Thoretton that traces Saint Laurent and Bergé's love story and Bergé's sale of the art and furniture collection they amassed, played in French theaters last fall and is scheduled for North American release this spring. Lettres à Yves, a book by Bergé published last year, is a collection of one-sided conversations and reminiscences drenched in grief. Bergé is evidently not the only one of Saint Laurent's extended family who refuses to shift from the present tense to the past where he is concerned. "I try to prolong him by thinking of him, wearing his clothes and looking as good and modern as I can to please him!!!" Betty Catroux, one of his muses, said in an e-mail.
Bergé portrays Saint Laurent as a martyr to his own talent, invoking another neurasthenic genius and citing Marcel Proust's defense of les nerveux, that subset of humanity in whom a fragile sensibility, too fine for this world, is not a sign of weakness but a condition of their greatness: "It is they and they alone who found religions and create great works of art. The world will never realize how much it owes to them, and what they have suffered in order to bestow their gifts on it."
At the height of Saint Laurent's creative powers, his gifts seemed too vast to be contained by fashion. Like Mondrian, Braque, Picasso, Bérard, and Matisse—all of whom he paid tribute to in his collections—he was an artist whose vision would assert itself in whatever field he chose; his medium just happened to be clothes. Under the weight of frenzied expectations and immovable deadlines, Saint Laurent designed four collections a year (two haute couture, two ready-to-wear), eventually turning to drugs and alcohol for escape. As he struggled with his addictions, Bergé erected a wall of secrecy around him.
Since then, the pace of fashion has accelerated. Pilati now designs 11 collections a year, plus accessories. Designer Marc Newson, a friend of Pilati's, says that the two have "a shared understanding of what it's like to have to be creative under pressure, and we talk about that endlessly, really. And then, of course, other times we choose not to talk about it and to have fun as an escape from what we would normally talk about." Back in the Nineties, Pilati fought his own battle with drugs, which he has openly acknowledged in interviews, and prevailed, thanks to a year-long stint in a rehab program designed for military personnel.
He met Yves Saint Laurent only once, after joining the company. The audience was brokered by "some of the women around Saint Laurent" who had taken kindly to him, Pilati says. He was nearly overcome with the enormity of the occasion. "I was almost crying," he recalls. The meeting was brief. Saint Laurent complimented him on his personal style, and Pilati left elated—"as if I won an Oscar." He treasures a handful of letters, signed with "amitié," in which Saint Laurent congratulated him on his collections.
When Saint Laurent died in June 2008, Pilati attended the funeral. "I went to pay homage to somebody who gave a lot," he says. As he approached the entrance to the church, onlookers and photographers stationed out front called his name. "I didn't wave, like many other people did," he says. "To tell you the truth, I would rather have been invisible."
The YSL archives are now in the possession of the Pierre Bergé-Yves Saint Laurent Foundation. According to an administrator, access is restricted to "friends and family"; other requests are evaluated "on a case-by-case basis." (Pilati has been given access to the archives, and has used it from time to time.) In photos by van Lamsweerde and Matadin from the campaign for Pilati's spring 2008 collection, Kate Moss stands at the foundation's front door, its name legible in reverse though the glass. The new YSL woman is on the outside, looking in on the brand's history. According to van Lamsweerde, it was Bergé who granted permission to use the foundation's offices as a location. Relations between the foundation and the brand seem cordial at times, cool at others.
The enormous Yves Saint Laurent retrospective—more than 300 outfits spanning 40 years—which opened at Paris's Petit Palais last spring was devoid of any affiliation with the brand, and the people running the brand were conspicuously absent from the festivities around it. Pilati got no private viewing. When he toured the show, other people recognized him. Self-conscious and uncomfortable, he says, he left. In the exhibition's aftermath, Pilati and the Yves Saint Laurent brand were eclipsed by Saint Laurent himself. Suddenly there were references everywhere.
Marc Jacobs, for one, has returned to Saint Laurent time and again over the course of his career, revisiting the indelible impression that the clothes made on him in the mid-Seventies, when, at the age of 14 or 15, he says, he realized he wanted to be a designer. Saint Laurent became in his mind synonymous with glamour. "It's always been this kind of benchmark that seems from my personal point of view impossible to ignore," Jacobs says. "I don't really need to look at the clothes or study them or have a reference in front of me to evoke what I feel. After Perry Ellis, when I started doing my own collection, I was working a lot with [designer and collaborator] Julio Espada, who was helping me out and putting together the shows. And he would always say to me, 'Well, what would Saint Laurent do?' It wasn't that we were trying to channel him or figure out what he would actually do. But we would put together two shades of blue, one more green and one more red, and thinking that Saint Laurent would do it gave it a kind of validity and credibility. We could send things down the runway and feel like they were real and wearable and right and classic in a way.
"I think Stefano's done a fantastic job," Jacobs continues. "It's really interesting how he twists and changes all those codes, how he references them without being first degree. I could never do that—I'm much more literal, I guess. I find it looks very Saint Laurent, but not at all like anything Saint Laurent did. And that speaks really highly of Stefano, because that's very hard to do. I think that any kind of reference I've made, deliberately or not, tends to be very elementary, but I don't feel the need to take it anywhere, and I'm not working there."
No one, it seems—not even the house of Saint Laurent—owns Saint Laurent. Like Chanel, he has passed into the public domain. "With Chanel," Bergé writes to Saint Laurent, "who designated you as her successor, you will be the most important couturier of the 20th century. She for the first half, you for the second." Is it any coincidence that Chanel and Saint Laurent also happened to be the greatest feminist designers of the century when women came into their freedom?
Considering what an eclectic assortment of luxury brands the Gucci Group owns—their differences in scale (from Gucci, Alexander McQueen), their varying stages of development (Boucheron, Stella McCartney)—its management seems, at least in public, to go out of its way to treat them the way good parents treat their children, never doting on one more than the others. On the Group's website, they are given equal play—as if Yves Saint Laurent were somehow on a par with (no disrespect intended) Sergio Rossi. One wonders sometimes whether the Group realizes what a treasure it has in Yves Saint Laurent and how ideally suited Pilati is to the task of taking it forward.
"Yves Saint Laurent is, without question, one of the most important and iconic fashion houses, rich with a heritage that continues to influence and define fashion today," François-Henri Pinault, CEO and chairman of PPR, the owner of Gucci Group, said via e-mail. "As Saint Laurent moves into a phase of expansion, Valerie's strategy for development and the strength of Stefano's creative vision are ever more important."
The success of one Yves Saint Laurent shouldn't preclude the success of the other, although it sometimes seems as if it does, with two distinct camps competing for the spotlight. Some members of Saint Laurent's inner circle, including those women who occupied the exalted rank of muse, have remained close to Bergé but support Pilati in his efforts. "My case is special, as I only dress as a boy," Catroux says. "I always find jeans, pants, and boyish jackets—leather or smoking—at YSL."
For Catherine Deneuve, who still wears Saint Laurent haute couture pieces from the Seventies, the essence of the Saint Laurent style is sophistication. "It's very witty and very chic," she says. "It's not something that has to change every season. I was so influenced by him for 35 years that he's never very far from my choices." She admires Pilati for being true to what Saint Laurent stood for without copying, and she wears pieces from his collection. "He's done wonderful things that really remind me of Yves Saint Laurent. I think it's the synthesis—the spirit of Saint Laurent and the spirit of today."
Loulou de la Falaise shops in the boutique and wears the clothes. "When you go in the shops, it's very faithful and there are lots of things to wear," she says. "And it's very well made and very light."
Asked if she ever discusses with Bergé what the brand is doing now, de la Falaise says, "Oh, yes. Well, he's not as easygoing as I am." She pauses. "I think it must be very difficult for him."
Indeed. "How not to remember?" he writes. And again: "Here, Yves, is what I wanted to tell you. We're going to have to leave each other now, and I don't know how to do it." Who can blame Bergé for his efforts for keeping Saint Laurent alive, for insisting on his place in fashion's pantheon, when there is no argument? And yet, Bergé's loyalty to the man must at times be at odds with his willingness to support what they built together, now that it's in someone else's hands.
One can't help wondering whether Bergé wants the brand to outlive the man. "But," de la Falaise says, "how much worse if it didn't!"
Yves Saint Laurent's silk chiffon blouse. Stefano Pilati wears his own clothes.

Photographer: Inez Van Lamsweerde and Vinoodh Matadin Stylist: Alex White
Yves Saint Laurent's cotton and wool twill jumpsuit, scarf, belt, and cuffs.

Photographer: Inez Van Lamsweerde and Vinoodh Matadin Stylist: Alex White
Yves Saint Laurent's silk chiffon dress and blouse, belt, cuff, and shoes.

Photographer: Inez Van Lamsweerde and Vinoodh Matadin Stylist: Alex White