December 2014/January 2015 Editor's Letter: We Are Family
W's editor-in-chief on the power of collaboration.
---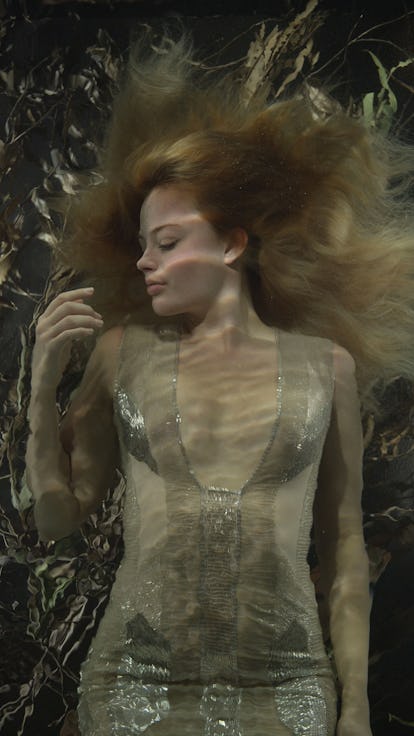 It's hard to believe, but not so long ago,creative disciplines operated largely independent of one another. Artists kept to their studios, fashion designers toiled away in their ateliers, and architects kept to their own rarefied circles. Perhaps one of the greatest advantages of our ultrawired era is that these barriers have been broken down. In fashion, design, and the arts, connecting with kindred spirits has become the norm—whether it's via capsule collections, special editions, or ongoing partnerships. That's why for this special art and fashion issue of W, we decided to focus on the power of collaborations.
For our cover, we asked Bill Viola, one of the most important video artists of all time, to work with Margot Robbie, who, since starring in The Wolf of Wall Street, has become one of Hollywood's most in demand actresses. Robbie, who will next appear alongside Will Smith in Focus, out in February, was the consummate pro, taking cues from Viola as if he were a seasoned movie director—except that this brilliant performance was happening not on a film lot but inside a water tank in Viola's studio.
Every fashion spread in this magazine is the result of endless back-and-forth between editors, stylists, models, makeup artists, hairstylists, assistants, and producers. This month we added yet another element to the mix: We invited the well-known creative directors Michael Amzalag and Mathias Augustyniak, collectively known as M/M (Paris), to collaborate with the photographer Craig McDean, the model Anna Ewers, and our Fashion and Style Director, Edward Enninful. The team ventured all over Paris with custom-made oversize letter blocks to create an unusual story that previews the best of the spring collections. And, as it happens, many of the most interesting clothes this season were the result of brainstorming sessions between designers and artists. The process goes well beyond putting an artist's imagery on a piece of clothing, as Gilles Mendel, Stuart Vevers from Coach, and Jack McCollough and Lazaro Hernandez of Proenza Schouler can confirm.
It's particularly compelling to see partnerships flourish within a family setting. In the course of several months, Arts and Culture Director Diane Solway trailed Don and Mera Rubell, as well as their children, Jennifer and Jason, in New York, Miami, and Aspen to discover how they have managed to amass one of the most important contemporary art collections today. The answer, Solway discovered, is simple: nonstop dialogue and a one-for-all approach. Meanwhile, the writer Kevin West flew to Mexico City to catch up with José Kuri and Mónica Manzutto, the husband-and-wife team whose prestigious Kurimanzutto gallery has staked a spot on the global art map. Kuri and Manzutto recently asked their friend the architect Alberto Kalach to not just create an exhibition space worthy of the A-list artists they represent but to also transform a crumbling house that had once been a convent into an arresting residence that honors Mexico's past and embraces the present.
Finally, Editor at Large Lynn Hirschberg interviewed the director Tim Burton about his latest film, Big Eyes. The movie tells the story of the artist Margaret Keane, who during the '60s created the ubiquitous Big Eyes paintings—for which Walter Keane, her megalomaniacal husband, stole the credit. Eventually, Margaret worked up the nerve to confront him in court, exposing his fraud. What most impressed me about this story is that out of Walter's sordid duplicity emerged true creative symbiosis—not between husband and wife but between Margaret and Burton. The director cites Margaret's paintings as a major point of reference for his own work; and now, 28 years after Margaret won her case, Burton is telling her story to the world, ensuring that she will receive the widespread recognition she was denied for so many years. If that isn't an example of collaboration at its best…