Print and the Revolution: Stefano Tonchi on the September 2016 Issue
W's Editor-in-Chief explains why we are getting more adventurous, in print and digital.
---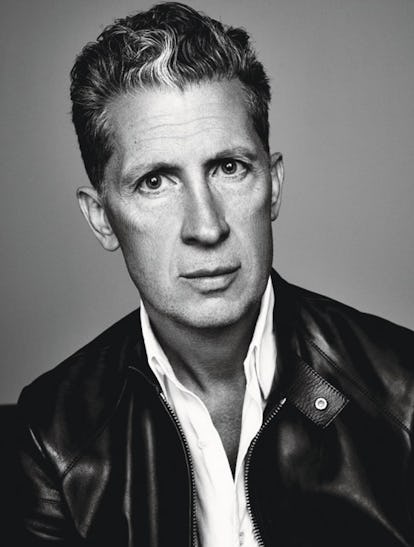 Photograph by Steven Klein
In my job, an unavoidable topic of discussion is the future of print magazines in the digital age. I firmly believe that content will always matter and, at least judging by my frequent visits to the newsstand, magazines are still going strong. And yet, as we all know, millennials get their information—and seek their guilty pleasures—via their mobile devices.
With all that in mind, this month we embarked on an adventurous project. As a companion to our newly redesigned website and our expanded social media feed, we transformed our September issue, always the biggest of the year, into a collector's edition, complete with a one-off logo and special graphic treatments by our guest contributor, the legendary British art director Terry Jones. As a cofounder of the iconic i-D magazine, a proud political agitator, and a champion of print media, Jones was the perfect design partner. Other collaborations and surprises—let's call them print events—will follow in the seasons to come.
Our cover story, featuring Rihanna, photographed by Steven Klein, addresses this issue's central idea of transformation. Picking up on Klein's dystopian fairy tale, the screenwriter Andrew Kevin Walker spins a story of warriors fighting for freedom of expression in a far-off world dominated by thinking machines. To portray Rihanna as a fearless leader in war and peace (postage stamps of Queen Elizabeth II provided the inspiration for our cover), designers including Miuccia Prada, John Galliano, Gareth Pugh, and Jonathan Anderson agreed to create fantastical pieces. When the images came in, Jones went to town laying out the pages with decidedly unfuturistic masking tape, and insisted that the text be typed on a vintage manual typewriter he had picked up at a flea market in upstate New York, in order to highlight the dichotomy—and synergy—between past and future.
The keywords for fall are "freedom," "attitude," "self-expression," and "identity"—just ask disrupter designers Alessandro Michele, at Gucci, and Demna Gvasalia, at Balenciaga, whose runways, like many others this season, were full of individualistic looks and unconventional models. Our photographers joined in, championing diversity of all kinds. Steven Meisel shot Casil McArthur, a transgender teenager looking to inspire others of his generation; Craig McDean celebrated personal style with a cast of creative up-and-comers; Patrick Demarchelier paid tribute to the rebellious spirit of punk; Roe Ethridge toyed with our current fixation with fashion squads; and Inez and Vinoodh brought back power dressing—albeit in the form of women in fluid dresses and skirts, emulating the so-called witches of Salem, who were burned at the stake for defying social conventions.
Speaking of transformation and female empowerment, the writer Christa D'Souza met with the model-turned-designer Stella Tennant and her best friend, the stylist Lady Isabella Cawdor, who are embarking on a mission to reinvent the quintessentially British label Holland & Holland. Inspired by their daily lives on their respective Scottish estates, Tennant and Cawdor created a collection of tweeds, outdoorsy jackets, and kilts that puts a contemporary twist on the old town-and-country cliché. In Berlin, Arts and Culture Director Diane Solway met adventurous collectors and gallerists who are giving new life to disused buildings with layered pasts—a church, an East German watering hole, and an old Nazi bunker, to name but three, are now ultra-chic living spaces and contemporary-art dens.
Tomas Maier, who is celebrating the 50th anniversary of Bottega Veneta and his own 15-year tenure at the brand, understands better than anyone the relationship between past, present, and future. The writer Holly Brubach visited him in New York, where he and his spouse, Andrew Preston, keep a pied-à-terre that epitomizes Maier's aesthetic. The chic, monochromatic furniture he designs for Bottega Veneta shares space with his photography collection—including works by the same artists he commissions for Bottega's ad campaigns. For Maier, as Brubach discovered, beautiful objects exist in a kind of eternal present, and it's incumbent on us to see that the best survive. "When somebody wants to keep something, I think that's a big compliment," Maier says, referring to a chance encounter with a woman in an elevator who was wearing a dress he had designed so many seasons prior that it practically qualified as vintage.
We hope that you will want to keep this special issue of W.