The Power of Beauty
W's editor-in-chief shares his November 2014 Editor's Letter.
---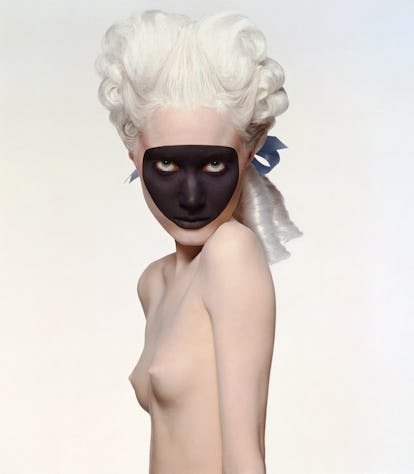 In Holly Brubach's smart feature on the beauty icon and implacable businesswoman Helena Rubinstein, Mason Klein, the curator of an exhibition of Rubinstein's art collection opening at the Jewish Museum in New York, declares that "both art and cosmetics require subjectivity. To express one self and how one wished to be in the world was no different from how an artist saw a landscape or a figure." Nowadays, it is a given that cosmetics, like fashion, are a tool that women utilize at will to craft a personal image and construct an identity. But, as Brubach points out, this wasn't always the case.
That's why Beauty Director Jane Larkworthy took it upon herself to celebrate the many points of view that constitute the beauty world today, and that we sometimes take for granted. For our cover, the photographers Mert Alas and Marcus Piggott lined up their favorite models of the past decade, ranging from the superstar Kate Moss to the Brazilian bombshell Raquel Zimmermann.
Makeup artist to the stars Diane Kendal re-created some of the most colorful and daring beauty looks of the season, focusing on extreme lips and bold eyes that bring back memories of the '70s disco days and the '90s hip-hop scene. And, in case bejeweled mouths and neon eyelids aren't enough of a statement for you, look at "Right on the Nail" to see how to match your manicure to your jewelry and bags.
Rubinstein used to say that there are no ugly women, just lazy ones—and, with that in mind, Sandra Ballentine submitted herself to a grueling fitness program on the blustery moors of England. Meanwhile, Francesca Castagnoli investigated how lasers are becoming a regular part of antiaging regimes. Our fashion stories this month also show how transformative it can be to take a risk. For "Ruffled Around the Edges," the photographer Steven Klein turned supermodels Karlie Kloss and Joan Smalls into cool rockabilly chicks, complete with '50s coifs and wearing the sexiest looks from the resort collections. On the opposite end of the spectrum, Emma Summerton went for a super natural look while photographing newcomer Anna Ewers in haute neo-hippie furs and knits.
Elsewhere in the issue, Arts and Culture Director Diane Solway reported on Anita Zabludowicz, the chic art patron who, with her husband, Poju, has created an art sanctuary on an island in Finland where many of the artists whom the couple support go to create site-specific works, or simply to unwind and think about their next projects. And, in "Wonder Boy," writer Murray Healy caught up with the designer Jonathan Anderson, who was recently named creative director of the storied Spanish house Loewe, and who is already upending preconceptions of beauty and gender with his loose, androgynous collections. Like Rubinstein before him, Anderson clearly understands that norms and stereotypes about how we present ourselves to the world exist only to be challenged.