October 2014 Editor's Letter: Aristocrazy
W's editor-in-chief on royalty, fashion, and art.
---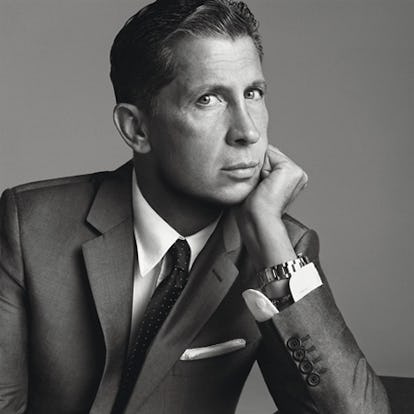 Being from Florence, where streets and palazzos are named after the aristocratic families that were once in power, I've always been fascinated by the fact that Florentine noble titles were acquired through talent and money rather than by birthright. The Medicis and Strozzis were able to depose popes and finance wars not because of their bloodlines, but thanks to their business acumen, creativity, and innovation. This came to mind when Editor at Large Lynn Hirschberg proposed a "Royals" portfolio for this issue. She was very persuasive: We would focus not on women with titles and aristocratic surnames (though we included a few of those, too) but on powerhouses who rule their fields with originality and determination. We turned to the photographers Inez van Lamsweerde and Vinoodh Matadin, who have always celebrated strong women, to collaborate with Hirschberg to create a series of elegant, soulful portraits.
In "The New Royals," you will find queens of modeling Naomi Campbell and Cara Delevingne; queens of comedy Joan Rivers and Kristen Wiig; queens of fashion Carolina Herrera andStella McCartney; queens of filmAnjelica Huston and Ellen Page; queens of TV Jaclyn Smith andKiernan Shipka; and two women who are members of actual royal families: Charlotte Casiraghi of Monaco and Kendra Spears, who recently became Princess Salwa Aga Khan. Each has a story to tell and a lesson to impart. "To be relevant, you have to be an outsider," says Rivers about her legendary career. "It was by force of will that I was able to transform," confides Huston, referring to childhood insecurity about her looks. The younger generation, meanwhile, does not hold back. "Kissing is much easier than smoking," asserts 14-year-old Shipka. And Delevingne confesses, "I love being naked!" (Check out Delevingne's hilarious Screen Test.)
The Paris couture collections have always attracted royalty from all over the world, so for our seasonal roundup of the most beautiful handmade clothes, Inez and Vinoodh felt it would be fitting to photograph Princess Olympia of Greece and Spears in two of the former residences of the American style icon C.Z. Guest. Guest's old Manhattan apartment was reconceived by its current owners, Richard and Lisa Perry, as a modernist Pop-art time capsule; Guest's former country house on Long Island is still inhabited by her daughter, Cornelia. These locations play off the outfits' spare silhouettes and elaborate embellishments—we think of this odd combination as Baroque Minimalism.
Unlike a title, talent and taste are two things that are not necessarily passed on from one generation to the next. But an exception to the rule is the Missoni family: From matriarch Rosita to daughter Angela to granddaughters Margherita and Teresa and grandson Francesco, there is something inherently stylish in all of them. It's not just their way with color and the mix of patterns that made their brand a worldwide success—it's also their infectious joie de vivre. As writer Andrea Lee discovers, Angela's eclectic art-filled house in the countryside outside Milan has become the perfect place to bring together the ever expanding clan, at a time when the family is still recovering from a difficult year in which it lost two members. Angela sums up their resolve in the face of adversity with typical optimism, declaring, "We are here to live as well as we can."
Finally, we decided to feature Charlotte Gainsbourg in this New Royals issue. The daughter of French music god Serge Gainsbourg and British actress, singer, and style icon Jane Birkin, Gainsbourg is a muse to both the cult filmmaker Lars von Trier, who cast her in controversial roles in Antichrist and Nymphomaniac Volume I and II, and the designer Nicolas Ghesquière, who chose her for his debut ad campaign for Louis Vuitton. As if that weren't enough, Gainsbourg is designing her own collection, in collaboration with the denim label Current/Elliott. The clothes, photographed by Tim Walker on Gainsbourg, are fashion-conscious without trying too hard. Then again, what else would you expect from the quintessential scion of European cool?