Stella McCartney Launches Swimwear Just in Time for July 4th
After offering a few swimsuits here and there over the years, the designer is finally launching a full line focusing on fit, form, and fun.
---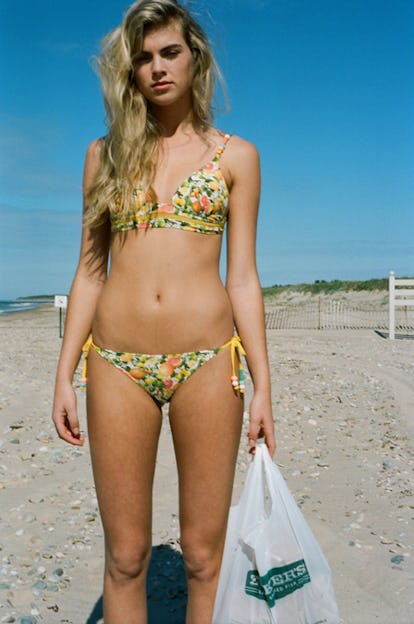 Stella McCartney is a woman's woman, and nowhere is that more apparent than in the debut of her full swimwear line. "The swimwear collection has really been inspired by women and made for women to wear it," the designer said, emphasizing that fit was the top priority.
McCartney revealed that the progression into swimwear was natural. The designer is well loved for both the lingerie designed under her namesake label as well her sportswear offering with Adidas, and "so it seemed like a logical next step to bring the world of lingerie meets sports performance into swimwear."
Working with Adidas has allowed McCartney to hone her skills when it comes to technical fit, but she is quick to point out that "as a house [we] cater to all women, all ages, all sizes," and this experience has informed the design of the swimwear. Every Stella McCartney fan will notice the cut and shape of a favorite neutral tone one piece and bikini, from the 'Miracle' series. "We took the dress that has been worn numerous times on the red carpet which is designed to bring confidence to a woman and make her feel her best in a really natural, chic and effortless way with the illusion shape," McCartney noted. "We mimicked the lines of the dress into a very technical and supportive piece of swimwear both as a one piece and as separates." The end result is a swimsuit that fits properly — allowing the wearer to feel confident in how she looks poolside or at the beach.
It wouldn't be a Stella McCartney collection without a bit of fun and whimsy, and to that aim the designer is introducing a swim range featuring the iconic prints of the house. "It was also exciting to be able to allow the ready-to-wear that we create every day to be able to be brought onto the beach."
In addition to leopard spots, there are bikinis and one-pieces featuring her iconic lemons, oranges, and grapefruits. "I really love the citrus print we've used again in this first swimwear collection, which originated in a past summer ready-to-wear collection. We try and have a little humor in everything we do and to not take ourselves too seriously. The citrus print is really about celebrating summer, the beach, and all things tropical," McCartney said. The British designer couldn't have it better for our 4th of July, when the line will become available for pre-order at her e-commerce site.
Watch W's most popular videos here:
Photos: Stella McCartney Launches Swimwear Just in Time for July 4th
Model wears Stella McCartney Swimwear Yellow Citrus Plunge, $155, and tie side bikini, $105, available at stellamccartney.com
Photo by Benedict Brink. Styled by Caroline Grosso. Model: Elizabeth Bennett at Elite NYC. Hair by Lucas Wilson for Bumble and bumble, makeup by Anne Kohlhagen at Susan Price NYC. Produced by Biel Parklee. Photography Assistant: Kyle May.
Stella McCartney Miracle black, stone, and white classic bikini.
Stella McCartney neoprene mesh one-piece.
Stella McCartney Miracle black, stone, and white one-piece.
Stella McCartney Stripe Calypso green and navy-striped one-piece.