Why Stella McCartney Is Taking Back Full Control of Her Brand
Why her empowered decision to buy back her company is so crucial.
---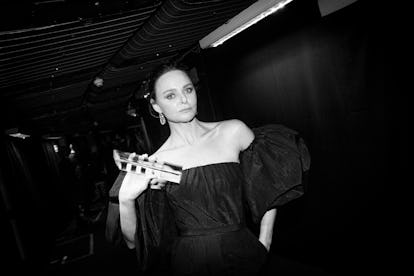 Gareth Cattermole/BFC/Getty Images
Power dressing may have been in last season, but this season is all about power moves. Stella McCartney is leading the way, as the beloved womenswear and menswear designer is taking back full control of her own brand.
The UK designer will soon own the majority of Stella McCartney, after buying out Kering, which co-founded the brand in 2001, as WWD reports. The shakeup is a surprising one, and inspiring: There aren't nearly enough female designers in fashion and there are even fewer who own their own company. (Women, who comprise the majority of fashion college students—for example, 85 percent of those enrolled at New York City's FIT are women—account for only 47.3 percent of womenswear brand heads according to a 2016 study by Business of Fashion.) The reason for it, though, is less eyebrow-raising.
McCartney decided to become the majority shareholder of her brand simply because she was able to, as she revealed to WWD. This week, on March 31, McCartney will become eligible to finally run her company solo thanks to a long-standing clause in her contract that allows her to repurchase Kering's stake. The designer revealed to WWD that she couldn't say no when the opportunity came up. (And, yes, McCartney will be buying back her own company with her own money, as it has been noted—though does it really need to be?—that her famed father Paul McCartney will not be financially assisting her in the process, nor will she be taking on a new partner for the time being.)
"I have had an incredible relationship with Kering, and first and foremost with the Pinault family, whom I consider to be great friends," she said in an interview with the publication, diffusing any potential rumors that the split is less than amicable. "I'm incredibly close to them. We had such a successful business together, an incredible partnership. We never had any hiccups."
Meanwhile, Kering's CEO François-Henri Pinault has issued a statement confirming that the two parties will move forward in good standing, telling WWD, "Kering is a luxury group that empowers creative minds and helps disruptive ideas become reality. I am extremely proud of what Kering and Stella McCartney have accomplished together since 2001," he said, adding that the designer and her team brought far more than business to Kering. "Stella knows she can always count on my friendship and support."
The brand has since issued a formal statement on its website, adding that McCartney, a longtime advocate for women within the fashion industry, will continue to sit on the board of the Kering Foundation, "which is dedicated to stopping violence against women and improving women's lives."
"It is the right moment to acquire the full control of the company bearing my name," McCartney says in the statement. "This opportunity represents a crucial patrimonial decision for me. I am extremely grateful to François-Henri Pinault and his family and everyone at the Kering group for everything we have built together in the last 17 years. I look forward to the next chapter of my life and what this brand and our team can achieve in the future."