Stella McCartney Discovered a Secret Island for Her Latest Campaign
The designer had to promise that she wouldn't share its name.
---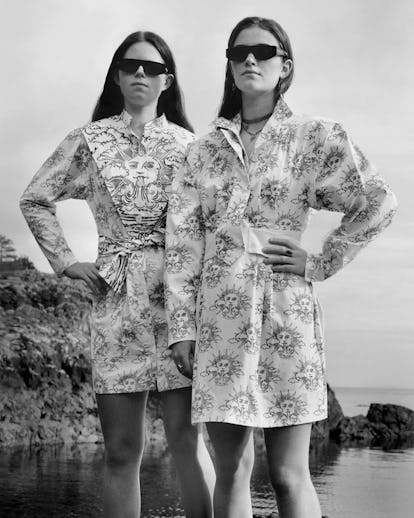 The designer Stella McCartney has been working with supermodels for decades, ever since she enlisted her friends Kate Moss, Naomi Campbell, and Yasmin Le Bon to walk her graduate show at Central Saint Martins in the mid-90s. But there's next to no chance that you'd recognize any of the faces in her latest campaign, for a capsule collection titled We Are the Weather. None of them are models, nor are they aspiring to be; in fact, they only agreed to pose for McCartney and the photographer Lee Whittaker under the condition that the brand not share their names—nor that of the island just off Canada where they live and were photographed. After all, it's thanks to the location's secrecy that they live there in the first place; by staying off the grid, the island's residents are able to embrace a lifestyle in which they make as little of an impact on nature as possible.
What isn't a mystery, though, is why a community so keen on protecting its privacy would make an exception for McCartney. Few—if any—in the fashion industry are more dedicated to sustainability than the British designer, who's put environmentalism and animal rights activism at the center of her brand for decades. We Are the Weather is just the latest example of that, but one of McCartney's most elaborate yet.
McCartney has the campaign's photographer, Whittaker, and stylist, Lee Trigg, to thank for introducing her to the community. On a trip to Trigg's hometown one summer, Whittaker learned that Trigg's mother had some experience visiting areas where "people were living alternatively or off-grid." The concept, Whittaker told W, fascinated him, sending him down a research rabbit hole. It also fascinated the team at Stella McCartney, who made Whittaker's dreams of photographing the off-grid community a reality. "When I told them about how I wanted to go back to document the people living on this island," Whittaker recalled, "it sort of clicked into place and became a perfect match."
We Are the Weather made one of McCartney's dreams a reality, too. About a decade ago, the writer and environmentalist Jonathan Safran Foer sent her a copy of his book Eating Animals, followed by extracts from a new book on the climate crisis. "I just thought to myself: I would love to do a capsule collection around the book and to be able to use literature," McCartney said.
The manuscript evolved into Foer's 2019 book We Are the Weather, which then evolved into the inspiration for McCartney's capsule collection of the same name. Handwritten phrases from the book, like "we are entirely free to live differently," appear throughout the fully sustainable collection, scrawled onto pieces like jumpsuits, trousers, and puffer coats or embroidered onto ribbons that top off McCartney's signature Savile Row tailoring. "Obviously the content is exactly my belief system," McCartney said. "It's kind of a campaign for awareness. We're both trying to spread the word of something good."
Related: Kering, Gucci's Parent Company, Is Going Carbon-Neutral—But What Does That Actually Mean?