Stella Tennant, Iconic British Supermodel, Dies at 50
A muse to Karl Lagerfeld, among many others, Tennant was known for her aristocratic roots and androgynous looks.
---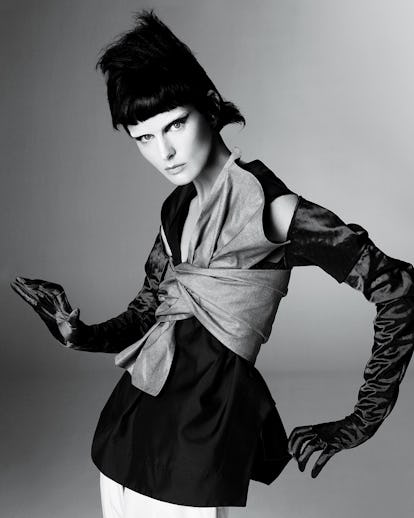 Steven Meisel for W
On Wednesday, the family of Stella Tennant announced the "sudden death" of the British supermodel at age 50. Tennant has been one of the industry's most recognizable faces for decades, thanks to her androgynous appearance and distinctive asymmetrical, jet black hair. (She only retired the latter recently: "It was great for modeling because you get these sharp images, but God, my husband hated it," Tennant told W in 2016.)
Tennant was the great-granddaughter of the duke and duchess of Devonshire, Andrew Cavendish and Deborah Mitford, an "It" girl of her time. But she grew up relatively modestly for an aristocrat, on a working sheep farm in Scotland. Tennant's initial attempts to get into modeling, after graduating from the Winchester School of Art, failed. But in 1993, a major gig presented itself "pretty much by accident," as she once put it to British Vogue. A friend who knew Plum Sykes, then an assistant at the magazine, passed along a couple of Tennant's passport photos to consider for a shoot with the legendary stylist Isabella Blow.
Tennant not only booked the job, alongside then "non-models" Bella Freud and Sykes herself. She also had the honor of being photographed by Steven Meisel, whose name she barely recognized at the time. "My housemate from university, on the other hand, was desperately excited," Tennant recalled. "He remembered that Steven had just done the photographs for Madonna's book Sex, and practically shouted at me, "Oh my God, he launched Linda Evangelista's career!" (Despite her nerves, Tennant kept her calm: "Listen, relax, I'm just doing a few pictures.")
The shoot ended with a proposal to star in a Versace campaign alongside Evangelista, Shalom Harlow and Kristen McMenamy. And after Tennant caught Lagerfeld's eye, the rest was history. Citing her resemblance to the house's founder, he named her the face of Chanel. (And outfitted her in the house's infamous micro-bikini.) Countless runway appearances, campaigns, and magazine covers followed—including her first for W, in 1995 alongside Kate Moss.
In recent years, Tennant tried her hand at designing; she joined Lady Isabella Cawdor at the helm of Holland & Holland, the storied gunmaker and hunting attire retailer, in 2016. She also worked to reduce fashion's environmental impact, denouncing fast fashion and teaming up with Oxfam.
Still, Tennant never left the catwalk behind. Twenty-nineteen saw her regularly join younger supers on the runways of shows like Balenciaga, Alexander McQueen, Burberry, and Saint Laurent. She even squeezed in one last pre-pandemic runway appearance earlier, opening Valentino's spring 2020 couture show at the start of the year.
Related: These 1994 Pictures of Kate Moss, Stella Tennant, and Milla Jovovich Could've Been Iconic. But They Haven't Been Seen Until Now.