Stephanie Busuttil-Janssen: Muse with a Mission
The longtime companion of the French sculptor César Baldaccini readies a major show of his work.
---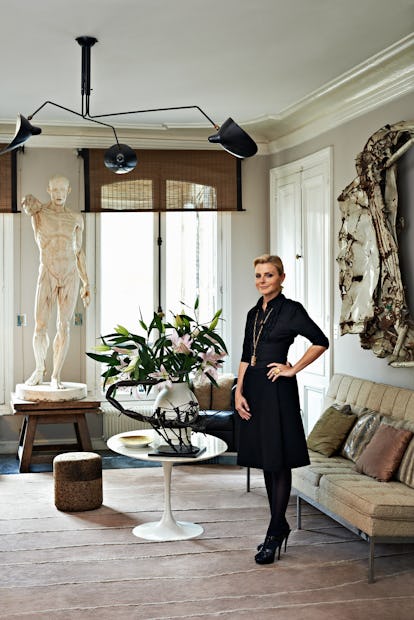 When Stephanie Busuttil-Janssen met the sculptor César Baldaccini in 1989, she was 22, fresh out of art school, and working as a publicist on a commission that the 68-year-old artist had undertaken in the South of France. César, who went by his first name only, was by then a famous proponent of Nouveau Réalisme and best known for his "compressions"—works he made by squashing everything from cars and glass to jewels with a hydraulic compactor. "César was older. It wasn't 'Ah! This is the man of my life!' " Busuttil-Janssen recalled recently in heavily accented English, elegantly curled up on the vast green couch in the apartment that she shared with César on Paris's Left Bank. "Yet he was so charming and unusual compared to guys of my age, at university. I knew I didn't want that kind of life."
The life she made instead was as César's lover and constant companion. For nine years, Busuttil-Janssen worked alongside him in the studio, until his death in 1998. In 1996, they moved into an airy apartment on Rue de Grenelle. The home is steps away from César's well-known Centaure, the bronze public sculpture he made in 1985 of a mythical man-beast bearing the artist's own bearded face. To Busuttil-Janssen, who had been close to her grandfather growing up, César "was like a father and a husband," she said. "But as an artist he was like a child, too. In a way, I was the mother. I organized everything." Case in point: the time she had to arrange the transport of 500 compressed cars—about 520 tons—from Lyon to Venice when César represented France at the 1995 Venice Biennale.
Now Busuttil-Janssen is co-curating the first major show of César's work to be seen in the United States in more than 50 years. It opens on November 1 in New York at the Luxembourg & Dayan gallery and runs through January 18, 2014. "César is definitely one of the most original voices in postwar sculpture," says her co-curator Amalia Dayan. "His obsession with materials—whether it's iron, bronze, used cars, plastic, or cardboard—was always innovative and risky." In addition to his "compressions," César made fleshy fields of polyurethane that he dubbed expansions, as well as figurative sculptures, including fantastical creatures in welded metal and giant versions of his own thumb and women's breasts.
Scarcely grazing five feet in YSL heels, with feline good looks and a mischievous smile, Busuttil-Janssen exudes a buoyantly youthful energy. With César, she coordinated a social life that was as hectic as their work schedule. "He wanted to do it all in one night—art, fashion, and society parties." Their summers in Roquefort-les-Pins, in the South of France, were dominated by "competitive" cook-offs with friends such as the legendary chef Roger Vergé and the actors Yves Montand and Simone Signoret. In their Paris apartment, the couple made intimate meals for an inner circle that included the architect Jean Nouvel and the fashion designer Azzedine Alaïa. It was Alaïa who created Busuttil-Janssen's wedding dress for her 2012 marriage to the Belgian art dealer Sébastien Janssen, with whom she has a 3-year-old son. "Azzedine is very similar to César," she said. "Very smart, instinctive, and supercurious, always talking to everyone."
It took Busuttil-Janssen two years after César's death to bring herself to change anything in the home they shared. "I was cocooned," she says. These days, she runs César's estate and divides her time between Paris and Brussels, where her family is based and her husband owns the gallery Sorry We're Closed. Although she has since introduced an eclectic mix of contemporary and 20th-century art and design to the Paris apartment, César remains a strong presence. In the living room, his amorphous expansions can be found dripping off a shelf or doubling as furniture. One of them, silver-coated and phallic, sits on a mirrored Ron Arad coffee table, next to a number of ceramic bird jugs by Pablo Picasso. Another has been fashioned into a lamp shade. Its translucent amber glow provides a contrast to Hans-Peter Feldmann's garishly painted plaster reproduction of Michelangelo's David and Necklace CNN, one of the conceptual artist Thomas Hirschhorn's giant gold chains bearing the network's logo, made from foil-wrapped cardboard. A hunk of diamond-encrusted gold that Busuttil-Janssen wears as a pendant provides a dazzling example of César's compressions. "The exploration with jewelry started when a woman gave him jewels she no longer wore to create a compression as a memory stick," she explained. It meant that a woman's cherished but unworn jewels—"perhaps her mother's wedding ring, or a gift from her children"—could be transformed into a weighty and very wearable all-in-one. Of course, this apartment is much more than a collection of exquisite objects. "I have beautiful and sad memories here," she said. "This is where César died. It's also where my son spent his first months. The apartment has witnessed my time with César, my period as a single woman, and now my family. It gives continuity to my life."
Photos: Stephanie Busuttil-Janssen: Muse with a Mission
Stephanie Busuttil-Janssen in the Paris apartment she shared with César
César's Compression Mobylette, 1970
A sitting room in the apartment features his works
Busuttil-Janssen and César, 1996
Compression Plexi Jaune et Blanche, 1972
Expansion No. 35/15, 1971