Strange Fruit: Is Stephanie Sarley the Betty Tompkins of Instagram?
She has made a name for herself with her sexually-charged fruit-focused work, but is she mere Instagram provocateur or a feminist artist?
---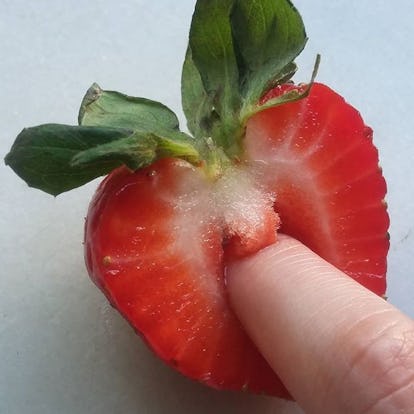 Instagram considers the work of the self-made artist Stephanie Sarley to be a proverbial NSFW, but, pun intended, it's difficult to put a finger on why. The 27-year-old has made a career out of, well, making suggestive images using fruit, among other objects. If you take a look at her Instagram account, which has almost 64,000 followers (and was taken down twice for "sexually suggestive content"), you'll find her fondling oranges, papayas, lemons, limes, and cucumbers in poses that are provocative, to put it modestly. In some respects, she is following the tradition of feminist artists like Betty Tompkins and Joan Semmel, who anchor their message of female empowerment with in-your-face erotic imagery.
A particular video of Sarket making mess out of a blood orange went viral in January, eliciting a response from New York magazine art critic Jerry Saltz: "You. Are. Genius," he commented.
But other reactions haven't been so positive, however, particularly in the platform itself. In fact, Sarley battles hateful commenters on a daily basis, in addition to filing grievance complaints with Instagram against meme accounts stealing her work. While it's fair to say that her posts are jarring at first, whether you like it or not, it is only fruit. Right?
When did you start this account? I joined Instagram with the intention to have my work shown to a broad audience. I also created an adult coloring book, "Dick Dog and Friends." I used Instagram to promote my book and to network. Now it's turned into a whole lot more…
In your own words, how do you define your work as art? There's no question in my mind that what I do is art. I have been studying art since I was in young adolescence and I've worked in mediums such as tattooing, stone carving sculpture and masonry, printmaking [which Sarley studied at Oakland's Laney College], digital painting and illustration, painting, photography and video art. When I am expressing myself creatively with any medium, it is art.
Big break: "The Blood Orange" I would say, although the "Crotch Monsters" and "Orcunts" blew up at the same time.
What is your mission? My art challenges the gender confines men and women have to deal with. I fight to reclaim women's sexuality. No more art just through the filter of the male gaze; I'm showing you the female gaze. These narratives are outdated. A lot of how people act is defined by cultural norms. With my art I have my vision of a new women and I embody her in my "Crotch Monster," "Orcunts," and my yonic fruits.
What types of fruit do you use? Are there ones that perform better than others? Citrus fruits are my favorites — they juice and squirt. I also love working with melons and papayas for their fun seed qualities. Also kiwis, strawberries, and all kinds of fruits. I want to explore fruits of the world! Sometimes, I use other materials that represent [male genitalia] with a banana or a cucumber using dairy, condoms, pins and needles…also candy. All kinds of fun stuff.
Why do you think your work turns people on? Does it turn you on? I think my art turns some people on because the sensuality of rubbing fruit is very titillating. Most of the time I am more concerned with the angle of the camera and the shot and not really thinking about being turned on but I must say I have had sensations and maybe some heavy breathing while creating some of these.
Alternatively, why does it make people so upset? It is just fruit, after all. People get really mad! Some because of food waste, others "it's not art." Also, I many are uncomfortable with the representation of the vagina.
Do you find social media to be a male-dominated space? You've mentioned that it's mostly men making memes of your work. No, I don't, social media as a whole isn't dominated by men but maybe meme culture is, in my experience. I see sexual harassment dominated by men but I get trolled and cyber bullied by men and women alike.
If you're a hater; you're a hater. – Stephanie Sarley
What kind of responses have you received from men? And from women? It's really hard to generalize all of the thousands of comments it's mostly a jumble of shock, laughter, and people being grossed out. And, of course, some incredibly random comments. When it goes sour, a lot of men seem to want to reduce what I do down to just fruit porn when it's fruit art. Women have been giving me shit about food waste a lot. Also about my dirty nails — they are not French manicured, I suppose. But really, the trolling is across the board men and women. It doesn't matter. If you're a hater; you're a hater. People are always trying to break me down just because I got something good going on. I get a slew of nasty homophobic comments from men and women. They just can't handle a women touching a fruit.
Do you have a copyright on your content? How does that work? You automatically own copyrights to your work the moment it is created. You can also register your copyrights officially and get papers. I have done that with some of my favorite pieces. There are a few advantages to filing your copyrights but I'm not going to bore you…other than that I put copyright Stephanie Sarley where I find it necessary.
How are you fighting back against appropriation of your work? I'm seeing a lot of appropriation of feminist art. It can get really frustrating because there is such a thin line between appropriation, biting, and just a bad knock-off. It only really matters if the content exactly mirrors your work and the person and company. Considering without actual copyright infringements you can't do much, it really comes down to me having to move past it and keep creating and being one step ahead of the game.
What are some examples of positive fan art? I get fan art and videos every day now! Drawings too! People poking or diddling almost anything they can get their hands on. The other day someone even fingered their bike seat. I get all kinds of fruits and savory foods, sometimes condiments and hygienic house hold items, and also donuts and sweets. Oftentimes people send me these videos in groups laughing together and sometimes it's someone's personal artistic interpretation of my work that they want me to see. It's so fun and inspiring to receive all of this.
When was your account disabled by Instagram? And when was it restored? I was devastated. In February my main account was disabled and restored twice and my backup once. All three times in about a month's time while I was in the middle of filing pages and pages of Digital Millennium Copyright Act (DMCA) takedowns with Instagram's copyrights department. It made me feel angry and wronged that I have worked so hard to build my online audience. I am an artist. It's totally wrong to take that away from me. I was determined to prove my point and now I'm back.
How do you feel about Instagram's restrictions and the ban of the eggplant emoji, for example? Instagram seems to have a wacky way of policing their users. Considering the massive amount of profiles that violate their terms of use that probably aren't just hashtagging the eggplant emoji all the time, it's just crazy. Instagram's efforts and methods of censorship are obsolete.
Strange Fruit: Is Stephanie Sarley the Betty Tompkins of Instagram?
Photo by @stephanie_sarley
Photo by @stephanie_sarley
Photo by @stephanie_sarley
Photo by @stephanie_sarley
"Apricot cutie from my summer 2015 peach pussy series."

Photo by @stephanie_sarley
Photo by @stephanie_sarley