Stephanie Sigman: On the Verge
Actress Stephanie Sigman takes on the Mexican drug war in Miss Bala.
---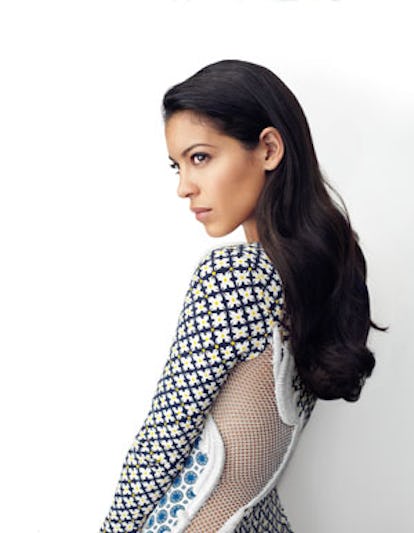 In the first shot of Miss Bala, the just opened Mexican thriller from the director Gerardo Naranjo, the camera pans across aspiring beauty-pageant queen Laura Guerrero's bedroom wall: a collage of photos of Marilyn Monroe, Madonna, and Audrey Hepburn, and the phrase fashion victim. But the young woman soon falls prey to a much more lethal scenario when a chance encounter in a nightclub renders her a drug puppet for a cartel boss.
The movie's star, Stephanie Sigman, 25, channels Laura's increasingly dangerous predicament with a mix of fearful acceptance and simmering survivalist instinct. Her own upbringing in Ciudad Obregón, in Mexico's northern Sonora state, was much more carefree: A jock before her height and striking looks led her to modeling at 16, Sigman spent the next few years as an international mannequin until she was offered a scholarship to Mexico City's CEFAC drama school and found a new career.
Though Miss Bala is her international breakout, she's already acted in Río de Oro, a period film about the Apaches in Sonora; and in Morelos, a biopic of the Mexican revolutionary hero José María Morelos.
"I enjoyed modeling so much," Sigman says. "But since I've become an actress, I've lived other ­experiences. It's more internal. And it's a passion."
Hair by Kenshin Asano for Redken at L'Atelier NYc; makeup by Greg Vaughan for MAC at L'Atelier NYc; styling assistant: Caroline Nunan; Digital Technician: Scott Schweitzer; photography assistant: Isaac Bearman