This Hungarian Beauty Heir Was Mocked for His Obsession with Grooming, Now He Is Spreading the Gospel of Men's Skincare
Stephen de Heinrich grew up with a very thorough grooming routine — and as an adult, it's even more inspiring.
---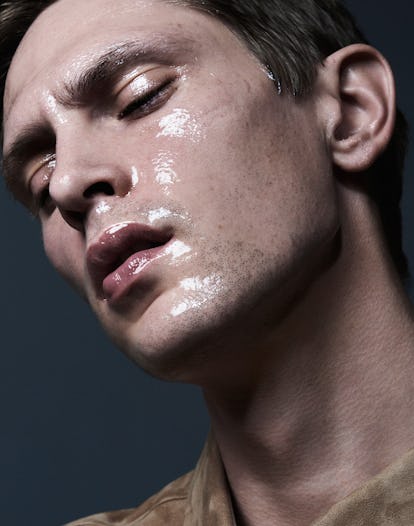 Photo by Sharif Hamza/Art Partner Licensing. Photo Editor: Biel Parklee.
Skincare is in Stephen de Heinrich de Omorovicza's blood. His family, the Omoroviczas, founded the Racz Spa in Budapest in the 19th century. De Heinrich inherited the business and, with his equally chic and beautiful wife, Margaret, turned Omorovicza into one of the most coveted luxury skincare brands in the world today. Despite all that–he's as down to earth as they come. Except when it pertains to his obsession with grooming.
What's your first grooming memory? It would be Vichy Basic Homme. The red line. I grew up near Geneva, and the Frenchies were slightly ahead of the Anglo Saxons, in terms of grooming, so we all wore after shave at school. The priest used to go crazy when we'd all walk in in the morning.
When did you start wearing after shave? Oh god, 13?
What fragrance did you wear? Drakkar Noir, Polo, of course. Aqua Lavande by Puig. It was a stunning plain old lavender. Then this Vichy Basic Homme. Back then, they had a red line for men. And I can't believe we all did this. We were teenagers and we wore it all. This special Vichy lotion, then, on top of that, the Drakkar Noir.
So you were layering at a young age? It's funny. I went to university in the countryside in the United Kingdom, where you could hardly even find normal food, let alone men's skin care. In the English countryside, there were two types of soap: you had the Cussons Imperial Leather flat soap, then Pear's glycerin bar. To this day, when you get out of London, those are the two soaps you'll find. So, of course, if you come from a land of pampering [like Hungary], you use these soaps and you're like, "Ouch!" So I sailed in with my Basic Homme and whatever else I had. I think I did do a bit of [Aramis] Lab Series as well. And my classmates would just take the piss out of me. Brits would arrive in my room and say, 'What are you doing using all these products?" I'd say, "Well, you know what? I don't want to look like you, so I'm going to carry on doing what I'm doing, thank you very much." I laid off the aftershave because I reckoned that did piss people off in the UK, so I took a little three-year hiatus, but [still didn't use] the basic lotions. No, no, no.
If we pulled back your shower curtain, what would we find? A lot of testers. Cleansing foam, actually shower gels and shampoos that we do for hotel amenities. There's a fantastic brand, Paul Mitchell. He makes great shampoos. Their strengthening one. It's all about not losing hair. Philip B's Peppermint & Avocado. It smells fantastic. I spend more on shampoo than most people spend on cars. And I don't have a car, so that's where the money goes! And then Omorovicza's Soothing Shave, always.
What kind of razor? Basic Gillette. That's the one thing; I don't even know if there are fancy ones. Shaving is shaving is shaving. Maybe the blades with the little strip on it because I find without that, it just kills you.
Toothpaste? Arm & Hammer.
Me too! I love products. I'm in the right industry, clearly.
What beauty look on women do you not get? Tons of makeup during the day. But I never think that it's aimed at other men, you're obviously not going to get kissed with all of it on.
What are you currently obsessed with? The English countryside. We started going there because of the kids and there are so many of them. Recently, we stayed in the middle of Gloucestershire at this really wonderful place. It's all the traditional stuff—you've got animals everywhere, rolling hills, we go shooting. All the stuff you're not supposed to do: drink a lot, eat a lot.
Are you a healthy eater? I don't have a particularly sweet tooth, but I do eat large amounts and I think it's important that I keep on eating. I eat huge amounts of food. I love the idea of vast amounts of it, so I try to avoid fried foods. Also, there's this very Germanic system that you eat a big breakfast and lunch but not so much at dinner. And I'm quite good on my vegetables, I must say.
Are you a good cook? Hopeless. Hopeless in the kitchen. If I'm on my own, I'll just have steamed vegetables and salad, because I know I can do that. So when [my wife] Margaret's around, it's a lot more fun.
12 Hunks of the Beauty World On What Makes Them So Cute
"When it comes to gabbing during a makeup session, everything is on the table."
Name: Edward Bess. Age: 30. Company: Founder, Edward Bess beauty. Bess seems to have been born opinionated about proper lipstick shades. Ten years ago, when he launched his eponymous cosmetics line, we were impressed by the confidence this wunderkind possessed. Success hasn't changed Bess. Except these days, along with his makeup and skin care, we also want his to-die-for mane.
"I have [gotten crushed on Instagram], yes. I certainly appreciate the attention, and I try to thank people if they post a nice comment. Funniest comment I've received is someone congratulating my Mom and Dad for me!"

Who: Carlos Huber. Age: 35. Company: Founder, Arquiste Fragrances. The charming ex-pat has captured the beauty of his native Mexico through scent since 2011. Huber, who is also an architect specializing in historic preservation, has also done collaborations with J. Crew and St. Regis hotels.

Kevin Tachman
"I think flirting is one of the most refreshing things in life. I love playing with words. I only play with words, not hearts."
Name: Giorgos Tsetis. Age: 31. Company: Founder, Nutrafol Hair Supplements.
This former model has taken on one of men's biggest concerns and poured his heart and soul into finding a natural solution for hair growth. From the looks of things, the stuff seems to work.
"I'm always in a rush in the morning, so my grooming routine is simple. I don't like to use a lot of product on my skin or hair, but I interchange my own fragrances depending on my mood."
Who: Jan Ahlgren. Age: 38. Company: Founder, Vilhelm Parfumerie. Perfumer Jan Ahlgren comes by his good looks honestly — that is, he started his career in the fashion industry as a model at age 21. He worked with Chanel for five years, traveling across Europe for various gigs. And, though he's since forayed into fragrance, settling in New York with his wife Polly (he even named a perfume, "Dear Polly," after her), he keeps one eye on menswear – "What I feel makes a man is the suit he wears," Ahlgren says, citing Saint Laurent as his favorite designer. "I love a classic, tailored suit."
"It is hard for me to walk down the street without being stopped by a modeling scout. The older I get, the more I seem appealing, somehow — like a good wine. Last week alone, I was asked to be the ambassador for a new hair loss prevention shampoo brand and an anti-cholesterol drug company. I guess it goes beyond good looks; at this point, it's charisma. Or quantum physics."
Name: Fabrice Penot. Age: 42. Company: Founder, Le Labo.
Look up "wise ass" or "snarky" in the dictionary and Penot's name will come up. (When asked what makes him so cute, he had this to say: "It is all genes, baby. I rarely wash. "Genes and perfume." My life could be a Jim Jarmusch movie.") Lucky for him, he's also responsible (with co-owner Eddie Roschi) for Le Labo's cult hit fragrances Santal 33, Bergamote 22 and Rose 31, so we tolerate (and are admittedly tickled by) his unique form of humor.
"Most people realize that I am more interested in geeking out about their hair than getting them naked."
Who: James Pecis. Age: 35. Company: Hairstylist and global ambassador, Oribe. The word "dreamy" needs to be brought back, solely because of Pecis. He is that triple threat of scary talent (at the top of photo shoot wish lists), calm charm, and goofball (just check out his Instagrams). Hair envy? You're not the only one; Pecis says clients occasionally reference his own texture among their hair goals.
"My hair icon is Mickey Rourke circa 1985; … My other hair icon is Johnny Depp circa 2005."

Who: Geoff Genesky, Ph.D Age: 35. Company: Head chemisty, Kiehl's. Who can resist a cute science nerd? Genesky, who's been with Kiehl's since 2011, makes skin care chemistry more understandable. (And, just like us, he loves a good Kiehl's routine, combining new tester formulas with favorite fragrances like Dior Sauvage and YSL L'Homme.) Or maybe he's just naturally gifted at keeping our attention.

Ben Blaufuss Photography
"I grew up with a strong mother and to have success in this business you have to have a slight mental transvestism — meaning being able to enter the mood or the spirit of the opposite sex and take on their psychology. So … I love being surrounded by women!"
Name: Sir John. Age: 34. Company: Makeup artist and brand ambassador, L'Oréal. We go pretty far back with this Sir John. He was the makeup artist on W's November 2010 Ryan Trecartin shoot, creating such daunting tasks as pixilation and dashboards on the models' faces. These days, he tours with Beyonce and is part of the Chrissy Teigen posse — and he has the Instagrams to prove it, assuring us his DMs are "poppin'" — but we love saying we knew him when…
"A lady used to send packages of fresh-baked cookies to my studio all the time for years. We never met. You can't eat those. I feel bad saying this. They did look tasty."
Name: Frederick Bouchardy. Age: 36. Company: Fragrance designer, developer, and founder of Joya Studio parfums. In a world dripping with scent, Bouchardy is dripping with charm and dry wit. One of the founders behind indie fragrance trade show Elements, the father of a newborn baby boy champions outside-the-box olfactive creation. If you haven't lit his Foxglove or Lapsang Noir candles, you don't know cozy.
"Somebody told me the second-most-Googled thing after my name is 'Ben Gorham's wife.'"

Who: Ben Gorham. Age: 38. Company: Founder, Byredo. Despite being besties with Inez van Lamsweerde and Vinoodh Matadin and having Kanye on speed-dial, you won't find them more down-to-earth than Ben. So, try not to swoon if you ever meet. It'll just make him uncomfortable.

Getty Images
"I've modeled for friends who have small brands as a favor, but nothing official. But if Gucci needs some extras, I'll work for clothes."
Who: Benoit Verdier. Age: 38. Company: Founder, Ex Nihilo fragrances. The co-founder of this "demi-spoke" indie brand can often be found in his Rue St. Honoré boutique mixing fresh blends for clients as his adorable French bulldog Hip Hop sits on the stairs nearby. Between the two of them, it is tough to decide who's cuter.
"I've always been one of those people that needs to be knocked over the head to know if someone is flirting with me, so warding off attention isn't really something I think about!"
Name: Troy Surratt. Age: 46. Company: Makeup artist and founder, Surratt Cosmetics. Surratt was mentored by none other than Kevyn Aucoin, but since he's come into his own, he's worked with the likes of J. Lo, Adele, and Charlize Theron and founded his own cosmetics line (called, predictably, Surratt). Now, he just has to master Instagram… "I always joke that I'm about ten years too old for it to become really natural for me," he says.
Watch W's most popular videos here: