Steve Harvey's Stepdaughter, Lori Harvey, Was the Only New Scion Front Row at Chanel
Lori Harvey, the 20-year-old daughter of Marjorie Bridges-Woods and stepdaughter of Steve Harvey sat front row at the Chanel fall 2017 show during Paris Fashion Week with her family.
---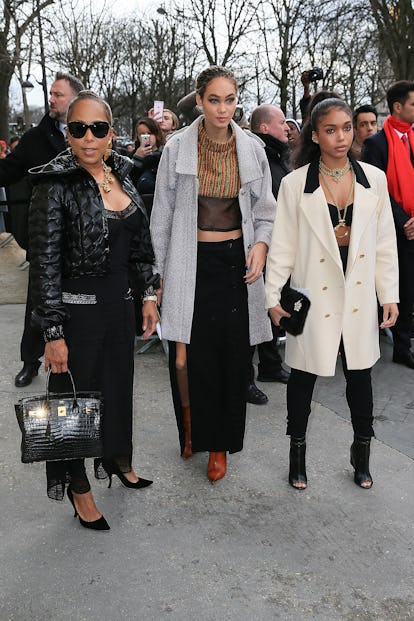 Pierre Suu/Getty Images
The Chanel front row is usually a motley crew of celebrity scions, but this season at Paris Fashion Week fall 2017, Steve Harvey's stepdaughter, Lori Harvey, seemed to be the only (new) celebrity off spring face in the crowd. She was flanked by Lily-Rose Depp, the 17-year-old daughter of Johnny Depp and Vanessa Paradis, who made her runway debut at the brand's Métiers D'Art Show back in December, as well as Lottie Moss, the 19-year-old half sister of Kate Moss.
Where did all the scions go? Are we left now with only the twice removed relatives? Or did Dolce & Gabbana steal them all? The answer is most likely the latter, seeing that Harvey made her runway debut at the Dolce & Gabbana Alta Moda show this year and also walked in the men's and women's shows in Milan alongside a small army of millennial scions including Presley Gerber, the Stallone sisters, Sofia Richie, the Anderson-Lee brothers, Raff Law, and Gabriel-Kane Day-Lewis. Harvey wore head-to-toe leopard in one look and a silk nightgown paired with a blazer in another. And to the Chanel show on Tuesday, she wore a similar blazer, but this time with nothing but a bustier underneath.
In short, it seems that if Karl Lagerfeld wants to adopt emerging celebrity children of his own, he's going to have to look a little harder—or younger.
Harvey is one of seven siblings, and her older sister Morgan was also at the Chanel show with their mother, Marjorie Bridges-Woods, acting as chaperone. Bridges-Woods is Steve Harvey's third wife, and they married in 2007. (Bridges-Woods has three children total from a previous relationship.) Steve Harvey, of course, is the host of a handful of television shows, including Family Feud, and, until recently, was the man responsible for one of the most embarrassing live TV screw-ups of all time when he accidentally awarded Miss Colombia the title of Miss Universe in 2015.
On Instagram, the younger Harvey already has a following of almost 250,000 and can often be found flaunting the fabulous life of a scion, from boarding private jets to shopping in Paris with her mother. Plus, lots of selfies with dad and even visiting him on set. In January 2016, she started dating the Manchester United soccer player Memphis Depay, and they've been inseparable ever since.
While we never thought we'd see Steve Harvey's name in relation to Paris Fashion Week, with the Lagerfeld stamp of approval, his stepdaughter is on the right path to make the family name high fashion. Just as long as she doesn't become Miss Universe.
Lily-Rose Depp, Rihanna, and More: Celebrities at Fashion Week
Michelle Williams attends the Louis Vuitton show as part of the Paris Fashion Week.

Marc Piasecki
Jaden Smith attends the Louis Vuitton show as part of the Paris Fashion Week.

Bertrand Rindoff Petroff
Sasha Lane arrives at the Louis Vuitton show as part of the Paris Fashion Week.

Pierre Suu
Lea Seydoux attends the Louis Vuitton show as part of the Paris Fashion Week.

Pascal Le Segretain
Sophie Turner attends the Louis Vuitton show as part of the Paris Fashion Week.

Marc Piasecki
Jennifer Connelly attends the Louis Vuitton show as part of the Paris Fashion Week.

Pascal Le Segretain
Justin Theroux attends the Louis Vuitton show as part of the Paris Fashion Week.

Pascal Le Segretain
=Riley Keough attends the Louis Vuitton show as part of the Paris Fashion Week.

Pascal Le Segretain
Lily-Rose Depp attends the Chanel show as part of the Paris Fashion Week.

Bertrand Rindoff Petroff/Getty Images
Future attends the Chanel show as part of the Paris Fashion Week

Bertrand Rindoff Petroff/Getty Images
Lily Allen attends the Chanel show as part of the Paris Fashion Week.

Bertrand Rindoff Petroff/Getty Images
Rita Ora attends the Chanel show as part of the Paris Fashion Week.

Bertrand Rindoff Petroff/Getty Images
Jasmine Sanders attends the Chanel show as part of the Paris Fashion Week.

Bertrand Rindoff Petroff/Getty Images
Sofia Coppola attends the Chanel show as part of the Paris Fashion Week.

Pascal Le Segretain/Getty Images
Vanessa Paradis attends the Chanel show as part of the Paris Fashion Week.

Pascal Le Segretain/Getty Images
Cara Delevingne attends the Chanel show as part of the Paris Fashion Week.

Pascal Le Segretain/Getty Images
Stacy Martin arrives at the Miu Miu show as part of the Paris Fashion Week.

Pierre Suu/Getty Images
Zoey Deutch arrives at the Miu Miu show as part of the Paris Fashion Week.

Pierre Suu/Getty Images
Maisie Williams arrives at the Miu Miu show as part of the Paris Fashion Week.

Pierre Suu/Getty Images
Aja Naomi King arrives at the Miu Miu show as part of the Paris Fashion Week

Pierre Suu/Getty Images
Dianna Agron arrives at the Miu Miu show as part of the Paris Fashion Week.

Pierre Suu/Getty Images
Jenna Coleman arrives at the Miu Miu show as part of the Paris Fashion Week.

Pierre Suu/Getty Images
Salma Hayek attends the Balenciaga show as part of the Paris Fashion Week.

Bertrand Rindoff Petroff/Getty Images
Nick Jonas and Joe Jonas attend FENTY PUMA by Rihanna.

Victor Boyko/Getty Images
Caroline de Maigret and Nicki Minaj attends the Haider Ackermann show as part of the Paris Fashion Week.

Peter White/Getty Images
Emily Ratajkowski attends the Valentino show as part of the Paris Fashion Week.

Vittorio Zunino Celotto/Getty Images
Teresa Palmer attends the Valentino show as part of the Paris Fashion Week.

Vittorio Zunino Celotto/Getty Images
Kate Mara attends the Valentino show as part of the Paris Fashion Week.

Vittorio Zunino Celotto/Getty Images
Rihanna attends the Christian Dior show as part of the Paris Fashion Week.

Pascal Le Segretain
Alicia Keys attends the Christian Dior show as part of the Paris Fashion Week.

Pascal Le Segretain
Fashion Week's Best Street Style Gets a Technicolor, Electrified, Animated Treatment