The Stranger Things 2 Trailer Is Here, and It's, Well, Strange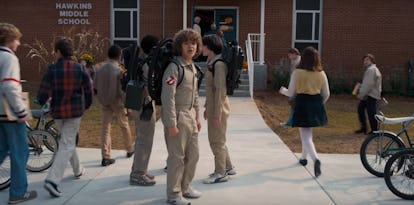 We're well into winter now, but the memory of this summer's smash hit Stranger Things hasn't faded.
Luckily, Stranger Things 2 is in the works, and thanks to the Super Bowl, we finally have our first glimpse at what will be included in the show's second season and exactly when we can expect to start bingeing.
The trailer, which premiered during a commercial break just after halftime, begins innocently enough with footage from an old ad for Eggo waffles, a favorite of our beloved Eleven. Things take a turn for the sinister, though, as the teaser cuts abruptly to a shot of our girl opening her eyes with a start, nose bloody. Eleven's panting can be heard in voiceover throughout the rest of the trailer, which features quick shots of everything from the boys on their bikes, to the secret lab from which Eleven came, to our first look at a new, huge (and frankly, much more terrifying) monster taking over for the Demogorgon.
"The world is turning upside down," reads the title cards flashed on the screen, before revealing that Stranger Things 2 will hit Netflix, appropriately, on Halloween 2017. Trick or treat, indeed.
Check out the full trailer that aired during the Super Bowl, below.
'Stranger Things' Star Millie Bobby Brown Is Here to Stay
Watch W's Most Popular Videos: