Eve's Bayou, Drylongso, and Other Black Films to Watch Right Now
Familiarize yourself with these films, which center all types of black stories, instead of existing primarily to educate white audiences on black trauma.
---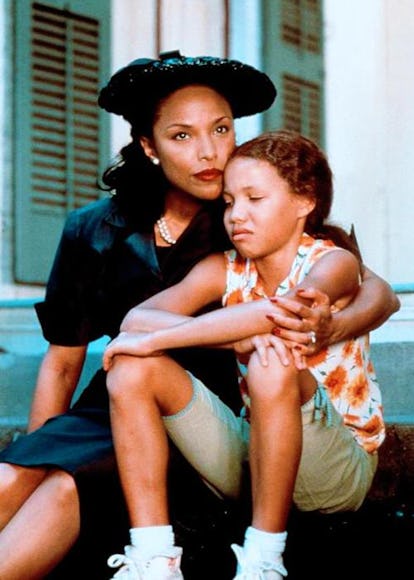 Image courtesy of IMDb.
Right now, there is a lot of discourse surrounding recommendations in the time of massive protests against police brutality: What should you read in order to familiarize yourself with the anti-racism movement? Which activists should you follow? What should you be watching on your screen? And what's the purpose of all of these recommendations if you don't do the work to actually digest and analyze what's being suggested?
There are the recent examples of critically acclaimed films by black directors that you may have already heard of, like Moonlight, Sorry to Bother You, Get Out, or Mudbound, and the oldies that are still worthy of discussion, like Malcolm X, Set It Off and Boyz in the Hood. While prominent contemporary filmmakers, like Ava DuVernay, Jordan Peele, Stella Meghie, and Barry Jenkins have ascended the Hollywood ranks in recent years, there are still so many more black filmmakers—many of whom have been working for decades before them—who have yet to receive their due.
There are also plenty of nonfiction films that document the struggle black people face in an effort to achieve equality in America, like DuVernay's 13th, which charts the history of the U.S. prison system as it extends from slavery, or The Black Power Mixtape: 1967-1975, which is a collection of historical footage featuring Stokely Carmichael, Bobby Seale, Angela Davis, and other leaders of the Black Power Movement, coupled with contemporary interviews. Rather than curating a list of features that only outline black trauma and struggle (which can often serve to educate and appease the guilt of well-meaning white people), the purpose of this list is to spotlight a few films that reflect the multidimensionality of the black experience.
The Watermelon Woman (1996)
Cheryl Dunye has directed episodes of Queen Sugar, and will direct an episode of Lovecraft Country, HBO's forthcoming sci-fi period drama set in the Jim Crow south. But she's best known for The Watermelon Woman, a 1996 documentary-style film she wrote, directed, and starred in as a version of herself. She plays Cheryl, a Philadelphia-based documentary filmmaker attempting to uncover the truth about a black Hollywood actress from the 1930s while simultaneously engaging in an affair with a white woman (played by Guinivere Turner). Dunye is a pioneer of New Queer Cinema who rarely gets her due, but thanks to the Criterion Collection, which temporarily removed its paywall so that films by black creators can be seen and shared more widely, The Watermelon Woman should make its way towards the top of your watch list.
Killer of Sheep (1978)
There are so many films from the L.A. Rebellion movement in cinema that feel just as relevant now as they did years ago. There's Gidget Meets Hondo, Bernard Nicolas' response to the 1979 LAPD shooting of Eulia Love that questions what the response would be if police brutality victims were white women; and Haile Gerima's Sankofa, about a model who goes on location in Ghana for a fashion shoot only to find herself transported back in time to relive the slavery of her ancestors (and seems to have influenced the forthcoming Janelle Monáe film Antebellum, in which her character appears to be transported back to slavery during the Antebellum south). Jacqueline Frazier's Shipley Street tells the story of a young black girl in an all-white Catholic school and addresses the institutionalized racism black people experience in white spaces. There's also Charles Burnett's complex neorealist drama Killer of Sheep, about a family man who lives in Watts, Los Angeles and works in a slaughterhouse. Even if you haven't seen this film, you've witnessed its aesthetic and narrative impact on contemporary visual art, ranging from episodes of Insecure to work by Martin Scorsese and Steven Soderbergh.
Drylongso (1998)
Cauleen Smith wrote and directed Drylongso while she was an MFA student at UCLA's film school, and it eventually premiered at the 1999 Sundance Film Festival to critical acclaim. Centered on an art student who starts photographing black men out of fear they may soon go extinct, Drylongso is very hard to find. Brooklyn Academy of Music ran a series called "Black 90s: A Turning Point in American Cinema" last fall, and screened the film, but it's nearly impossible to stream online via any of the major platforms. However, many public libraries are open to hearing from their members and you can request they purchase visual media like films in addition to books. Also, if you dig just a little bit further than your typical cursory Amazon search, you might be surprised at what you find.
Eve's Bayou (1997)
After acting in School Daze, The Silence of The Lambs, and Candyman, Eve's Bayou put Kasi Lemmons on the map as an auteur. Her feature directorial debut about an affluent Creole-American family in 1960s Louisiana, starring Lynn Whitfield, Samuel L. Jackson, and Jurnee Smollett, has become a classic. When Eve uncovers the truth about her father, her family's façade begins to crumble. It's on HBO Max, Hulu and Amazon Prime.
Just Another Girl on the I.R.T. (1992)
In Leslie Harris' Just Another Girl on the I.R.T., a spirited 17-year-old Brooklynite goes to school and holds down a job while remaining determined to not just become another statistic in her environment. But her goal to escape generational poverty might be halted when she runs up against influences outside of her control. Just Another Girl is colorful, stylish, and funny, while also painting a moving portrait of a very real problem. It's available on Amazon Prime.
An Oversimplification of Her Beauty (2012)
Terence Nance, the creator of the avant-garde stream-of-consciousness variety program Random Acts of Flyness (which has been renewed for a second season at HBO) made and starred in a partially animated film about a man who meditates on romance after he is stood up for a date by a beautiful woman, which you can watch on Amazon Prime.
Related: Criterion and IFC are Streaming Films Centering Black Voices for Free