Studio Job Is Taking Over the Barneys New York Windows and Everything Else This Holiday Season
The European design firm has created a world of iconography for the store's window and holiday products, as well as a monumental installation during Art Basel Miami Beach.
---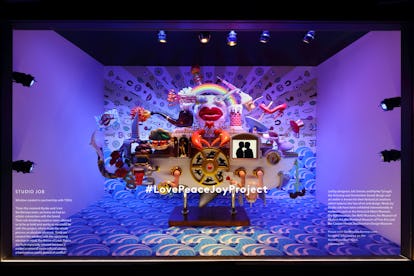 Courtesy Barneys New York.
Over the years, the holiday window at Barneys New York's Madison Avenue flagship has been a showcase for prominent creative minds, from the glass artist Dale Chihuly to the fashion label Hood By Air. And this year is no exception: Yesterday, the luxury retailer unveiled its 2016 window by Studio Job, the Antwerp- and Amsterdam-based design firm founded by Job Smeets and Nynke Tynagel in 2000. (Other participants this season include "South Park" creators Trey Parker and Matt Stone and the artist Rob Pruitt.)
Studio Job is famous for its pairing of traditional materials (cast bronze, porcelain, stained glass) with irreverent, pop and Dada-esque imagery (a fabric pattered with bugs, a bronze table with a train-wreck base, a bronze and glass lamp suggestively shaped like a partially-peeled banana), and its collaborations with brands like Swarovski, Land Rover, Moooi and Alessi, as well as Alan Faena, the Argentine real estate developer and art collector. Smeets sees himself as a contemporary cross between the artist of centuries past who was appointed to create objects for a king, and the court jester who could get away with poking fun at said king. "I kind of like being a mirror of our times," he says.
The Barneys window is classic Studio Job. In response to the retailer's holiday theme, "Love Peace Joy," Smeets and Tynagel created a whimsical, kinetic, and raucous installation inspired by the 70's TV hit "The Love Boat." The seven-foot-long boat has a bow shaped like a shark's head (a nod to Damien Hirst), a giant pipe (a quote from René Magritte), arms of several different skin colors rowing from the portholes, and a rainbow — to name just of few elements — as well as a video projection of kissing couples of all persuasions. And although the designers' preference for luxurious materials rendered with painstaking craftsmanship evokes those court artists of yore, they're no strangers to technology: After they hand-sculpted a model of the installation, every element of the Love Boat was 3-D scanned in their studio; the scans were sent to Barneys, which reproduced them at a larger scale using a 3-D printer. (A smaller version of the Love Boat, executed in bronze and encased in a vitrine, is on view at the Barneys Chelsea store.)
But that's just the tip of the holiday iceberg. Studio Job has also designed holiday iconography for all 14 Barneys flagships as well as its regional stores, which includes graphics, shopping bags and hang tags, as well as merchandise ranging from tote bags to cookies and temporary tattoos. And selections from the designers' best-known limited-edition pieces will be for sale at the Madison Avenue store's Chelsea Passage.
Of course, the onset of the holiday season also coincides with the art and design worlds' annual pilgrimage to Miami. And in addition to having work on view with the Carpenters Workshop Gallery at Design Miami, Studio Job has created "Tree of Life," a 26-foot-tall bronze sculpture of a European oak, adorned with everything from a crown and roses to a globe paved with Swarovski crystals, which will be unveiled during the Art Basel fair in front of the Rem Koolhaas-designed Faena Forum, a cultural programming space, in Miami Beach.