Style Notes: Asia Chow
Edited by Karla Martinez and Vanessa Lawrence Asia Chow (above) may just be one of the coolest 17 year-olds you'll come across. Yes, the cards were stacked in her favor, as the daughter of famed...
---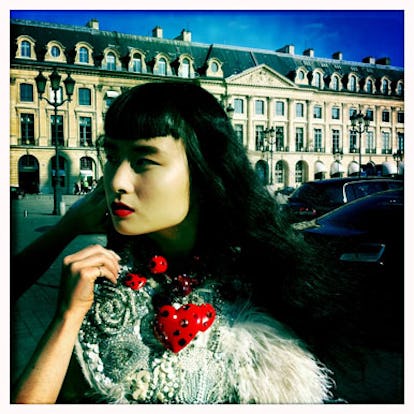 Edited by Karla Martinez and Vanessa Lawrence
Here Chow fills us in on her love of Leonard Cohen, her newfound passion for classical guitar and why everyone should walk to their own style beat.
Define your style in three words: Feminine, contrasty, young.
Daily uniform: Baggy jeans, with a fitted t-shirt or a concert t-shirt, and my mom's vintage scarves.
Greatest hits: Besides Pink Floyd's Dark Side Of The Moon, my Comme des Garçons tail jacket with pearls on the inside. My mom's dress that she designed: bias cut silk cream dress by Eva Chun.
Preferred footwear: Black or white Repetto ballerinas, Balenciaga sandals, Lanvin satin evening heel, Converse All Stars.
Finishing touches: Scarves (my mom has been collecting them for me since I was very young) and a gold heart necklace.
Nighttime look: Red lipstick.
Best recent discovery: Classical guitar. I've always listened to classical music and I've been playing blues and rock music for a few years, but I just bought a classical guitar and I love the classical pieces I am learning.
Favorite stores: I like to go to Amoeba Records to get vinyl, Books & Books in Miami, True Tone in Santa Monica is where I got my guitar from, Hermès Men's Made To Measure Department in Paris (it's not for me to shop but for me to watch my dad get suited).
Style pet peeve: I don't have one. Each to their own.
Style icons: Audrey Hepburn, David Bowie, and my mom.
Last purchase: Leonard Cohen's Book Of Longing, and about four Leonard Cohen vinyl records.
Lusting after: A good university.
Favorite haunts: Mr. Chow; The Hollywood Bowl; LACMA; Laduree in Paris; Shinsegae department store in Korea.