Style Notes: Cécile Winckler
Film producer Cécile Winckler is clearly decisive—and succinct—about matters of the wardrobe. The New York dweller by way of Belgium prefers casual duds and leather pieces worn in with care. Here our February It Girl,...
---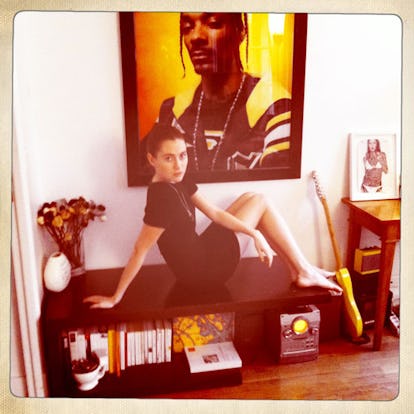 Define your style in three words: Casual, tomboy, chic.
Daily uniform: Skinny jeans, t-shirt.
Greatest hits: Old leather jacket I've been wearing for the past 10 years, Alexander Wang white dress, my collection of vintage t-shirts.
Finishing touches: A necklace.
Preferred footwear: My worn out Doc Martens.
Nighttime look: Black.
Best recent discovery: Great Jones spa.
Favorite stores: Deyrolles or La Grande Epicerie in Paris.
Style icons: Jane Birkin, Jean Seberg, Audrey Hepburn.
Last purchase: New camera.
Lusting after: A good adventure.
Favorite haunts: Cafe Select, Cafe de Flore.
Favorite haunts: Cafe Select, Cafe de Flore.
Winter survival strategy: Embryolisse every morning.