Style Notes: Julia Stegner
Edited by Karla Martinez and Vanessa Lawrence Models have the pick of the litter when it comes to their sartorial choices (and the genetics to pull off any style they choose). But lately model Julia...
---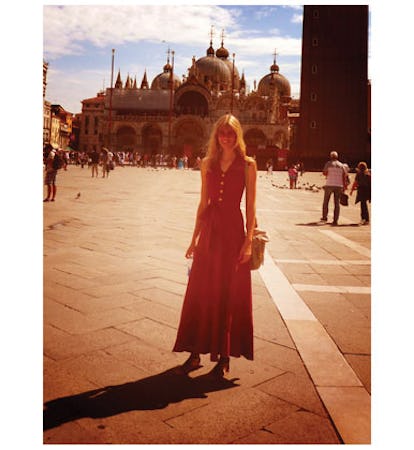 Edited by Karla Martinez and Vanessa Lawrence
Define your style in three words: Casual, feminine, bohemian.
Daily uniform: Jeans or jeans shorts and an Isabel Marant top.
Greatest hits: A dress my mom met my dad in; a 1970's long coat from my mom; an Isabel Marant top, skirt and scarf; a red vintage jump suit; a Stella McCartney blouse.
Preferred footwear: In the fall, a pair of old Hugo Boss Orange boots and in the summer espadrilles; all kinds of different sandals—Miu Miu and Marc Jacobs ballerina flats.
Finishing touches: A small brown over the shoulder bag from my mom; earrings I got in a vintage shop in Toronto; a necklace with a dagger and my birth ring on it; an ID bracelet I got from my godmother for my christening; a bracelet with a small diamond cross; a very delicate ring with tiny little diamonds all around; vintage sunglasses and a lot more…
Nighttime look: Always depends on my mood and the occasion. I definitely think less is more. I do love to wear dresses right now.
Best recent discovery: Neon pink nail polish.
Favorite stores: No.6, Isabel Marant, Barneys New York, ABC Carpet & Home, Barnes & Noble.
Style pet peeve: Crocs, they are just so ugly.
Style icons: My mom, especially when she was my age. She had a lot of pieces specially made for her. My dad's mom also knitted a lot of sweaters for her that me and my sister are fighting over now. My mom would tell her what she wanted and show her pictures and my grandmother would make it for her. I'm wearing a lot of my mom's clothes from the 70's and 80's right now.
Last purchase: Vintage table lighter and pillows made out of never-been-used vintage fabric.
Lusting after: A new roof garden. Just had to get rid of my roof garden last summer and can't wait to rebuild it. A Dooney & Bourke saddlebag.
Favorite haunts: Blue Ribbon Sushi; Gnocco; Westville East; Cafe Ost and Tompkins Square Park dog run, where I spend most of my time these days with my beagle Kasper.
Next vacation: I'm going to see my friend Luca Gajdus, her son, and [her] boyfriend in Berlin. After that I'm off to the Amalfi Coast in Italy with my friend Laura who used to live in New York but now lives in Munich. And then I'm probably going to go to Mexico or Hawaii with my friend Sarah to go surfing.
What she'll pack: Lots of bikinis.