Style Notes: Natalie Joos
Edited by Karla Martinez and Vanessa Lawrence Natalie Joos mixing a vintage striped sweater with Cynthia Vincent sandals It's not uncommon to spot Natalie Joos at a party surrounded by a cadre of models. Call...
---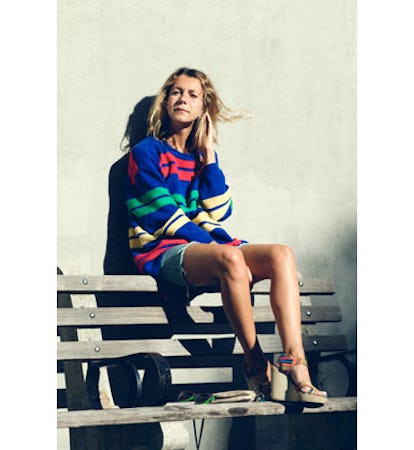 Edited by Karla Martinez and Vanessa Lawrence
It's not uncommon to spot Natalie Joos at a party surrounded by a cadre of models. Call it an occupational hazard: since moving to New York in 1997, the Belgium native worked for the likes of Glenn O'Brien and Craig McDean before founding her own casting company in 2003, where she's worked with companies like Helmut Lang, Phillip Lim and Hugo Boss. Joos recently became a casting agent at Hercules Magazine and relaunched her blog Tales of Endearment, "stories about love, friends, vintage, music and life." We turned the tables on Joos to quiz her on some of her own style obsessions.
Define your style in three words: Sexy, quirky, cute.
Daily uniform: Heels and a dress.
Greatest hits: These are the pieces I am wearing a lot this summer: Adam peach flared jeans, vintage cotton summer dress from Shareen's Vintage, Yigal Azrouel cotton sweater, Lisa Marie Fernandez "Natalie" suit in army satin, white Cynthia Steffe tennis dress, Balenciaga red and navy sandals, Chloé tan sandals, Prada kitten heel sling backs, my old Prada bejeweled flats, J. Crew grey cotton and cashmere blend crew neck sweater, Sonia Rykiel black and white oversized cardigan, Peter Pilotto white silk and lace long dress. vintage striped sweater I bought in Miami.
Preferred footwear: Heels.
Finishing touches: I wear very little jewelry and accessories. I feel they are uncomfortable and distract me. I wear two gold and silver piercings in one ear at all times—I can actually not remove them. I love my gold hoops to add some sexiness. Love socks in heels— my big obsession— in any color. I wear a skinny Blu-tack blue J.Crew belt with dresses. I have lots of sunglasses. This summer I am wearing black Miu Miu oversized round ones, Karen Walker purple and green kind of hipster ones, my Tom Ford "Anouk" sunnies are classics and I have a cool pair of vintage Balenciaga 70s sunglasses.
Nighttime look: Something short, maybe my Peter Pilotto sailor dress, or vintage Yves Saint Laurent floral dress, or if I get really cheeky any Mark Fast dress. My latest one is a baby blue custom fringe dress—it's heaven!
Best recent discovery: Since I discovered I can eat goat cheese products—I found out I am lactose intolerant 3 years ago—I have been obsessing over feta cheese and goat milk yoghurt. I hadn't eaten any cheese in 3 years!! It's like a whole new spectrum of foods have opened up for me.
Favorite stores: Whole Foods, Barnes & Noble, Bergdorf Goodman.
Style pet peeve: Wedge flip flops; when sandals are too big and either toes come over the front, or the heel has space in the back; skinny jeans on boys.
Style icons: Twiggy, Audrey Hepburn, Kate Moss.
Last purchase: Vintage Jacques Cassia gown.
Lusting after: I would love to live in Manhattan and find a great apartment. I've been living in Williamsburg for the past 9 years and though I love my apartment I'd love to move back to the city. I've outgrown the hipster scene…. I want to build a wall-to-wall, ceiling-to-floor bookcase for all my magazines and books. I keep all my fashion magazines. I have huge a collection which started when I moved here in 1998. And I want new black-out curtains. I also want a classic Chanel padded bag and a new tote—I've been eyeing this Celine canvas one I saw at the Bal Harbour store.
Favorite haunts: Dinners at Indochine, The Waverly Inn and Omen. Party at the Boom Boom Room or Le Bain. I like going up to Massachussetts with my friend Adam Lippes and his two Labradoodles—he has a great house there. I love to check out the indoor flea market in Williamsburg though in general I like going to any vintage store and go through everything.