Style Notes: Olympia Le-Tan
Edited by Karla Martinez and Vanessa Lawrence Like the most fashionable of cats, Olympia Le-Tan (above) has already lived many stylish lives. The daughter of French illustrator Pierre Le-Tan, she attended art school in Paris...
---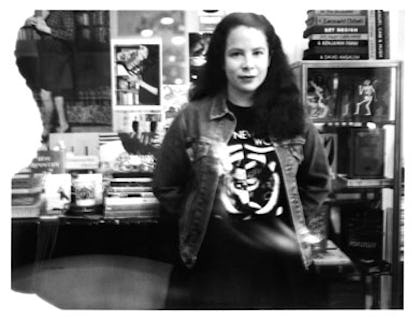 Edited by Karla Martinez and Vanessa Lawrence
Her music stint began in 2004 when Andre opened Le Baron and asked her to come on as a "sound designer." Le-Tan soon found herself an in demand DJ for the likes of Kirsten Dunst and for Yves Saint Laurent, Balenciaga and Purple Magazine's after show parties.
Now the multi-hyphenate Le-Tan has set her focus again on handbags, in September 2009 she launched her "You can't judge a book by its cover" collection, inspired by the first edition covers of classic literary favorites like "Lolita" and "The Catcher in the Rye."
Here, Le-Tan extols the virtues of Alaïa, red lipstick and Phil Spector.
Define your style in three words: Classic, sexy and quirky.
Daily uniform: It actually is the same thing everyday! A colored Agnès B pop stud cardigan, a Brooks Brothers or Ralph Lauren oxford or check shirt, Alaïa black knit skirt, Wolford lace tights and J.M. Weston penny loafers or Robert Clergerie lace-up shoes.
Greatest hits: My vintage Azzedine Alaïa dresses given to me by Victoire de Castellane.
Preferred footwear: Charlotte Olympia very high heels (my favorite are the cat ones from the new collection) for evening, and J.M. Weston penny loafers for day.
Finishing touches: I only wear one piece of jewelry, which is a custom made ring with a big opal that Victoire de Castellane made for me. Bags are mostly my own (a book-clutch for the evening and a tote or a Dizzie bag for day). I also have an old Kelly bag which I love, it used to be my mum's. Belts included the braided elastic belts from Charvet (either in red or navy blue). My hair accessories are anything from Alexandre de Paris, I love their big tortoise shell combs and the classic velvet hairbands with big bows, or my Olympia Le-Tan felt flower hairband.
Nighttime look: Always a dress. Either Alaïa or Erdem, YSL or Charlotte Olympia high heel shoes, an Olympia Le-Tan book-clutch, colored or lace tights and MAC's Ruby Woo bright red lipstick.
Best recent discovery: Phil Spector's biography Wall of Pain.
Favorite stores: Opening Ceremony in New York, Colette in Paris, Shakespeare and Co for books in Paris, The Strand for books in New York, Ultramode for ribbons in Paris
Style pet peeve: Denim cut off mini shorts.
Style icons: My grandmother Paulette, Betty Page, Leslie Caron in Gigi.
Last purchase: Bibliographic by Jason Godfrey, a book about graphic design books.
Lusting after: A husband!!
Favorite haunts: Le Voltaire in Paris for dinner, Hotel Amour in Paris for brunch on the weekend, The Six Senses resort in Yao Noi in Thailand which is like paradise, The Portobello Hotel in London, the Hemingway Bar at the Ritz in Paris, Le Baron for late night drinks and dancing.
Next vacation: Cannes for the film festival where my short film Mourir Auprès de Toi has been selected. I will be staying at my friend Jennifer Eymère's beautiful house in the Esterel.
What you'll pack: My Norma Kamali one-piece bathing suit, lots of Alaïa dresses, my Charlotte Olympia shoes and my Rondini sandals.
Photos: Arno Frugier